ZZCartoon Review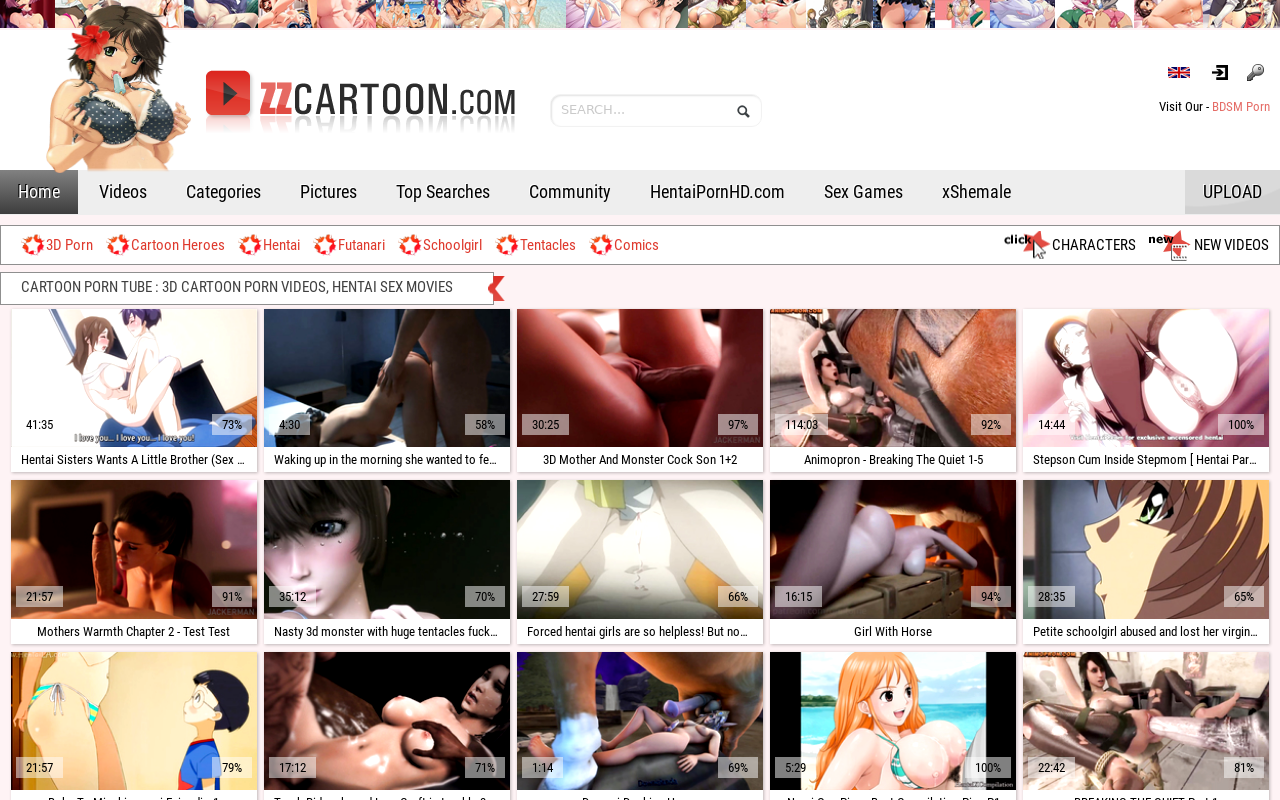 My take on ZZCartoon
Everyone loves a good animated porn experience, right? Sure, the world of 'real' adult entertainment is fun, but what's the problem if you want to look at something that's a little more computer-themed instead? With the rise of rendering options and better tools for the job, it was only a matter of time before spots like ZZCartoon were going to come into the mix. This is a cartoon porn tube and I'm really looking forward to seeing if they have great 3D renderings and other goodies like hentai and whatever else. If you'd like to know more about ZZCartoon and its selection of anime porn, keep reading: I'll spill the beans real quick.
A look at ZZCartoon's homepage
When you land on the homepage for the very first time, you'll be presented with a fairly typical tube-style layout with content previews that you can immediately click on if you want to jump into the rendered porn action. Around 80% of the site's initial real estate is devoted to showing you preview panes of what I'm guessing is the latest material to be uploaded to the website's database – not too bad, right? These panes are constructed of a thumbnail from the production, length indicator, like ratio and title. My only complaint is that the background for some of the meta details aren't fully opaque, so it's quite hard in some situations to see what the figure actually is.
Scrolling down, you'll find no other content category box – just a pagination that gives you the ability to go deeper into the ZZ Cartoon archive if you so desire. Below that, you've also got a bunch of searches that have been conducted, with the top 3 being mom, loli and horse. Remember that all of the content you find here is completely animated, so while I have a zero-tolerance policy for content involving real animals, that doesn't extend to ones created in CGI! Sure, I might think it's quite weird you want to see a horse fucking a woman, but if that's what gets you horny at the end of the day, so be it. One last thing about the homepage: there are album displays at the bottom, but since this is mainly a project themed around videos, I'm just going to skip over them. They're there if you want, but it's only a minor part of the site, so it's not worth devoting a huge amount of time to it.
Using the top rated dropdown on ZZCartoon
One nice feature in the header link area is the dropdown when you mouse over 'videos'. Here, you're given the ability to sort the media at ZZCartoon based on its rating, upload date and length. I'd highly recommend in these types of situations to organize everything based on rating, since I find the wisdom of the jerkers is typically quite good. After doing this, I was shown an elf getting fucked by a monster, Harley Quinn having a gangbang, a shemale at the beach having some kinky ass fucking action and a bunch of lengthy hentai releases from series that you'll likely be familiar with. Again, I want to stress that the porn here is completely simulated: you won't see anything aside from hentai and CGI renders. If you're coming here because you want to see actual people fuck, you're going to be very much disappointed.
The category deal at ZZCartoon
From time to time, it's always nice to be able to pick out a specific genre that you're interested in and then watch porn that's only associated with that topic. There is a categories segment at ZZCartoon and in it, you'll find a bunch of really quite good options. We're talking about the likes of anal, teen, cumshot, bikini, threesome, masturbation and monster porn. Each category typically has hundreds of associated videos, although some, such as small tits and goblin, are relatively low on the smut. Still, you've got plenty of lesbian, hardcore and BDSM porn here, so what's not to love?
The ZZCartoon viewing experience
When you eventually get around to picking out a video, you'll be shown a relatively standard tube-style layout that gives you the ability to watch the media straight from the ZZCartoon database. They've got a pretty good design overall and the buffering speed was basically instant. You can also scrub from the content with very little issue, so if you want to skip to the good bits, that's an option too. Sadly, there is no ability to instantly download the content by right-clicking on it. Instead, you will have to create an account. I'm never a fan of these approaches and I really would like to see all tubes offer free downloads for everyone – no account required! It just makes sense: bandwidth is so cheap these days that I really struggle to come up with reasons why they put these arbitrary limitations on it.
Elsewhere on the embed page, you'll find some general meta information about the piece of hentai or 3D porn you're looking at. This includes who added it, how long it is, the view count and rating. You can also look at the tags section and an additional 'heroes' feature which will link it to a specific series or character. Examples include Harley Quinn, Hulk, Final Fantasy, Batman, World of Warcraft and Avatar.
Wrapping up the ZZCartoon review
Okay – I think I've seen just about enough now to know that I mainly agree with everything being offered on this particular hentai tube. These places aren't exactly rare, but I will say with a high degree of confidence that I feel like ZZ Cartoon does a wonderful job of giving you exactly what you want. It's going to be quite interesting to see the direction they go in later down the track, but I can tell you now that the offerings here as the project currently stands is solid. While there is hentai, the major drawcard is being able to look at other types of 3D renderings and CGI porn uploads. It's a solid tube with lots going for it, so yeah – if you like the sound of the project, be sure to visit ZZCartoon!
Thank you for reading another professional porn site analysis written by Fetish Dude. May your next masturbation session over the best hentai around be pure bliss!
Great 3D renderings
Good sized archive
High average quality
A few adverts
Account required for download