HentaiBedta Review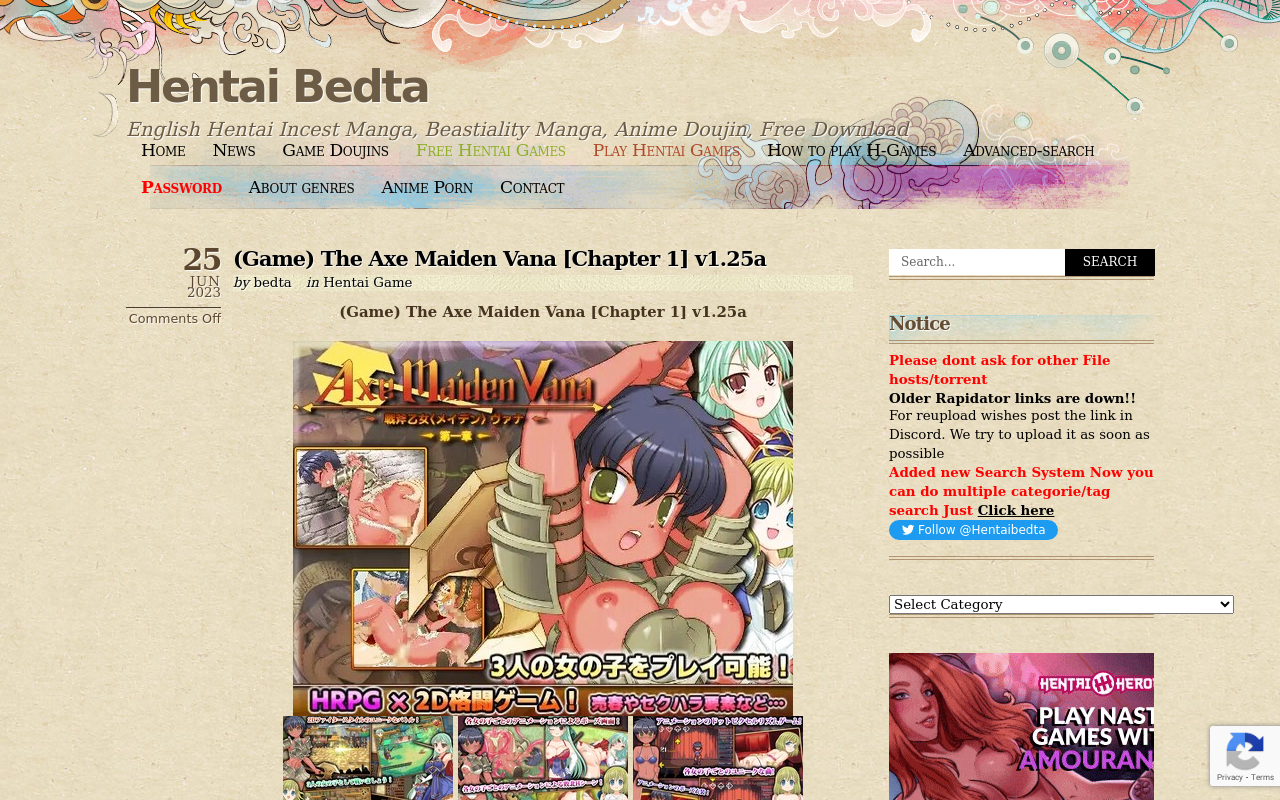 My visit to Hentai Bedta
Hey there: it's Fetish Dude and in this review, I want to talk to you guys about HentaiBedta. For the longest time, I've been searching far and wide over the Internet to find you the hottest, freshest hubs to get your hands on world-class anime porn. I've looked at hundreds of sites over the last few months and today, I want to write up a complete analysis on one of them by the title of HentaiBedta. I've got a lot to talk about, so let's get this review moving and really work out what the deal is at HentaiBedta – it's going to be good, that's for sure!
A look around HentaiBedta
When I hit the homepage here, I will say that I felt the design was a little on the dated side. I know, I know – I'm always going on about access and layout, but I do feel like these things are quite important. I don't want to suggest that getting around HentaiBedta is difficult: that's simply not true. Having said that, the blog layout here looks like something that was created around 10 years ago and hasn't been revamped since. That's a major concern for me and I would like to see Hentai Bedta get a fresh lick of paint. These types of things matter – it shows that the people behind the projects care! I suppose it's good that they at least offer HTTPS, so you can be secure when looking at all of the hentai they have to offer.
The focus of HentaiBedta
HentaiBedta claims to focus on English versions of hentai with themes around incest, bestiality and other such topics. I'm pleased to see that they update on an incredibly regular basis, although I do feel that the blog-style approach to this kind of project is a bit dated. One thing that I found quite strange was that a huge amount of the latest posts here were gaming related. By this, I mean that you've got a bunch of anime porn gaming titles that you can download from HentaiBedta and play on your own PC. Pretty cool I guess: I just wasn't expecting it. I think that they've done a good job of giving everyone who comes access to the titles though, since downloading is quite convenient and comes in real quick.
A closer look at HentaiBedta games
Some of the games that have featred here include the likes of Blinding Bangs Girlfriend and the NTR Curse, Get Caught, Get Fucked!, Moko's Masturbation Support Training and A Certain Day's Training. These are all .exes that you can run on Windows machines and in emulators if you're accessing the web through an iOS machine. While they claim to have 'English' in their site title, almost all of the games are only offered in Japanese. I don't have a problem with the latter fact, but I don't think they should be branding themselves with language tags that simply do not apply. What's the deal here, guys? Do you actually want to give us access to the thing we came here for in the first place? Well then go ahead and do it – or change the title so we're not confused about our hentai sex games.
Sidebar tags on HentaiBedta
Along the sidebar of the website, you'll see a section with a bunch of tags. These cover a number of highly common themes and popular desires in porn, including subjects such as big breasts, schoolgirl, anal, incest, stockings, BDSM, swimsuits, MILFs and more. Having looked deeper into the database, I can now see that this is a 100% gaming focused place. So if you want to download a real hentai gaming release from a place that seems invested in the anime space, this is probably your best bet. It would appear to be a labor of love, which is something I can really get behind. You always want people who are genuinely interested in the porn games they're peddling to be working on the websites offering the goodies.
My final thoughts on HentaiBedta
I struggled to understand HentaiBedta from the get go, because the layout wasn't great, the titles and meta information they had were inaccurate and yeah: it's just not the best setup. Having said that, if you are looking to get your hands on a destination with lots of hentai porn games that you can download instantly to your PC, this is probably one spot that few other hubs can compete with. The blog layout is a bit of a pain in the ass, but it's a small price to pay when you actually get exactly what you want, right? Anyway, that's all from Fetish Dude – be sure to visit Hentai Bedta and start jerking off over these doujinshi games – you're going to love it!
Huge hentai game archive
Regular new releases
Easy to download
Average layout style
Limited English content