HentaiFoundry Review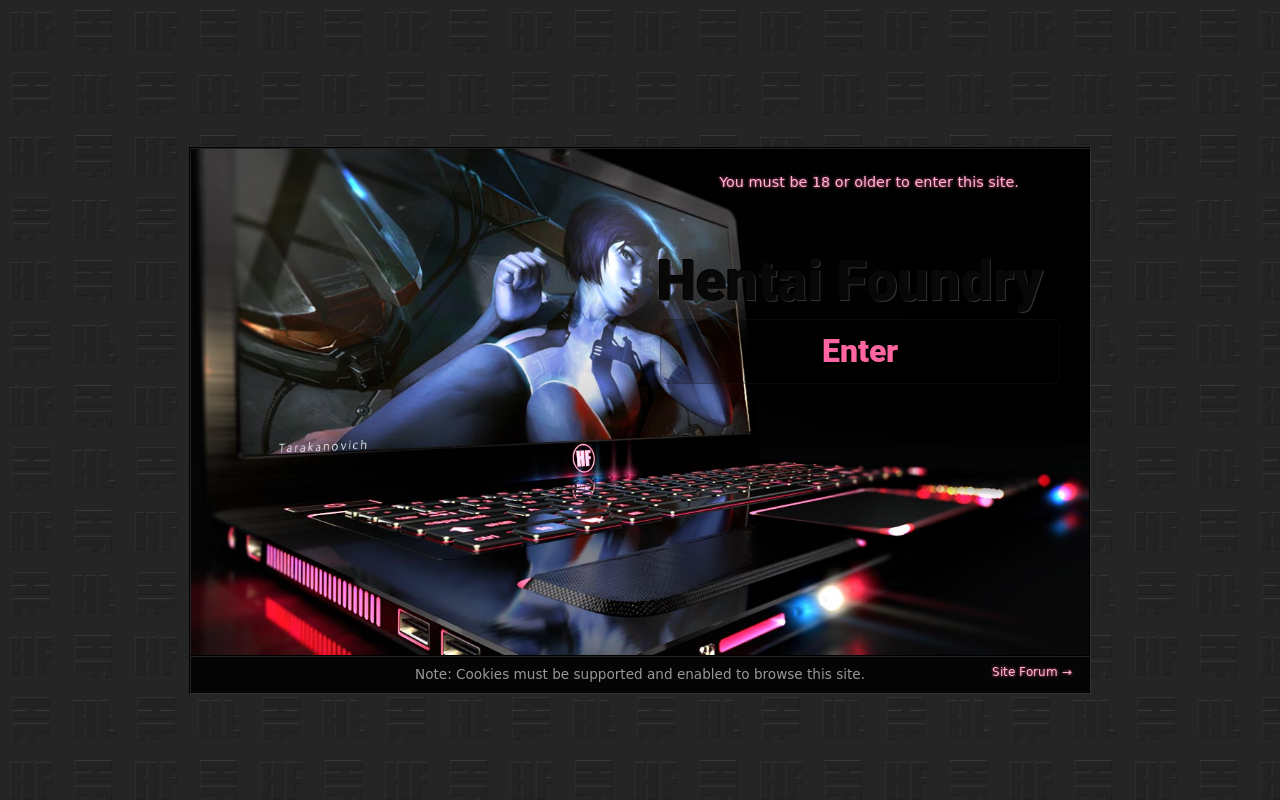 Fetish Dude visits Hentai Foundry
Hey there, friends. It's Fetish Dude and yes, today I'm back to write up a full analysis on yet another anime porn destination. The spot that I want to discuss here with you today is called Hentai Foundry. I wouldn't describe it as being overly well known, but it certainly doesn't appear to be low on traffic or interest. Question is, are all the people visiting here actually getting a good deal, or are they dealing with low-tier media? Read on, because Fetish Dude is about to write up a full analysis on what it is that HentaiFoundry has to offer.
The homepage of HentaiFoundry
I'm pleased to see that the website is offered in HTTPS, although the homepage design leaves a little to be desired. I wouldn't go so far as to describe it as being non-functional, but I do believe that HentaiFoundry could do with modernizing their layout somewhat. It's not massive things, but it's clear to me that this hub was designed a few years ago and hasn't received any care since. The borders, text size and menu buttons are all a little old fashioned. Again, I do want to stress that you can still get around and enjoy the media they have to offer, it just might not be as convenient and attractive as you might have hoped.
The first content area you'll come across is devoted to showing you featured images on the platform. I don't know exactly what method the folks at HentaiFoundry use in order to pick their featured hentai, but it's good nonetheless. I do think it's worth pointing out that while a decent chunk of what's offer here does appear to be hentai, you'll see plenty of uploads that are very much in the western-style of porn too. Nothing wrong with that, right? I think that people who like both types of content primarily have no issues with checking out the other thing too.
A closer focus on HentaiFoundry content
As with almost all of these types of places, you'll find that HentaiFoundry is completely free or original material. These guys act as a database for rule 34 and doujinshi, similar to how PornHub doesn't produce anything, but just gives you access to what other studios have created. There is a slight difference though, and the biggest thing to take home here is that most of the time, you're looking at amateur works. Not amateur in the sense of bad – just that people aren't being paid for the artwork and do it for fun. Totally fine and enjoyable in my book, because there's something about that style of hentai that people just love. Especially when it comes to parody works, that you can rarely pick up for real outlets that charge money, mainly because there's copyright issues and whatever else to go along with the content. That stuff can get dicey, so more often than not, it's just individuals who do this type of thing.
Exploring the HentaiFoundry categories
There are 5 mega sections at HentaiFoundry, each of which has its own selection of categories. These are anime and manga, cartoons, games, misc and original. I decided to have a glace out of curiosity toward the games section: it's still hentai, only themed around characters from various video games. I was pleased to see a relatively thick archive too, given that there are over 18,000 uploads here – that's a lot of hentai! They've even got some stories if you want to go down that road, but I'm not entirely sure how good they are. What I glanced over seemed okay, but since we're here for hentai, I don't think covering much more on the erotic fiction side of things is a good idea. Overall, I did like the artwork, but that's not saying much: you find what doujinshi databases and hentai media libraries have are typically almost always the same.
A conclusion on HentaiFoundry
Okay folks: I really would like to thank everyone for reading this review and I think it's safe to say that Hentai Foundry gets the all clear from me. I'm not going to suggest for a minute that this is the best spot around if you're looking for this type of content, but it's pretty damn good and that's all anyone can ask for, right? It's my personal belief that HentaiFoundry has a long way to go on its quest to become the hottest destination around for anime porn, but that's surely something they can manage if they focus.
Thank you so much for giving this analysis your complete attention. If you're interested in more anime porn coverage, be sure to explore the rest of my site and all of the hentai reviews I've created! Peace and happy fapping.
Lots of hentai
Active Discord server
Good categories
Average layout
No video content