Erofus Review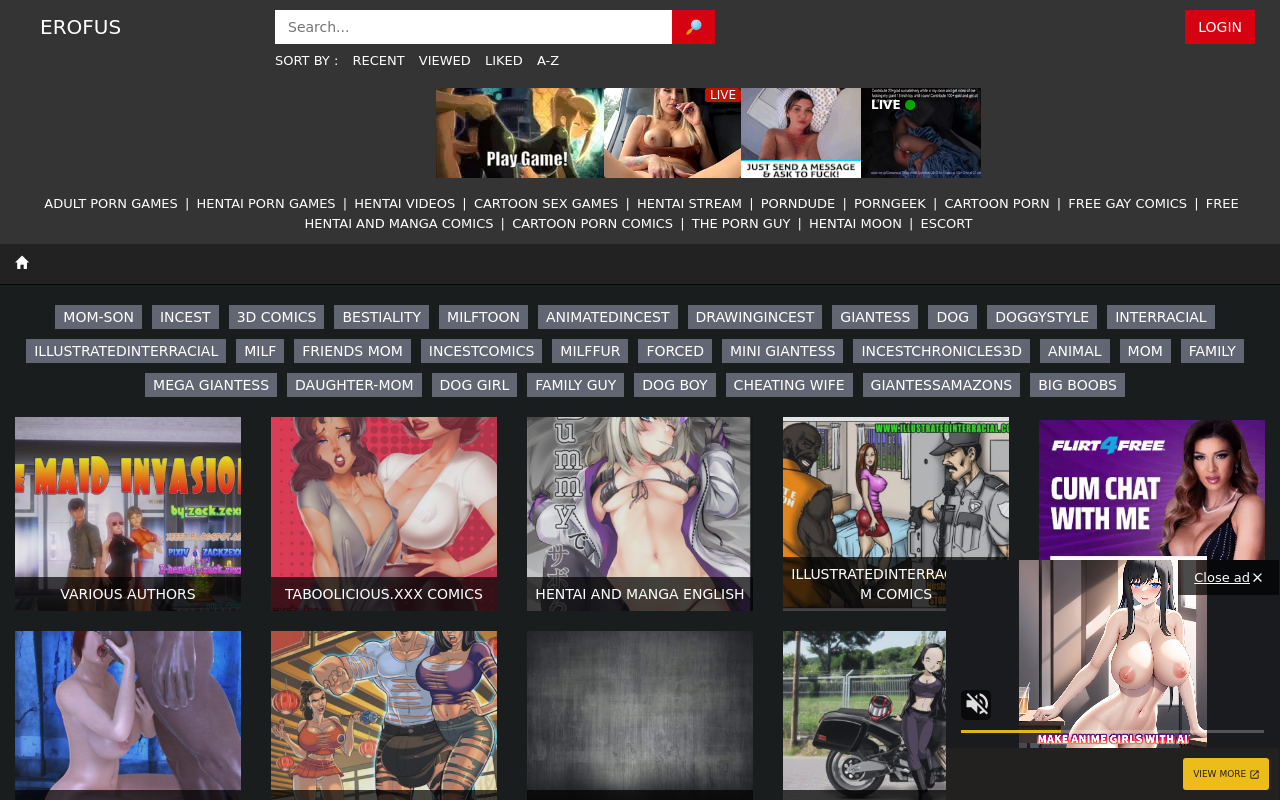 Fetish Dude's visit to Erofus
Hello there! Fetish Dude has realized in recent months that in terms of comparative niche competition, anime porn is one of those places where you're going to find a huge number of websites that really do a number with regard to giving you access to the content you want. It's a highly competitive spot and I'm looking forward in this review to talk to you about a place called Erofus. They alleged that they have a great selection of free sex comics and adult cartoons, but will that be the case when I take a look? To find out, let's give this spot the full Fetish Dude review. I'm confident that we're going to see some great stuff here, but if you want to know more, it would be wise to continue reading.
First thoughts on Erofus
Judging a website by its homepage is generally a good thing, since I always want to be able to see what the initial experience is like for anyone who decides to visit. In the case of Erofus, I think they've done a pretty good job of giving you access to the content that you want from the get go. Almost all of the homepage's visual real estate is devoted to showing you various galleries that you can check out. These are, I'm guessing, organized by default by upload date. That is to say that the content at the very top is the latest added to the database. In this area, you'll only find a title and a preview image – that's it. So far, so good for the folks at Erofus.
Sorting by viewed on Erofus
Right at the top of the website next to the search box, you've got the ability to organize material here based on how many views it's got. When you do this, the layout switches to showing you gallery producers as opposed to individual releases that you can look at. Since we're here, maybe it's an idea for me to go ahead and talk a little about the content. While a lot of the sites I cover here in my hentai review section specialize in one thing, there's a bit of a variety at Erofus. Let me break it down in the next paragraph.
What Erofus offers to visitors
There is hentai here and a lot of it too, but I think it's fair to say that a decent chunk of the Erofus database shows off rendered pornography and Western-style drawn works. These are typically quite popular with folks that do like hentai, but also want to see what's produced from folks outside of Japan. As a result, the most viewed series here include the likes of MILF Toon, TG Comics, Extreme X World Comics and Taboolicious. I think there's quite a lot of variety in the Western comic book porn world, so be sure to have a poke around in order to find something that really is relevant to your interests. MILF Toon is particularly popular and there's a huge amount of content there for you to enjoy, all themed around horny, mature women that know how to have a great time.
Some tags on Erofus
Back on the homepage, you'll see that just above the first content display area, there's a number of different cartoon porn categories that you can click on. The options here include the likes of big boobs, monster sex, interracial, incest and more. I can't actually seem to find a place with all of the categories though, which is a little annoying. Having said that, after you do pick on a specific series, you then will be shown a bunch of related topics that you can click on if you want to explore more of the available niches out there. Overall, I'd say that Erofus is doing a good job in the quantity department. There are hundreds, if not thousands of Western porn comics here to look at.
Finishing up my Erofus review
So, when all is said and done, just how good is Erofus? I've had a fantastic time here, and I truly believe that anyone else interested in hentai will probably feel the exact same way. They've got some truly fantastic anime porn on offer, as well as a bunch of Western comic book porn releases that very few competing spots are able to provide. Personally, I'd argue that Erofus is in a great spot – especially if you're someone that wants to enjoy something that's drawn, but not strictly of the hentai variety. Anyway, that's pretty much everything Fetish Dude wanted to cover in this premium analysis of Erofus. Thanks so much for reading and be sure to visit my full anime porn website review page if you're interested in checking out my places just like Erofus.
Updates quite regularly
Lots of Western series
Free comic access
A few adverts
No category section