HentaiFromHell Review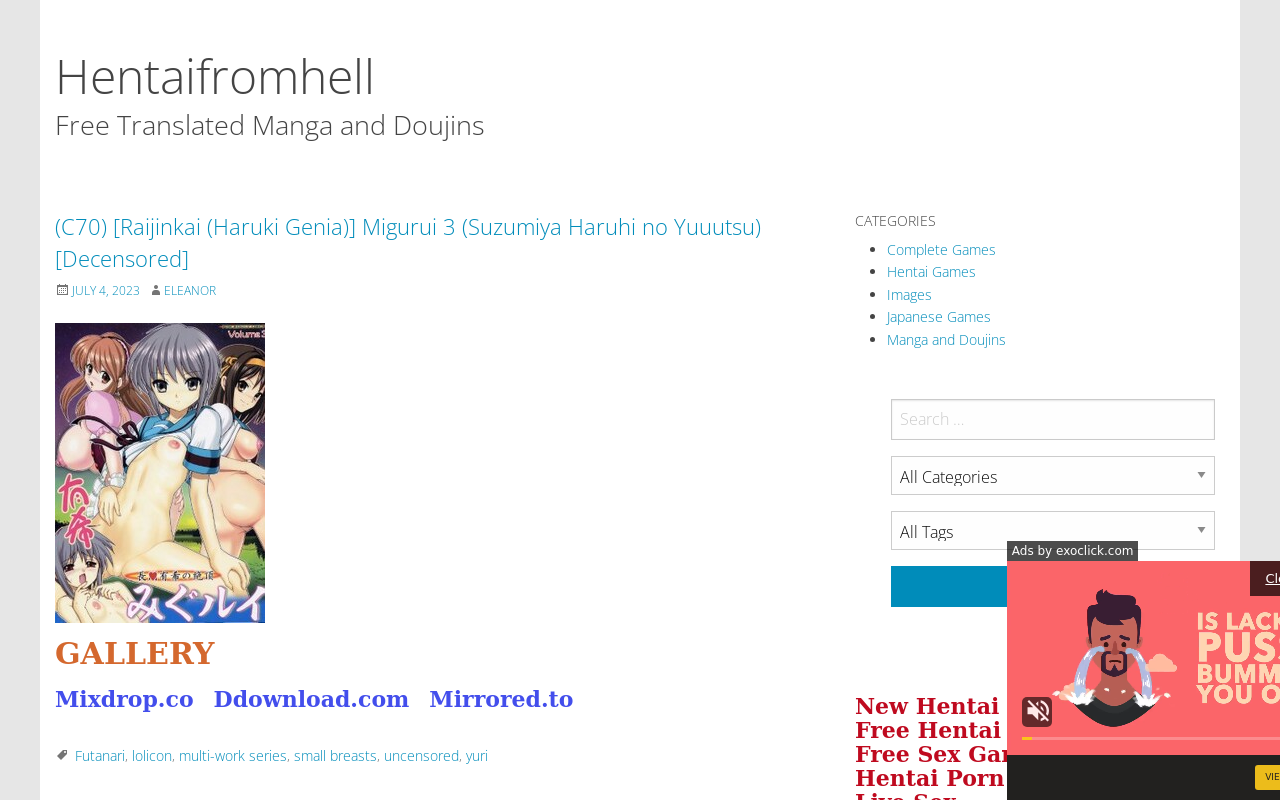 A review of Hentai From Hell
Hello there! It's Fetish Dude and yes: I am about to write another review on an anime porn website that I think might just be a decent spot to go to if you're the type of person who loves hentai. For the longest time, I've searched far and wide across the Internet to ensure that anyone who wants to enjoy world-class adult material is able to do so without any pain or suffering whatsoever. Will HentaiFromHell be a place that helps the average jerker, or should you go to another destination instead? Well, read on: Fetish Dude is going to tell you pretty damn soon.
The initial experience at HentaiFromHell
When you look at the biggest hentai websites out there, they always seem to focus on giving you access to top quality anime from the get go in an easy to understand layout – similar to the way that tube sites give you the videos you're after. That said, I'm not entirely convinced that HentaiFromHell is pulling its weight in terms of accessibility. Call me crazy, but it just feels as if you're not going to see anything here that is instantly clickable and enjoyable in the same way that you will on the other platforms I've reviewed. A good example is Simply Hentai, where you can pluck out any number of anime porn productions and instantly chow down on the goods – it almost feels like anime porn overload! Not quite at Hentai From Hell though: that's probably because of the structure they've gone for.
This website is in a blog-style layout, which means it's chronologically laid out and you have to scroll down to go through each entry. This was probably sustainable from the beginning, but since there are now 141 archive pages here, I don't know how long Hentai From Hell will be able to continue down this road. If I do go back to the very first entry they have, it was only created in March of 2020, so they haven't been in the game for all that long. Since they appear to have ambitions of giving punters access to a huge amount of doujinshi, I think they should switch over to another design sooner rather than later. I just don't see how it's going to be sustainable in the long term. Call me crazy, but this seems like a massive oversight and yeah – navigation ought to be seriously improved upon if they want to be competitive in this space.
The categories at HentaiFromHell
On the right-hand side of the website, you'll see a few categories that you can explore in a dropdown box. These are niche-based desires, but instead meta categories for different styles of media. While most places that call themselves stuff like Hentai From Hell are only going to be looking at doujinshi and other types of anime porn, these guys also have games and rule 34 content if that type of thing floats your boat. Now once you've actually picked out a category here, you'll then be able to select from the tags – there are so many here! Again, I feel like there's an accessibility issue, since they're all put into a dropdown bar which seems almost impossible to look all the way through with any level of convenience. To make matters worse, you also can't see how many entries each tag has, so you run the risk of selecting something that only has one option, and if it's not really what you're looking for, well, good luck jerking off to that exact type of media. Suffice to say that so far, I feel like Hentai From Hell has let us down every step of the way.
The index pages for HentaiFromHell
When you eventually do find something that tickles your fancy, click on the title to be taken through to the main index page for whatever it is that you're actually going to want to take a look at. Once you've done this, you'll have three download options from the following sources: Mirrored, Uploaded and Upstore. These are pretty reputable storage solutions, but after a set number of downloads, you will need to sign up for an account in order to continue. This isn't strictly the end of the Universe, but it could be a hell of a lot better. Note that you're able to select the 'gallery' tag and you'll be taken through to a place called ImgBox which will then let you look at the doujinshi you want straight from the site. It's good stuff and ultimately, I think that this is the best method to go for. Still, since so many of the competing places out there for hentai have it all stored locally, this does feel like a little bit of a letdown. I'd appreciate everything being dragged onto the site in future – otherwise what's the point of HentaiFromHell in the first place?
HentaiFromHell: lots of improvements
I feel like there are other pretty important improvements to be made here, such as a reduction in the number of sidebar links that they've got. Sure, it's nice to be able to go to all different types of places, but Hentai From Hell is really overselling itself as a directory when it doesn't even audit the links it's throwing out. Also, I'm not convinced that the games they display are actually all that good – Fetish Dude does a much better job of pointing you in the right direction for that type of thing. In fact, my gaming analysis is some of the best around!
A conclusion on HentaiFromHell
As much as I like to give some websites the benefit of the doubt, I don't think I can recommend you visit Hentai From Hell in good faith. There are simply too many better destinations out there and this place doesn't seem to really care all that much about improving the user experience. Sure, it might be new, but if anything, that makes it worse. Other places have legacy systems in place and so much stuff to work with – if you're creating a site in 2020 and it functions like this, you can't really blame me for having a negative reaction to it. So yeah, my advice is to just go ahead and look at the competing spots instead, because HentaiFromHell is not the best in slot option for dudes that want to enjoy anime porn online.
Thank you for reading this complete, thorough analysis written by Fetish Dude. Come back any time you need more hentai website coverage!
Some good hentai comics
Can download all uploads
Regular new releases
No local hosting
Blog-style layout
Poor navigation tools