AnimeIDHentai Review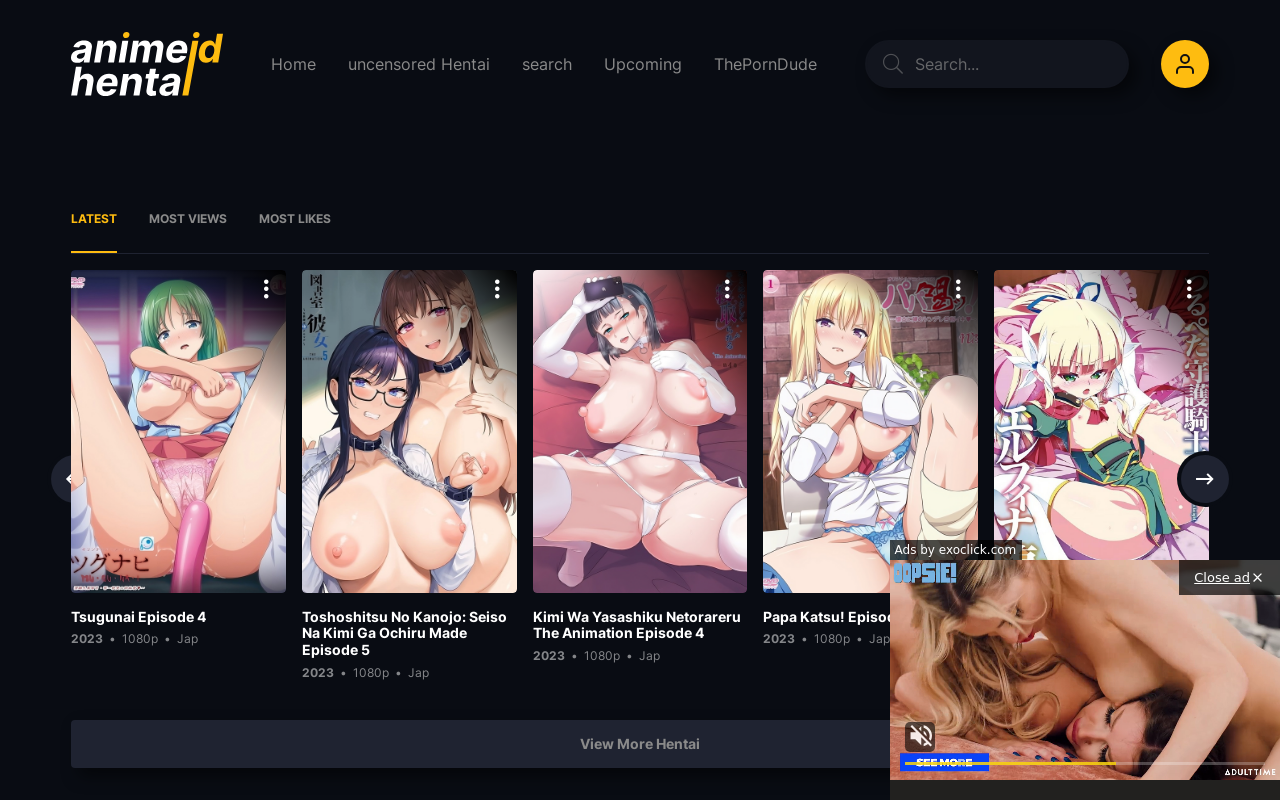 A review of AnimeIDHentai
We all love hentai, right? Well, I sure as shit hope you do, because if not, you're going to be mighty disappointed with the fact that I'm writing up on a place called Anime ID Hentai in this particular review. I should probably point out that Fetish Dude is very much of the opinion that you ought to always focus on giving yourself access to the hottest porn around, which is why Anime ID Hentai might be a prime piece of real estate for those who love drawn Japanese lewds. Will this place deliver? Read on, traveler: I'll be sure to tell you soon enough.
An initial reaction to AnimeIDHentai
Upon landing on the homepage of this particular website, you'll be shown a bar in the middle of your screen that showcases 6 different series of hentai. I suppose it's a good idea for me to mention right now that this place is primarily concerned with videos, although you will find doujinshi here if that's what you're looking for too. As you scroll down the homepage, you'll be presented with a new block of series which are gathered under the 'uncensored' title – suggesting that there is no pixilation in any of the productions. This is a common method of obfuscating genitals in Japanese media, since seeing them is technically illegal. Stupid in the modern era, I know, but alas: that's the world we find ourselves in.
A look at the AnimeIDHentai trending tab
If you're new to hentai and you're really not sure what you ought to watch, it might be an idea for you to go over to the trending tab at AnimeIDHentai: this is where you'll find what your fellow weeb jerkers have been utilizing in order to bust their nuts. Some of the titles you'll find include greats such as Ochi Mono RPG Seikishi Luvilias, Single Etsuraku no Tane, Nurse Me! and Otome Hime. A pretty good array of uploads to be perfectly honest with you: I think that the average purveyor of fine anime porn is going to be absolutely chuffed when they see what the overall quality of material here is like. It's varied, enjoyable and some of the best stuff that Japan currently has to offer – sweet!
The preview panes on AnimeIDHentai
AnimeIDHentai has a pretty robust preview pane area, which allows you to see a bunch about a particular upload before you go ahead and watch it. Alongside a preview image of the release, you'll find a title, episode count, range of associated tags and icons which depict the quality of the upload as well as the language it's available in. By language here, I do mean the subtitles – very little hentai is dubbed into English. I think it's also wise to mention that AnimeIDHentai has a relatively large number of HD uploads, which is perfect if you're the type of person who cares very much about quality. High definition really ought to be the standard for a number of productions out there, so it's nice to see that AnimeIDHentai is well ahead of the curve and knows how to deliver what the average horny hentai punter is going to be interested in. Strikes me as odd that so few places are actually able to compete with AnimeIDHentai in this domain: you'd be surprised at the lack of HD hentai videos on the market right now.
Exploring the player on AnimeIDHentai
After you pick out a hentai series and then episode, you'll be shown a fairly typical embed area that's devoted to giving you access to the title you want to enjoy. The player has a decent number of features and scrubbing was almost instant, so your ability to jump through all of the hentai is pretty damn easy. You've also got a download button here, which doesn't fuck around. You literally get a new page open with the raw MP4, so if you want to store it on your own computer, you can do so by right-clicking and 'saving as'. Brilliant stuff: I always love being able to quickly get my hands on the hentai I enjoy.
Concluding my AnimeIDHentai analysis
Fetish Dude is going to go ahead and wrap up the review here: I think I've covered the most central and important elements of this project, so it's probably best that you go and check out this spot for yourself if you have any more questions. I've found enough positive signals to be more than happy with recommending this spot, so go right ahead and give it a try yourself – I feel like you're going to absolutely love what it is that AnimeIDHentai has to offer. Anyway folks: that's me done here. Take care and may your next hentai video fueled jerking session be the hottest one yet!
Great hentai series
High average scene quality
Easy to download
A few adverts
Limited sidebar features