Doujins Review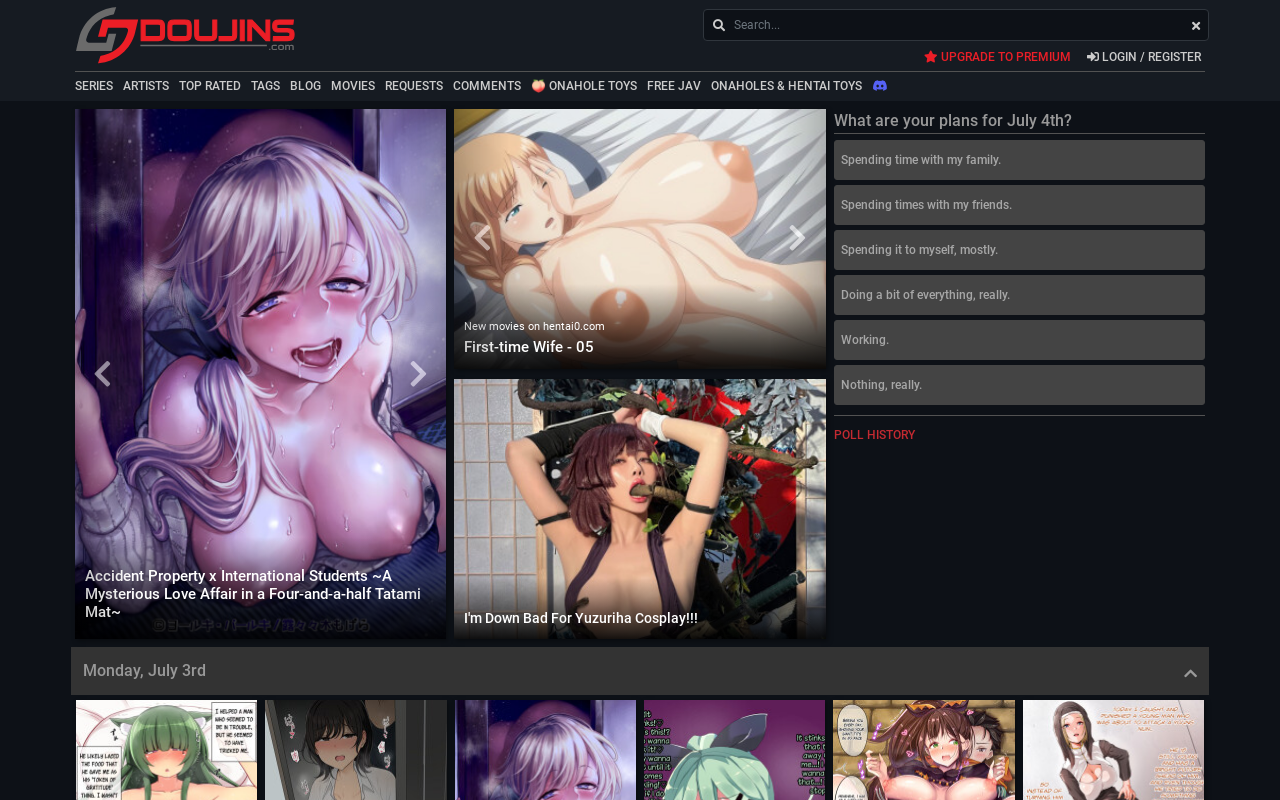 Fetish Dude's review of Doujins
Howdy there – it's Fetish Dude and yes, I'm back to the task of reviewing anime porn websites for you today. The destination I want to talk about is called Doujins and for the longest time, I've been obsessed with hunting down the hottest hubs devoted to hentai that I think you folks will absolutely love. From what I can tell, Doujins appears to be a bullshit free zone that is a community effort and a labor of love. So, with that in mind, let's just get on with the review and see what's going on at Doujins.
A homepage analysis of Doujins
When landing at Doujins for the first time, you'll be shown a block of panes that show you recent video entries and image galleries to the platform. Scroll down a little and then you'll come across full doujinshi uploads organized based on when they were added to the library. One thing I think I ought to stress is that Doujins has some premium only uploads, although I'd estimate around 80% of the catalogue here is completely free for you to access. While this isn't completely unheard of in the business, almost all sites with doujinshi share it completely free of charge and have no paywalls for any of their material. I've always been of the opinion that you get what you pay for, so it might be an idea to peep the premium member benefits at Doujins when you get the chance.
The tags of Doujins
It ought to go without saying that one of the main navigation tools here at Doujins is offered via the 'tags' section of the project. This is where you ought to go if you want to look at a specific genre of hentai. What do I mean by this, exactly? Well, the tags area has a number of different entries of porn niches, although naturally, all of the uploads here are themed around anime porn. As a result, you'll see categories here including the likes of femdom, incest, MILF, schoolgirl and tentacles. I think most folks who like hentai are going to be more than happy with the available niches, so that's a good thing to say the very least. Often times you'll find that porn sites struggle to accurately document and store their content appropriately, but Doujins does a stellar job of this task. Props to them and their categorization of hentai – it certainly helped me find the media that I'm interested in.
After you click on a category, the content will then be displayed chronologically, with the latest media added to the Doujins archive being right at the start of the page. In the top right-hand corner, you've got a dropdown bar that allows you to sort by rating, popularity and alphabetically if you so desire. I'd recommend going with the popularity option if you want a good look at the cream of the crop. The wisdom of the fapping crowds is typically one of the better ways for you to find the content that you're interested in.
Series on Doujins
In doujinshi circles, the phrase 'series' refers to the media that gives these types of places the inspiration they need for the parody hentai. Around 50% of doujinshi out there is themed around an existing idea, so I think it's probably a good idea for me to mention a few of the most popular ones that you'll find on Doujins. Right now, I'm seeing that the likes of Fate Grand Order, Pokemon, Naruto, Highschool of the Dead and other associated titles are parodied here. There's definitely a major focus on the anime and manga element of Japanese media, so that's going to be great for general weebs who just want to dip their toes in the hentai water. Overall, I'm happy with the variety of niches that Doujins has to offer. They've certainly got a lot of doujinshi here too, so that's top stuff.
My conclusion on Doujins
I think it's safe to say that Fetish Dude has spent more than enough time here looking at Doujins and as a result of that, I'm going to go ahead and sign off on the whole project. Do I think that this is the best site around for hentai? Not quite, but it does bring many advantages and one of the most obvious is a lack of annoying adverts and other nonsense. Sure, some material is gated behind a paywall, but that's just a tiny fraction of their library and for most purposes, hentai lovers are going to have an absolute field day here on Doujins.
Thank you for reading another professional review by Fetish Dude. Be sure to check out my other recommended hentai websites if you want more great places to visit just like Doujins!
Large gallery database
Plenty of free content
Good series organization
Very few adverts
Some paywalled material
Average search feature