FapService Review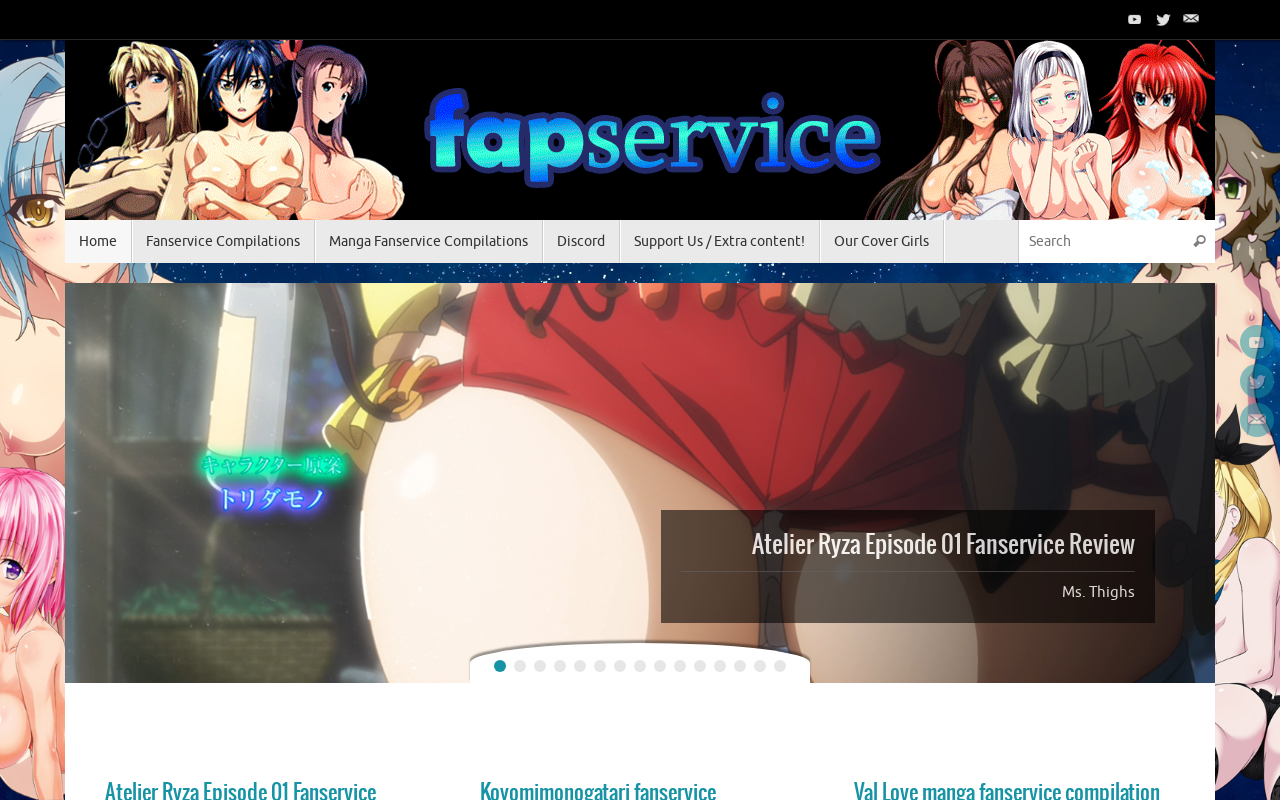 FapService review by Fetish Dude
I've spent a long time over the last few months exploring the very ends of the Internet to bring you my premiere collection of world-class anime porn destinations – a task that I'm actually quite enjoying these days. Alas, I still think I have a long way to go until my database is complete, so that's why I plan to write up a complete review on the project known as FapService right here. Will I recommend this for anime fans who want lewd goodness, or will it fall short of all expectations and be a site worth skipping? Read on: I'll tell you all about it down below!
A primer on Fan service
It's wise for me to talk a little about what fan service is here before I go too deep into the review. Essentially, Japanese manga TV shows have been known to commit a lot of time to developing cuts and shots that are there purely to enjoy the erotic side of the characters contained within. There are a number of studios that do this and while it's sometimes removed in Western ports, there are plenty of folks from the US and other places that want the full fan service experience. After all, it's there for us to enjoy, right? Might be taboo, but if we want to see sexy anime chicks, that's our constitutional right!
Now the concept of Fapservice is to essentially collect and bundle all of these fan services together, so that you've got a convenient place to go if you want to enjoy the best bits of your favorite series. Note that alongside offering you cuts from TV shows, they've also got original manga here in the form of comics that you might be interested in. It's a collection of both approaches, so yeah – I think that most people are going to be more than comfortable with that situation. They'll add clips in often of the best bits and the stuff that people can't get enough of. Believe me when I say that this is quite a unique website that not everyone will have an interest in, but if you like that kind of thing, it's going to be right up your alley!
Series with FapService compilations
Fap Service has been in business since March of 2013, so this isn't their first time curating this type of material. They're pretty damn good at it from the looks of things, but I do want to mention a few of the projects here that they have covered so you can know what to expect. Note that these listings are in no particular order – I'm just reading off of a list to give you an idea of what Fap Service concentrates on. So, included in their database, you will find fan service combinations of: Mirai Nikki, Super Robot Wars, Ultimate Girls, Heavy Metal and Seikoku no Dragonar. Clicking on each index page will then go through to show you their compete compilations, as well as some torrents if required for the larger pieces of material.
Extra stuff at FapService
I think it goes without saying that if you want to foster and manage a community themed around hentai, you better bloody well make sure that you have a Discord server! I'm pleased to see that FapService has one and it's quite busy, so that's a good situation to be in. They've got a number of rooms to address a wide array of topics and concepts, so be sure to abuse it until you get all of the hentai that you could possibly want. FapService is making a lot of headway in the comments department too, by constantly monitoring suggestions that links are no longer working and that type of thing. I'm hoping that they set up a forum at some point, but maybe that's a little too old fashioned when Discord exists.
My conclusion on FapService
Friends: I think that Fetish Dude has just about ran out of things to discuss with specific regard to FapService. I've had a fun time here and I think that if you're looking for a project with manga fan service, this is one of the best options on the market. I do want to stress, however, that this type of website is pretty tame and unless you have a specific understanding of what's offered here, you might want to check out the alternative recommendations I have for spots that may do a better job of giving you what you want.
Fetish Dude wishes you thank you for coming along on this journey – be sure to check back whenever you need fresh access to the best hentai websites the Internet has to offer!
Fantastic website idea
Lots of content
Active Discord server
Not for everyone
A few adverts