3DHentaiX Review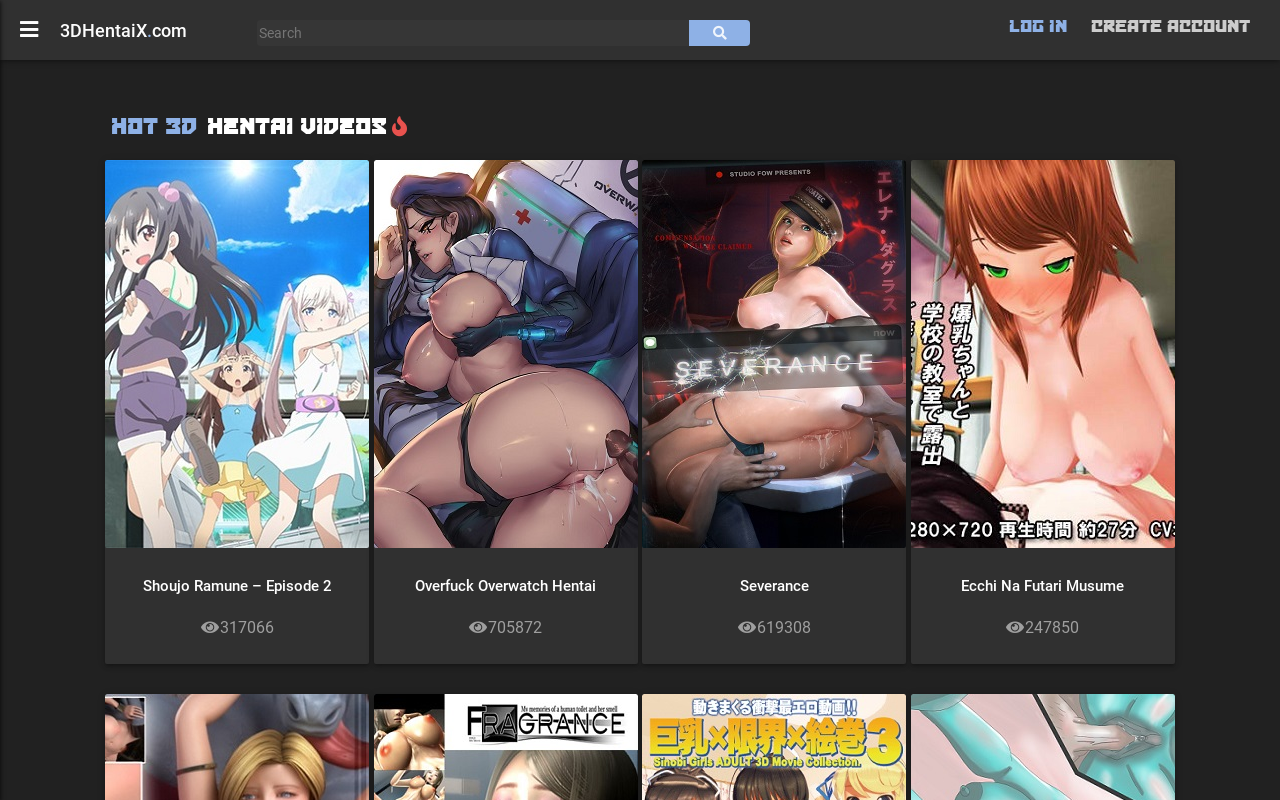 My visit to 3DHentaiX
Hello friends – it's Fetish Dude here and I thought that I'd go ahead and write up a review on this website I've been hearing a lot about recently. It goes by the title of 3D Hentai X and as you can probably tell, it's not going to be the type of place you ought to visit if you want to see hardcore sex featuring actual pornstars. The name of the game here is animation, so if that sounds like something you might be interested in, be sure to read the rest of my analysis down below. Fetish Dude cannot wait to check out 3D Hentai X and all it has to offer, so let's get down to business!
The 3D Hentai X homepage experience
I'm pleased to report that the homepage here sticks to tradition and believe me when I say that this is a good thing in regard to doujinshi collections and hentai videos. Almost all of the landing area shows you preview galleries of various uploads from a bunch of different artists – more on the content later! The preview panes consist of a view count, title and image from the production: pretty reasonable, all things considered. Note that the first content block is devoted to 'hot 3D hentai videos', whereas the second one is the newest releases added to the database. What's quite cool about 3DHentaiX is that they receive new smut on a daily basis, so if you want to come back every so often and get a completely new batch of hentai to enjoy, they can offer exactly that.
Navigation at 3DHentaiX
There aren't actually too many navigation or access tools here, but if you want to access a standard header link bar, press the three lines right next to the site's title at the top of the page. The only real option here that I'd suggest you go for is categories, which is then going to show you a number of erotic niches that you can click on to see all of the content associated with that theme. To be honest, numbers here are a little on the low side, with the biggest category offering just 55 associated uploads. Having said that, you've still got a good range of genres to click through, including the likes of bondage, gangbang, schoolgirls, handjobs, toys and swimsuits. It covers a lot of the major hentai attractions including ahegao and cosplay too, so that's quite cool.
After picking a category, you'll be shown all associated uploads in that particular niche. These seem to be sorted chronologically and sadly, you have no option to look at the material in any other way. I'd like to see them switch over to view count, popularity or something else instead here: it just makes access that little bit better.
The viewing experience at 3DHentaiX
When you get around to picking a hentai episode to watch, 3DHentaiX will load it up there and then in your browser for you to enjoy with no need to navigate to any third-party destination. You've got a quality option which is pretty decent and the ranges offered are good: 4 choices from 240p up to 720p in most cases. Scrubbing took about an average length of time, which is fine given that this is a free porn tube devoted to hentai. You've also got a download button, but when you click it, you'll be prompted to sign up. The process is free, but still – hardly perfect, right?
The big niche element of 3DHentaiX is that the content is 3D in nature. By this, I mean that they're trying to emulate, as best they can, that three dimensional aesthetic. This isn't standard hentai and I think it's probably best that you check out their collection yourself to get a good understanding of the content they're offering. It's somewhat unique and I think I'd screw up explaining it because Fetish Dude can be a bit dumb sometimes. Still trust my opinion on porn though: that's something I'll always be an expert regarding!
My closing remarks on 3DHentaiX
I think I've had just about enough time here at 3DHentaiX to determine that it's a great spot to go for XXX entertainment in the hentai space. Again, the 3D angle here is quite niche and I think a lot of folks are going to enjoy it. It's certainly new and something you should try: it just might be your next favorite niche. Anyway, Fetish Dude doesn't want to harp on any longer, so thanks a bunch for reading this analysis and please remember to come back to my site whenever you need advice on the best spots online for anime porn. Peace and love – I'm out!
Great hentai collection
Unique 3D theme
Good loading speeds
Average archive size
Lots of adverts