XBooru Review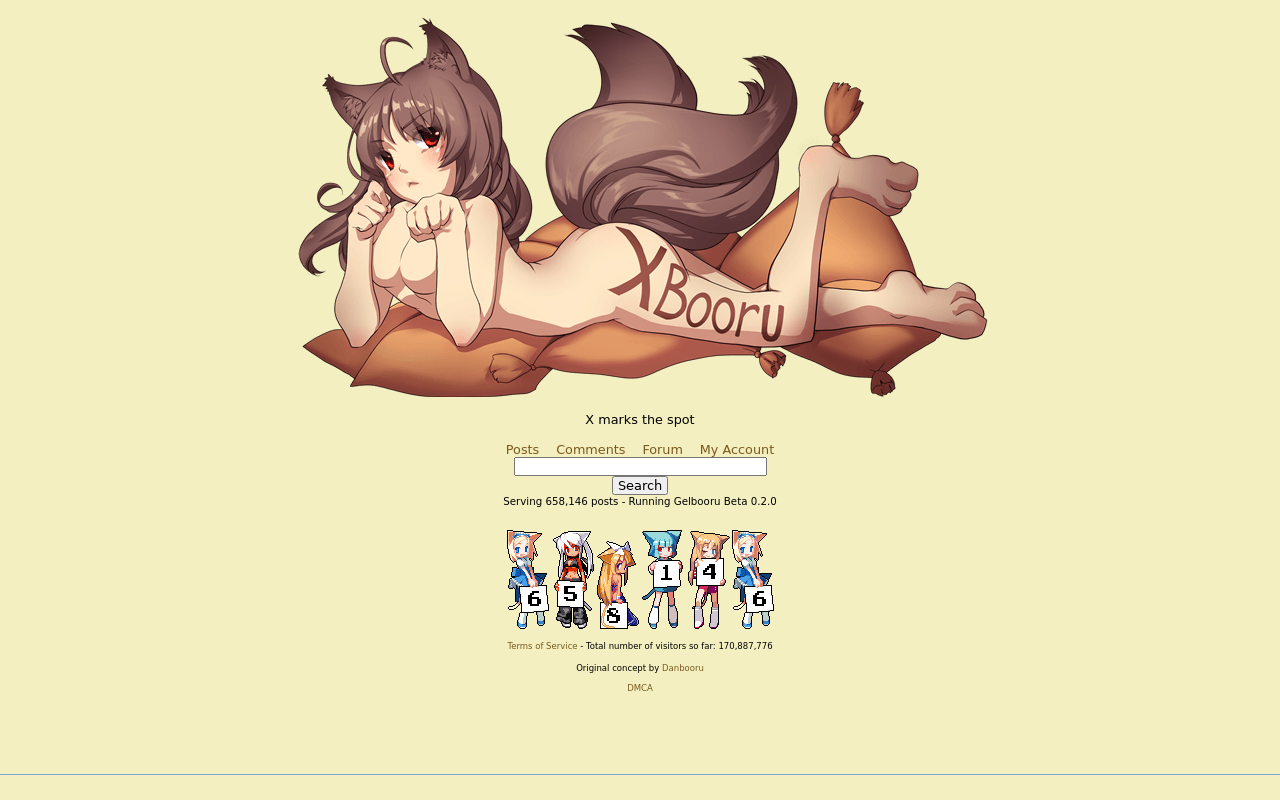 Exploring XBooru
How long has Fetish Dude been in the business of writing up reviews on hentai sites? Well, it's been at least a month since I started to penetrate this market and let me tell you, competition is absolutely fierce. You'll struggle to find a group of guys that care more about their product than the doujinshi crowd: it blows my mind just how competitive they are when it comes to this line of work. XBooru seems to be such a place with a great database of hentai, but I've naturally got to visit in completely in order to confirm that. If you're keen to learn more about the site, read on – Fetish Dude will tell you all about it.
My first thoughts on XBooru
I've seen a bunch of homepages in my time for various different sites – I hate to start this review off negatively, but I'm not a fan of the way that XBooru has gone. It's actually quite a common aesthetic for rule 34 databases, but it just doesn't strike me as the most functional of approaches, so I'd like to see them take a big leap forward on that front so that anyone coming here can actually access what it is they want without a care in the world. What do I mean, exactly? Well, you're presented with a search box and a few links – but that's essentially it. I suppose one good feature is that they tell you how many data entries they have: it's well over 600,000 pieces of content at this point, which is just crazy if you ask me. Remember, this is all 100% animated or drawn content – pretty damn wild.
Trying out the XBooru search feature
To put the search feature to the test, I wrote in the keyword 'Riven' and hit enter. Unlike some other websites, I was really pleased to see that content was returned to me, most of it relevant to the topic that I picked. Still, I saw some gay posts here, and I think the reason is because there are multiple characters from multiple shows and whatever else who are named Riven. As a result, it's a good idea to put in riven_(league_of_legends) as the tag you want, since everything that is returned after that is pure rule 34 associated with what I wanted.
One thing I do want to point out is that the archive for Riven content was relatively slim, which surprised me, there were only around 25 or so posts in this area – far below what I'd expect. Ahri had over 400 posts though, so I guess it really depends on what character you go for. It's not just League of Legends action either, you can type in stuff like 'Misty' if you want to see that hot slice of ass from Pokemon, or even Batwoman if you're looking for a comic book hentai source. All in all, I think that XBooru does a good job on the search front, although the box can be a little annoying with its suggestions. Hopefully that's just a temporary issue with Chrome, since the same glitch didn't occur with Firefox.
Exploring the XBooru WebM database
I know a lot of people out there absolutely love clips – especially when they're of the rule 34 variety. XBooru has a specific WebM tag that you can check out if you're interested in seeing a little moving action. I quite like this feature and I wished more hentai databases were willing to provide it. Call me old fashioned, but I'm a man who loves videos and I think being able to enjoy all of the smut here in a moving format is probably the best step forward for my jerking experiences. Some are quite long too, although I'd say on average, you're looking at less than a minute. That's part of the appeal of WebM though, right? Not everyone wants to sit there and look at something that lasts a huge amount of time! It's also important to remember that since the content here comes from amateur artists, you can't exactly go asking for the world. Stuff in this genre costs a lot of time to create, which you're not going to commit heavily to if you're giving it away.
A look at the XBooru community
For many hentai fans, having a community on the site that they frequent is quite an important thing indeed. At a basic level, you will see that XBooru has the ability for people to comment and respond to various posts made by others, which is a good step toward giving people feedback and just telling everyone how much you love a certain piece of hentai. In addition to that, XBooru also has a forum section, although I'd be lying if I said that it was particularly populated. You'll find that almost all of the posts are contained to the erotic roleplay and hookup thread, which is where weebs frequent if they want to have some cybersex with folks. Not my cup of tea, but I know that this type of thing is big in the scene.
Perhaps in a slightly more modern style, XBooru has a Discord server – it's actually quite active, too! I didn't spend too long here because I've seen enough on the subject of XBooru to have a final opinion, but I will say that any website with a Discord server is probably looking to make their project as good as it can be. Props to the gang behind XBooru for keeping it real.
My conclusion on XBooru
It wasn't immediately obvious to me that XBooru delivered, but after looking through their database, I'm happy with what I come across and yes, I think you should check this site out. No site is perfect, and while I can think of many things that XBooru could likely do better, the basic premise of what they wanted to do with this project has been thoroughly delivered upon, so how exactly would it be reasonable for me to complain about that? Fetish Dude is always happy to give his commendation to places that deserve it and XBooru is certainly one of them. So, to cut a long story short, do yourself a favor and go check this place out. You'll have a whale of a time – believe me!
Thanks for taking a look at another hentai website review written by Fetish Dude. Don't forget to look at the other reviews I have devoted to free hentai porn when you can! Peace and love – oh, and happy hog squeezing.
Large tag archive
Fast loading speeds
A WebM section
Active community Discord
Thumbnails could be bigger
Average library size
A few adverts