SimplyHentai Review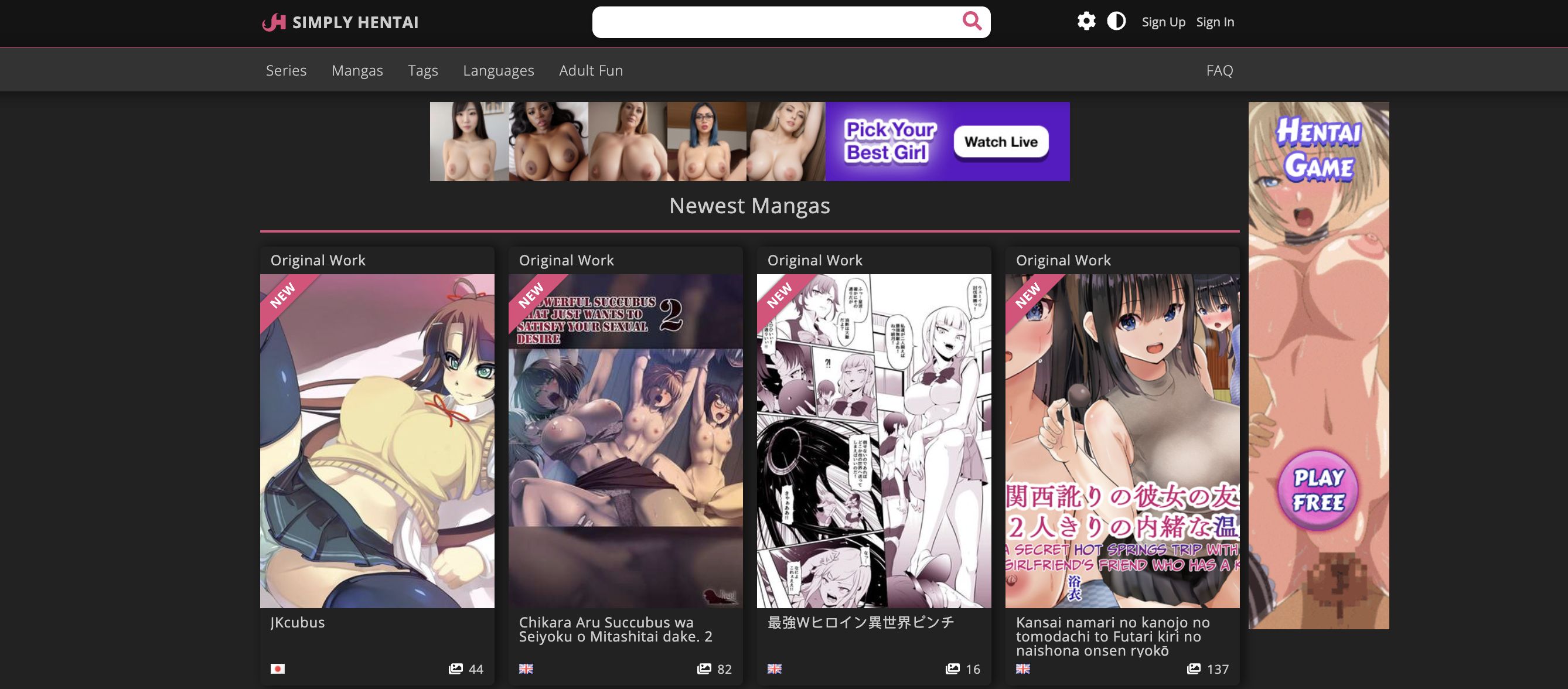 Fetish Dude's visit to Simply Hentai
The Internet is packed with so many destinations these days for a whole host of adult entertainment – no matter what you're into, chances are that there's someone on the Web that's able to provide you with the smut you want. This is true even for the hentai niche, which has received one of the most explosive levels of growth over the last few years. Today, I'm going to visit a spot called Simply-Hentai to work out if the juice is worth the squeeze: with so much competition, just how good is this place? To find out, continue reading and I'll take you on an all-inclusive tour of Simply Hentai and its anime porn assets.
The homepage of Simply-Hentai
When landing on the homepage of Simply Hentai, you'll be presented with a preview pane layout of the latest manga uploads which the people behind the project have sourced. It's important to realize that nothing here is actually exclusive: it's sourced from a number of third-party distributors and artists that are both professional and amateur in terms of their production focus. You can scroll down the page to explore more of the available uploads and in the next content section, you'll find that Simply-Hentai provides you with a list of popular releases in your country, as well as another sub area for uploads which can be read in English.
This is probably a good time to point out that there are multiple supported languages here, with the dropdown providing you with a list of about a dozen choices. The ones that populate the archive of Simply-Hentai the most include Japanese, English, Chinese and Korean. I hope you're able to understand at least one of these languages, otherwise you might have issues exploring and enjoying all of the doujinshi and anime porn that Simply-Hentai has up for grabs.
An accessibility note
While I understand that adverts are part of the business, I also realize from the consumer perspective that it costs bandwidth and in some cases, can deliver malware to your computer. I had issues with uBlock Origin when trying to activate the dropdown menus, so something tells me that there's an issue here, and it may not be something that Simply Hentai actually wants to fix. Again, I understand why advertising is a part of the business, but that doesn't change the fact that there's still an issue here with being able to look through the database without having any issues. I did turn off uBlock Origin for the purposes of this review and I'd say that the advertising isn't all that terrible, so yeah – not the worst type of situation to be in, all things considered.
A look at the series on Simply-Hentai
There are a number of different 'series' here, which basically focus on themes for content that come from different IPs. I don't know how best to explain it without giving you examples, so here are the most commented series on Simply Hentai that you can explore: Naruto, Pokemon, League of Legends, Sword Art Online and Fate Grand Order. Essentially, you've got a mixture of video games, anime and mainstream comic books to look at here, as well as some other stuff mixed in that might not be as popular. Fetish Dude is a big fan of the variety of material, since it doesn't matter what's bringing you the doujinshi table, you're likely to get something that makes you very happy indeed.
After clicking on a series, you'll be presented with all of the sets that Simply-Hentai has under that particular banner, which is absolutely perfect as far as I'm concerned. These are sorted by upload date, but you can switch to popularity if you so desire. I had a brief look over a bunch of different series and was really impressed with the general quality of the amateur works. This is some top-tier doujinshi that I'm sure is going to make you very horny indeed. I have to give a particular level of praise to the section for League of Legends, which had some of the hottest parody anime porn themed around the likes of Nidalee, Riven and Ahri that I think anyone will ever see. They sure know how to curate an archive of video game doujinshi perfection, that's for sure! I doubt anyone could find a reason to complain about all of the fantastic hentai that's on offer here.
The videos of Simply-Hentai
Simply Hentai also has a videos section, but I should stress that this is hosted on a subdomain and if you have an Ad Blocker enabled, it will again block the functionality of the site with no thumbnails loading! Simply Hentai's video collection is based on actual hentai series that have been produced by Japanese outlets, many of which I'm confident that you're going to know a lot about. Some of the names that I noticed here included the likes of Anoko to Iikoto, Hime Dorei, Creamy Pie and Oni Chichi Refresh: I think a lot of the anime freaks out there are going to love this fantastic array of real hentai. The content streams straight from Simply Hentai and looks damn good too. The only thing that I would really consider to be missing here is the ability to download content locally, which makes me sad, but oh well: that's just the nature of the game, I suppose.
A final word on Simply-Hentai
Friends: Fetish Dude has seen enough on Simply Hentai to warrant his immediate recommendation of a visit to the website. I had a fun time here and I have little doubt that the anime geeks among you are going to feel right at home when you come here. Truth be told, they've got some of the most enjoyable anime XXX entertainment in the business and I don't think they're going to slow down their desire to conquer the doujinshi industry any time soon. So, in short, Fetish Dude is giving his full endorsement of Simply-Hentai. Thanks a bunch for reading and be sure to come back whenever you want more advice on the best hentai spots around – you better believe that I'll be willing to tell you all about them!
Lots of hot hentai
Regular new uploads
Great series categorization
Some bonus hentai videos
Cannot download videos
Adblocker issues