Shadbase Review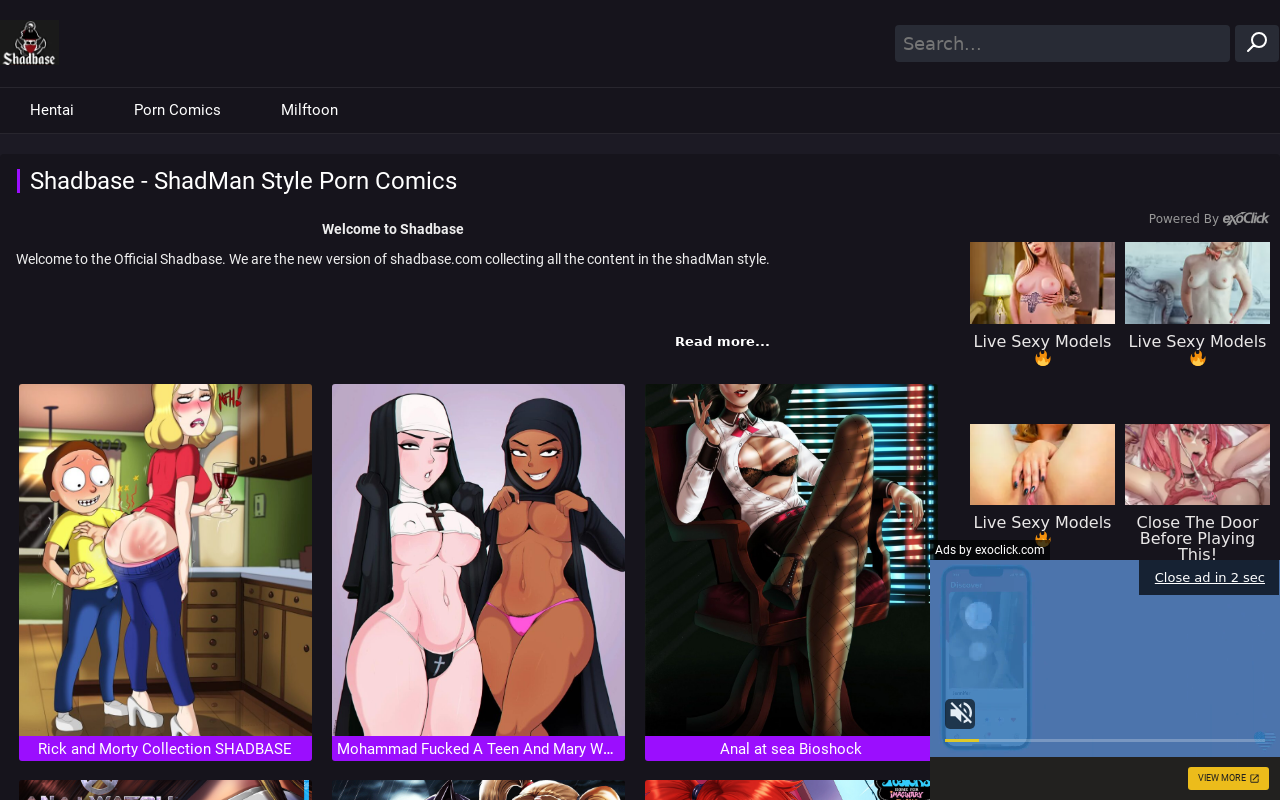 A visit to Shadbase
For those who aren't familiar, the project and website I'm going to look at today comes from quite a controversial figure. I'm not going to get bogged down into the drama because to be honest with you, I really don't care. That said, I feel like Shadbase is a good talking point when we look at the world of hentai and drawn pornography, so that's going to be the focus of what my review will cover. I've already checked this place out before, but I still want to give a neutral third-party look at the website, so I'll do my best down below. Continue reading if you want Fetish Dude's full and honest opinion on Shadbase.
Initial security warning on Shadbase
I have pledged for the longest time that I'm not going to let websites get a free pass if they have security issues, so I think it's worth mentioning that currently, you're unable to access Shadbase with a HTTP connection. This creates a rather large problem and one that I think a lot of people are going to be oblivious to, but alas, I will mention it anyway. From my perspective, all websites should be HTTPS by default – especially since it's free of charge to do. It's not a huge issue by any stretch of the imagination, but I still do want to stress that HTTP is so outdated and old-fashioned that I can't take too many platforms with it seriously. Let's hope that Shadman fixes this down the line.
What is Shadbase?
While most of the hentai and rule 34 destinations I write about are curated efforts with artwork from several different destinations, Shadbase belongs to one person called Shadman. A controversial figure, but certainly someone with a hell of a lot of skill and ability to draw incredible artwork. That's something I cannot overstate either: he's got an ability that makes him popular, even if folks do consider him to be a bit of an asshole. Note that when you visit this place, you will see some pretty weird, twisted, comical, bizarre and hot concepts. He keeps up with the modern pulse of the Internet too, so expect to see parodies of streamers, personalities and other flavor of the month characters.
For instance, his latest posts to his blog are custom artworks themed around that bathwater chick from Instagram and the ok boomer dancing streamer. It's pretty hot lesbian stuff, but he's not afraid of dialing it all up to 11 and really touching on weird topics. Again: I'm not here to judge the person and I just want to look at the art, which is obviously incredibly impressive to say the very least.
Navigation at Shadbase
I'll be honest with you, general layout and access here is a bit of a pain in the ass. In lots of cases, images will bleed over the bounds of the blog and you'll have to scroll over in order to see whatever it was that you planned to take a look at. Shadman isn't one for keeping things organized in any traditional fashion and the homepage isn't exactly structured like a normal blog would be. It's quite hard to put this concept into words, but just know that in terms of getting around and looking at stuff, it's not the smoothest experience out there. You can go to the archive page, which is probably the best option, but even then you're struggling with data and information on what each piece is all about.
The community element of Shadbase
Shadbase is much more than just a place to get your hands on hentai: the artist here also sells merchandise, runs an Instagram account, Tweets relatively often and even streams on Twitch from time to time. It's part of an experience and I know that's something a lot of you horny weebs are going to love. Maybe Fetish Dude should start up his own Twitch stream for when I go out and review websites – what do you think? Could be pretty good, right?
My conclusion on Shadbase
Friends, I think that's pretty much all I have time to talk about here. The situation and case with Shadbase is a unique one, so I'd recommend checking it out a little bit, potentially following the guy on Twitter (if you use it) and come back every few months to see what's new. As a pure source of hentai or rule 34 – it's good, it's just based purely on quality as opposed to quantity. There's no denying that Shadbase has a small database, but the attention to detail and overall aesthetic of his artwork is really quite incredible.
Thanks for taking the time to read yet another professional review by Fetish Dude. Come back any time you need recommendations on the best spots around – I'm here to help!
Fantastic focus on quality
Unique artwork style
Interesting artist character
Controversial character
Limited database of rule 34