Rule34Hentai Review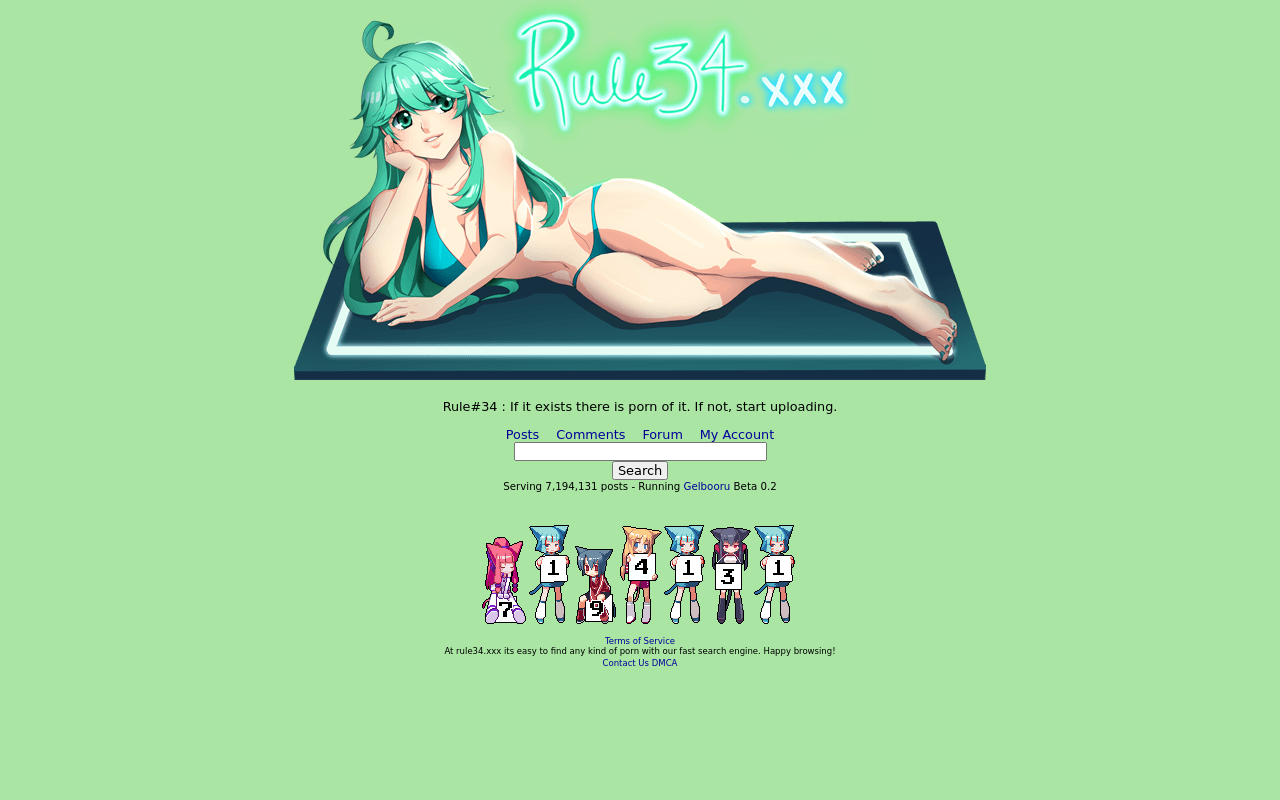 Rule 34 Hentai: a review by Fetish Dude
Everyone on this review platform ought to know by now that Fetish Dude is someone who absolutely loves checking out hentai hubs to see what they've got to offer. In this analysis, I want to explore a destination called Rule34Hentai to determine its merits, point out a few of the features and ultimately decide if I think it's a good idea for you to make it your go-to spot for hentai. Seems pretty simple, right? Well then: let's get into the mix and see what Rule34Hentai has waiting for us. This ought to be good!
My first thoughts on Rule34Hentai
So when you land here for the first time, you'll come across a website layout and design that I would say is functional, but a little dated. There are features and tools missing here that I can see immediately, but that doesn't mean I'll have to pass – lots of this type of thing is subject to interpretation and it's always important to make sure you're conveying accurate information by giving the whole package a looking at. With that in mind, let me talk a little more on the topic of what's displayed here and where I think Rule34Hentai is actually doing things correctly.
Homepage of Rule34Hentai in focus
The majority of the homepage area is constructed of rule 34 material in thumbnail format – quite similar to any gallery you'd find in the mainstream industry. If you're not too sure what it is that I'm talking about, think of Rule34Hentai as being like a tube site, only instead of videos, you're going to be looking at images. They seem to be sorted by default based on upload date, although I cannot be sure of this, because no indication is given. If you scroll down to the very bottom of the page, you'll see a pagination bar that allows you to go deeper into the Rule34Hentai archive. A nice touch that folks who are interested in porn libraries ought to take full advantage of. When hitting the 'last' button, I was taken through to page 6,597 – pretty damn reasonable when you figure that each one has dozens of media listings for you to check out. I don't think anyone could suggest for a second that Rule 34 Hentai is low on media!
Exploring Rule34Hentai tags
For a lot of people, being able to look at content via tagging is an important part of the whole hentai experience, so I guess it's just as well that Rule 34 Hentai gives you the ability to do that. Simply press the 'tag' button and you'll be taken through to a section that covers practically every single niche that you could possibly want to take a look at. Sadly, I did have issues loading this up in Chrome, but things seemed to work just fine in Opera. I've got no idea what the reason is for this, but I'm hoping they get it fixed, because the constant loop cycle with Chrome was a pain in the ass – especially since it's my daily driver!
You have the ability here to sort content based on alphabetical order or alternatively, with a popularity gauge instead. I much prefer this second measure, although I should probably point out that it's not technically a popularity score in the traditional sense – what you'll find here is a list of the tags based on how many pieces of media they have associated with it. I guess you could describe it as a popularly used tag, but that's a weird way of saying it. I think this is far better defined as being a frequency tag. Anyhow, language nuances aside, I found that Rule 34 Hentai had the likes of Overwatch, Bioshock, Teen Titans, Lara Croft, Fluttershy, Mortal Kombat and Bleach listed here. Essentially, it's a mixture of series, characters and themes – typical for this type of destination.
A wrap on Rule 34 Hentai
I think it's wise for me to close off this review there, since I've covered all of the most important things about this project and there's not much else to say. Fetish Dude did find Rule34Hentai to be a good general experience, although I don't think it's the best in slot place that you can check out for hentai. Still, the fact remains that they commit to delivering on one type of material and do exactly that – so no one can complain, right? Anyway, that's all from Fetish Dude in this specific instance, so thanks a bunch for coming along for the ride and may your next fapping session – hopefully fueled by Rule34Hentai – be a stellar one!
Want more great anime porn websites to check out? Then be sure to read the rest of my expert reviews!
Lots of tags
Fast loading speeds
Large rule 34 database
Regular new updates
Average sorting features
Some broken features