Rule34 Review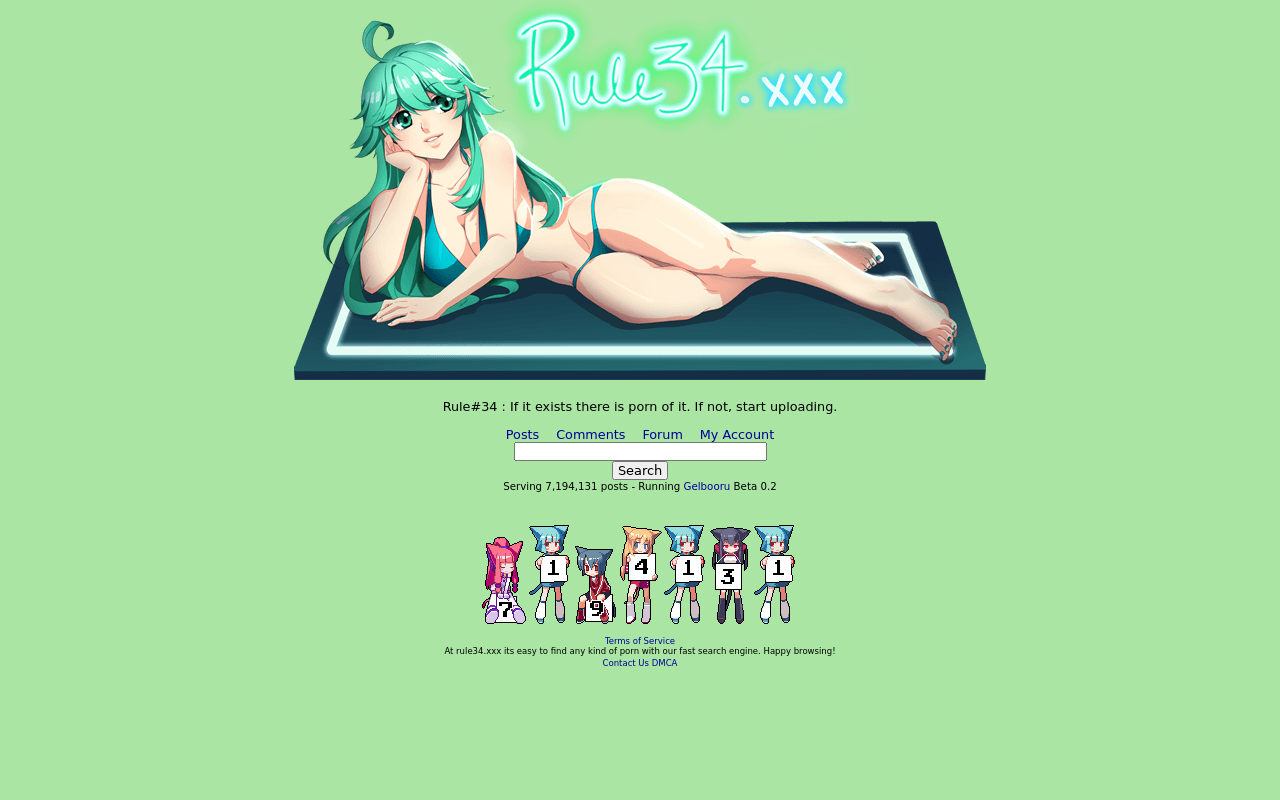 Fetish Dude visits Rule34
What's up, homeslices? Fetish Dude is back on the prowl for some adult websites and in this particular instance, I plan to seek out a destination by the name of Rule34. For those who are unfamiliar with the concept, rule 34 is an old-school rule of the Internet which stipulates that if something exists, there will be porn of it. So essentially, you're going to come here and find all types of weird, wonderful drawings and renders associated with crazy themes. Don't worry though: there will be hentai available on tap, so if that's your poison of choice, you ought to have no issues whatsoever.
Exploring Rule34
The homepage here is probably one of the least functional that I've come across: I hate to begin reviews with negative aspects, but it's just a fact of the matter. Right in the middle of the page you'll see a search bar that you can then utilize to pick out a niche that interests you, trouble is, for a lot of folks, that's a hard task straight off the bat. There's also a rather large amount of space here devoted to a third-party gaming venture called Nutaku. I have played there myself and it's pretty good, but holy goddamn is the advertising area taken up by this one of the biggest things I've ever seen. Something needs to be done about that: it's just not my idea of a good approach to porn online. My advice if you want a more standard approach to porn viewing experiences would be to hit the 'posts' button, which will give you the ability to go ahead and see a much better layout devoted to giving you access to content. Let me talk a little more about the posts section in the next paragraph.
The posts at Rule34
So when you click on this button, you'll be taken through to a relatively standard gallery display area that we've seen on many other hentai-themed hubs. It's somewhat akin to a tube, only the focus isn't on giving you access to videos, it's all about the images. These would appear to be sorted by default based on upload date, but there's no actual information that tells you this – a little strange. Additionally, it doesn't seem as if you have any sorting options for something like, say, the highest rated uploads within the last week. On the flipside, you do have a number of preview images that ought to give you an idea of what Rule34 is all about as a platform. Put simply, they're here to show you all of the animated porn, hentai and 3D renders that other place won't dare to add to their collections. Things can be bizarre here, but it's also pretty hot if you know how to search properly.
Rule 34: the tags
I'd argue that the most important feature on Rule34 is the 'tags' section, which essentially gives you full license to go through the database and uncover the exact type of adult entertainment that you want to enjoy. When you click on the link at the top of the page, you'll be presented with the latest updated tags, which function somewhat similarly to categories on mainstream porn outlets. Do note that Rule34 actually uses tags for a variety of purposes, including a niche focus, character name or series that the content is themed around. To give you an idea of exactly what it is I'm talking about, the next paragraph will feature a few examples of what you can check out at Rule34.
More on Rule34 tags
So in the copyright tag segment, you'll find various TV shows, video games and other forms of media that people love utilizing as a source for inspiration in their doujinshi and rule 34 media. Examples include The Legend of Zelda, BoJack Horseman, BlazBlue, League of Legends and so on. In the character department, you'll find the likes of Lucario from Pokemon, Tracer from Overwatch and Tifa from Final Fantasy VII. Finally, Rule34 has the ability to show you content across a number of niche themes, with what I'd describe as being an almost over the top level of detail. Images here can be tagged with stuff such as side boob, eyes closed, multiple penises, chubby female and so on. I think we all know that when it comes to dudes and their hentai, nothing satisfies them more than correct and proper organization. It's just something that comes with the territory and I'm pleased to see that Rule34 makes a real meal out of giving you the ability to look through all of these great associated tags. Definitely the tool of choice for people who are most interested in really honing in on the exact type of animated XXX entertainment that makes them happy.
A note on WebMs
So it turns out that Rule34 is currently sitting on a database of around 50,000 or so WebM uploads. What does this mean, exactly? Well, WebM is a video format of sorts that is heavily optimized for usage on the Internet. These clips are typically quite short, but give you the ability to watch some animated lewd activity instead of just relying on still frames to make your cock hard. Naturally, it's totally up to you what approach you want to go for, but Fetish Dude really does enjoy being able to see moving stuff from time to time. Nothing beats a top-tier animated rule 34 production, right? Doujinshi and hentai can sometimes struggle to keep up with what these guys pump out.
A final word on Rule34
There you have it, friends – my full analysis on Rule34. I've been thinking for a while now just how great the world of hentai is, and I think that the porn available on this particular platform is a great example of just how much competition there is in the space. Suffice to say that if you're looking to enjoy top-tier adult smut from the hottest spots around, I'll always be here to help you source spots like Rule34. This hub swings and I cannot wait to see what it's like in another year or so. With regular updates and a metric ton of erotic goodness, what's not to love?
Anyway, thanks a bunch for reading my review. Come back any time you need more thoughtful commentary on the best anime porn sites out there.
Regular new uploads
Huge database of content
Full tagging features
Some decent WebM material
Homepage isn't great
A few adverts
Some average uploads