Puruin Review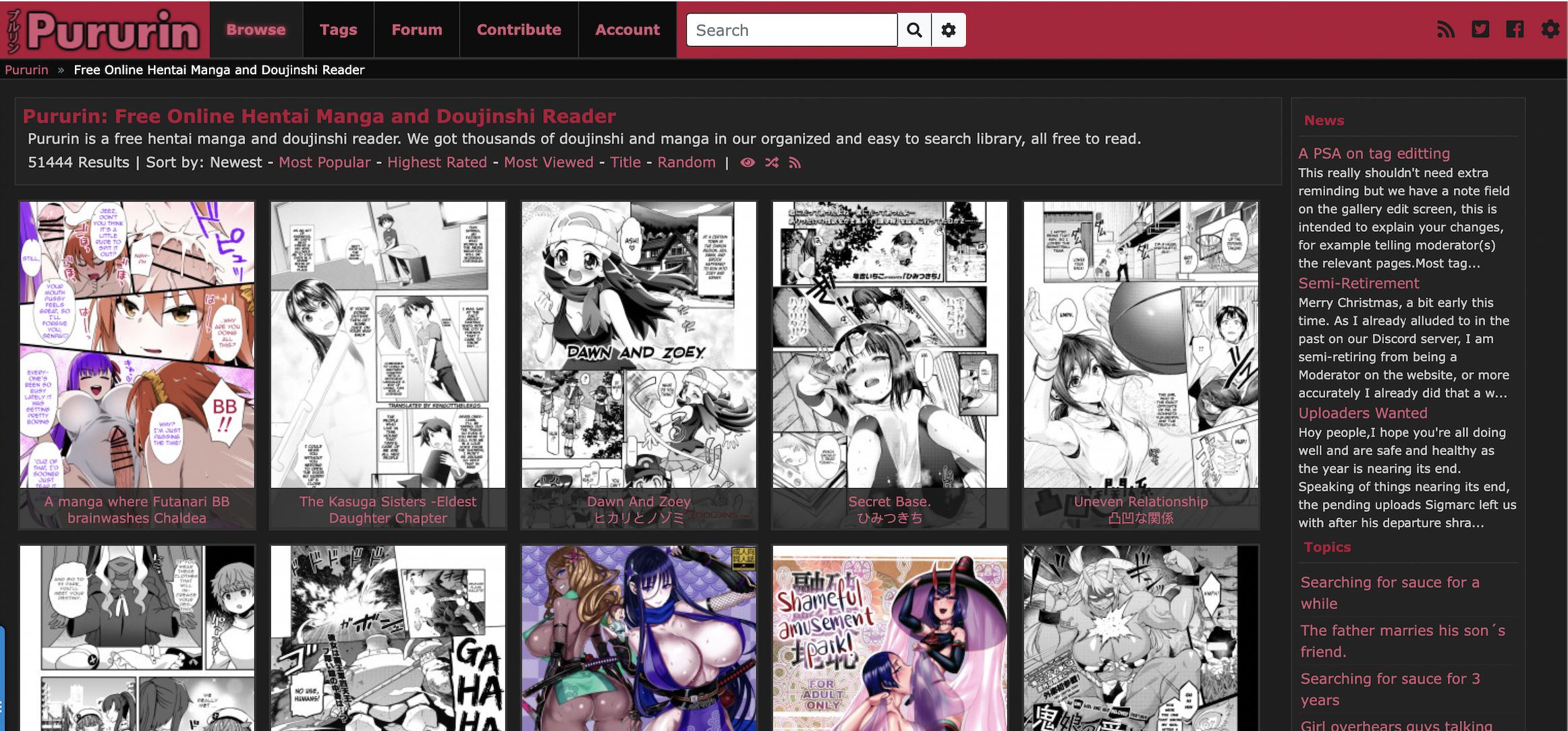 Fetish Dude reviews Puruin
I think it's safe to say that when it comes to giving people access to world-class hentai, few people are able to manage the task quite like Fetish Dude is. That's mainly because I always do my research and ensure all suggested spots are actually decent. Naturally, that does require full analysis, which is why I'm going to write up on a spot called Puruin in this particular entry to see how well it does compared to the so-called competition. Will it be a top online hentai and manga porn destination? Fingers crossed. Either way, I'll be sure to let you know.
First thoughts on Puruin
My initial reaction to the homepage is a positive one, mainly because I'm pleased to see that such a large amount of the screen's real estate is devoted to showing you preview panes of various doujinshi that you can take a look at. I'm also pleased with the navigation and organizational tools, as well as the display of everything. To be honest, I've only been here for a minute, but I feel as if Puruin is ticking all of the right boxes and seems to have a stellar understanding of what to do when it comes to giving people access to doujinshi. Let's take a closer look!
Firstly, the database here is currently made up of over 36,000 galleries, all of which are completely free to look at. They're shown on the homepage sorted by upload date by default, but you can switch this to stuff such as popularity, rating, view count and randomly if you so desire. I'm personally a fan of the rating choice, as it lets you know what other fans of doujinshi are currently enjoying. If you don't know what hentai is going to assist you with shooting ropes, that's probably the best option that you can go for. I'll never get tired of enjoying some stellar suggestions from the hentai community – they typically know what they're doing!
The panes of Puruin
Preview panes here are pretty cool and consist of the front page of the doujinshi (in thumbnail format), as well as a title. Note that perhaps the best feature here is your ability to mouse over any upload and be given a bunch more meta data. This includes mentions of whether it's original hentai or doujinshi, who created it, what language it's available in and finally, the page count. All index pages have the same preview panes and recent uploads also have a 'new' banner in the top left-hand corner to assist with identification. Suffice to say that Fetish Dude is pleased about all of this. It's always so wonderful to be able to enjoy great hentai online.
Exploring Puruin tags
From time to time, it's nice to be able to get the exact type of material you want, based on your doujinshi and hentai preferences. Feel free to hit the 'tags' link at the top of the page to be taken through to a section that really helps you get what you want. There are a bunch of meta tags here too, such as sections for the parody series, sexual category, character featured and language offered in. Accessibility like this is always something I can get behind: it lets me know that people really care about giving you the best experience possible. It's also crazy just how much the hentai and anime porn community commit to documenting and tagging everything accurately.
Some of the parody series that you'll find on Puruin include the likes of Ah My Goddess, Zero No Tsukaima, The Idolmaster, Sailor Moon and Sword Art Online. A nice mixture and I think it's safe to say that a lot of folks are going to love the variety of doujinshi parodies here. That said, I must confess a slight disappointment that you're unable to sort these based on popularity or content numbers: it's just alphabetical by default and that's something that could easily be fixed to improve the user experience.
My final thoughts on Puruin
I've had a lot of fun looking at hentai over the last few months across hundreds of websites and I think it's safe to say that Puruin is one of the better ones that you can enjoy. They've done a fantastic job of showcasing their ability to offer world-class doujinshi and with so few concerns, it seems pretty reasonable for me to go ahead here and just state that Fetish Dude is giving this website the all-clear. Thank you so much for reading and please, be sure to read the rest of my anime porn site reviews if you want to get your hands on the best hentai havens around. I'll never get bored of writing about these places when they're so damn good! Take care and happy hog squeezing.
Great hentai database
Lots of parody content
Good tagging features
No tag popularity sort
No Discord Server