PorCore Review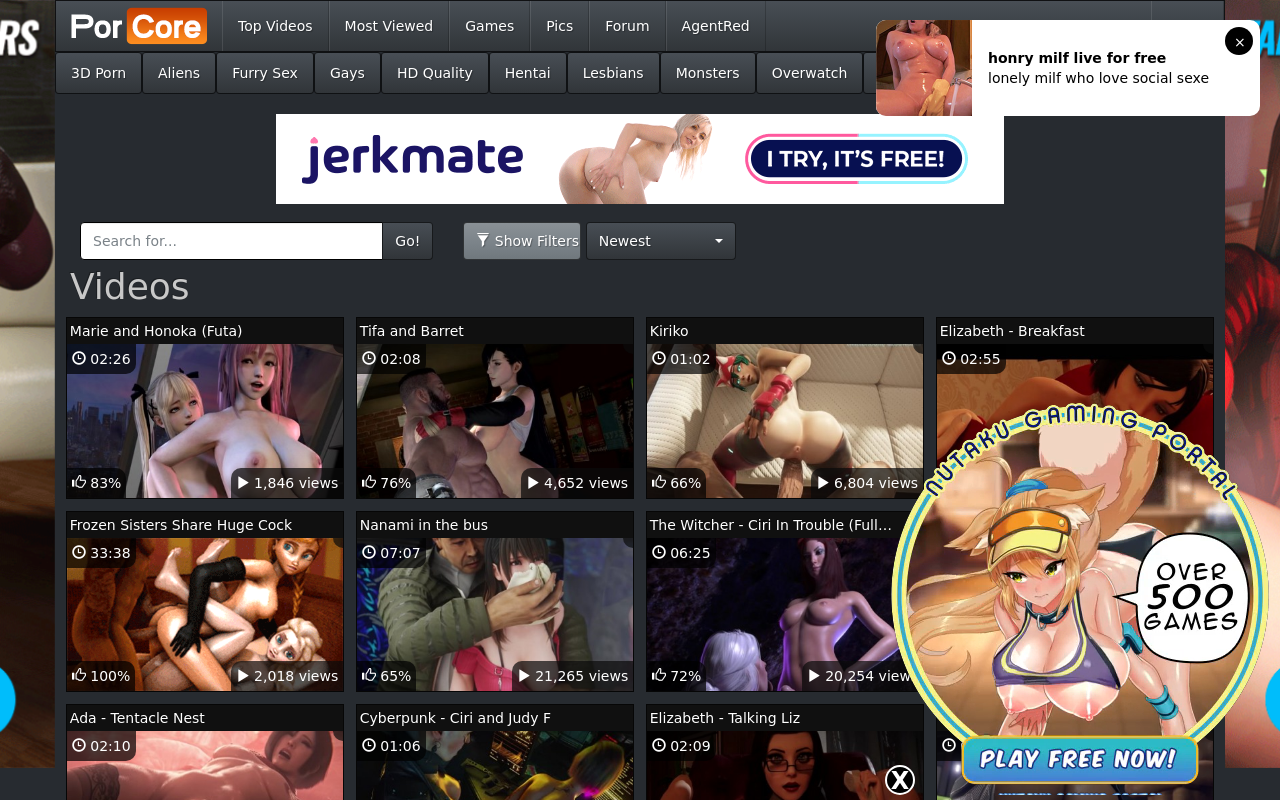 Visiting PorCore: my review
Hey there. Fetish Dude and yes, my fellow jerkers are going to be receiving yet another review here! This time, I'm going to be venturing forth to a hub by the name of PorCore to see what it's all about. According to them, they've got 3D sex movies, cartoon porn and even some uncensored hentai videos for us to enjoy. Sounds great on paper, right? Well, as we all know, some websites can overpromise and under deliver. What will the deal be at PorCore? Read on – I'll let you know soon enough.
My first thoughts on PorCore
It's likely prudent for me to tell you from the get go that this place is operated like a tube, so expect to come here and experience PorCore in the same way you would PornHub or any other place. Naturally, the big difference is the focus of the content, which is focused completely on rendered and drawn pornography at PorCore. Now in terms of the homepage, I'd say that overall, the layout is actually pretty good. The design is somewhat dated in terms of aesthetic, but it's totally functional, so as long as you can bear with something that looks a little shabby, you ought to have zero issues.
Most of the homepage is dedicated to showing you the latest videos that have been added to the archived. These come in quite regularly and look absolutely fantastic – the panes contain all of the information you need, too. They're equipped with a preview thumbnail, length indicator, rating, view count and title. Note that you've also got the ability to sort these based on different metrics too, so if you want to see them organized based on length, view count or rating, you can do exactly that. PorCore is actually pretty decent from the looks of things – lots of content to jerk off over here as well.
The niches on PorCore
Although there isn't a huge commitment to genres at PorCore, you will see some links at the very top of the site that will take you to a few different choice filtering options. Perhaps the most popular would be hentai, furry, Overwatch and shemales – as you can tell, quite a nice variety of what PorCore has to offer. I also want to pay homage to the length of the productions here, as they're incredibly long and you'll likely never run out of 3D sex movies to enjoy at PorCore.
A conclusion on PorCore
I think I've probably covered enough with regard to Por Core in this review. After spending an hour here, I'm confident that this is one of the best spots around on the Internet for dudes that love jerking off to top quality animated porn. I don't think I'll ever get tired of free tube sites – especially when they've got this quantity of 3D sex goodness. So, in short, Fetish Dude is signing off on the project and thinks you ought to go and check out Por Core for yourself.
Thanks a bunch for reading – please make sure you come back again in the near future to read yet more great cartoon porn reviews written by yours truly, Fetish Dude! Now go and jerk like you've never jerked before, buddy.
Great quality 3D porn
Regular new content uploads
Good overall site design
Plenty of categories
A few adverts
No community features
No series categorization