MuchoHentai Review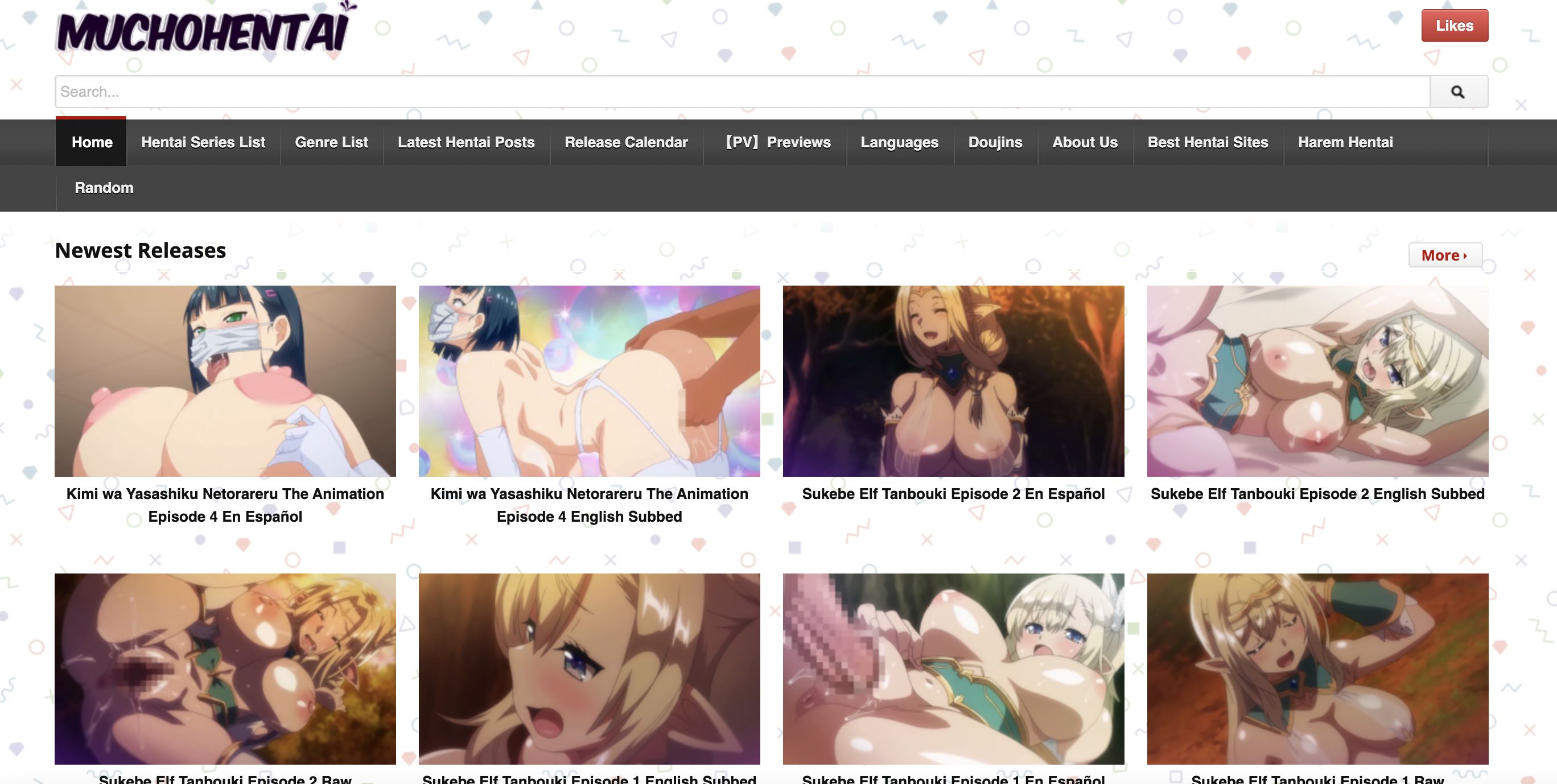 Visiting Mucho Hentai
I'm not entirely sure why hentai websites have become so popular in the last few years, but I'm guessing it's heavily linked to a surge in demand for anime and video games that use those cute character renders to get folks aroused. Today, Fetish Dude wants to look at a spot called MuchoHentai to work out if it's got the goods to be worthy of a recommendation for the punters at home. I think it goes without saying that I'm one of the best guys in the business for porn site reviews, so let's just crack on with the task at hand and see whether MuchoHentai has what we desire.
The homepage of MuchoHentai
Kicking off the review here, I want to initially talk about the fact that MuchoHentai is a database of videos primarily, so if you're coming here for doujinshi, while they are available, it's going to be through Mucho Doujins instead. Put simply, I want to focus on the video aspect of this website – they're mainly a tube and that's given away immediately when you land on the homepage. Their layout is typical of a video streaming service and the first content box you'll come across shows you the latest releases on the MuchoHentai platform. The preview panes are constructed of a thumbnail from the episode in question, a title, upload date, view count, comment count and like indicator. Pretty stellar stuff and I think that MuchoHentai is covering all bases from what I can see on the homepage. The only thing missing here is a sorting feature, but that can be accessed quite easily by clicking on 'more' and then organizing from there.
The genres at MuchoHentai
It could come as no surprise that exploring hentai based on niche is a pretty common request for most people who are interested in anime porn. The good news is that MuchoHentai gives you this functionality, which you can activate by clicking on the 'genre list' link or just mousing over it to see the most popular choices. Right now, it would appear that MuchoHentai's major pushes are in the genres of incest, rape, schoolgirls, anal and big tits – I think it's safe to say that your average hentai fan is going to love all of those options. Naturally, there are more options here, but a number of the niches can often just have 1 video associated with them, such as anal pump, innocent, body possession and milk. Still, I won't complain too much, because one of the defining elements of hentai communities and databases is that they're always documented extremely well. Can't blame them for wanting to be specific and accurate, right?
MuchoHentai: the series list
Another common way of people looking at hentai online is via the series list features that sites such as MuchoHentai offer. This place does have one, and while the layout isn't the best, it's totally functional and no one can moan about that when push comes to shove. It's at this point that you'll see just how much content MuchoHentai has too – they really know how to pack their tube with some of the best smut around, that's for sure! Anyway, since we're talking about series, let me mention a few names that I found: Joshi Luck!, Master Piece, Aibeya, Otome Hime and Hime-sama Love Life. Variety is often a good thing, so I'm pleased to see these offered alongside hundreds of other authentic anime porn series.
Watching content at MuchoHentai
When you eventually get around to streaming content from MuchoHentai, you'll notice that the average quality of the embeds here is really quite high. I'd estimate that most uploads are 720p or 1080p: pretty much the gold standard in that regard. Note that it's also possible to download series directly from MuchoHentai, although the maximum speed is 2 Mb/s. Thankfully hentai episodes aren't the biggest things (they're quite short and since there's a lot of static imagery, variable bitrates can be heavily utilized), so while that speed is quite low, it's still going to give you a lot of room to play with.
A final word on MuchoHentai
I think it's probably a good idea for me to end the review there. I've spent about 2 hours looking over Mucho Hentai and while there are a few small issues here, I think that they've done an absolutely stellar job of giving people access to world-class hentai series in a convenient fashion. Perhaps the best part is the HD quality and the download option – you can't really fault a website for giving you both of those, right? Suffice to say that I'm more than happy to sign off on this project: Fetish Dude believes you'd be mad not to check out Mucho Hentai if you enjoy watching hentai series in HD for free.
Watch HD hentai
Lots of series
Free downloads available
Regular new episodes
A few adverts
Average download speed