Luscious Review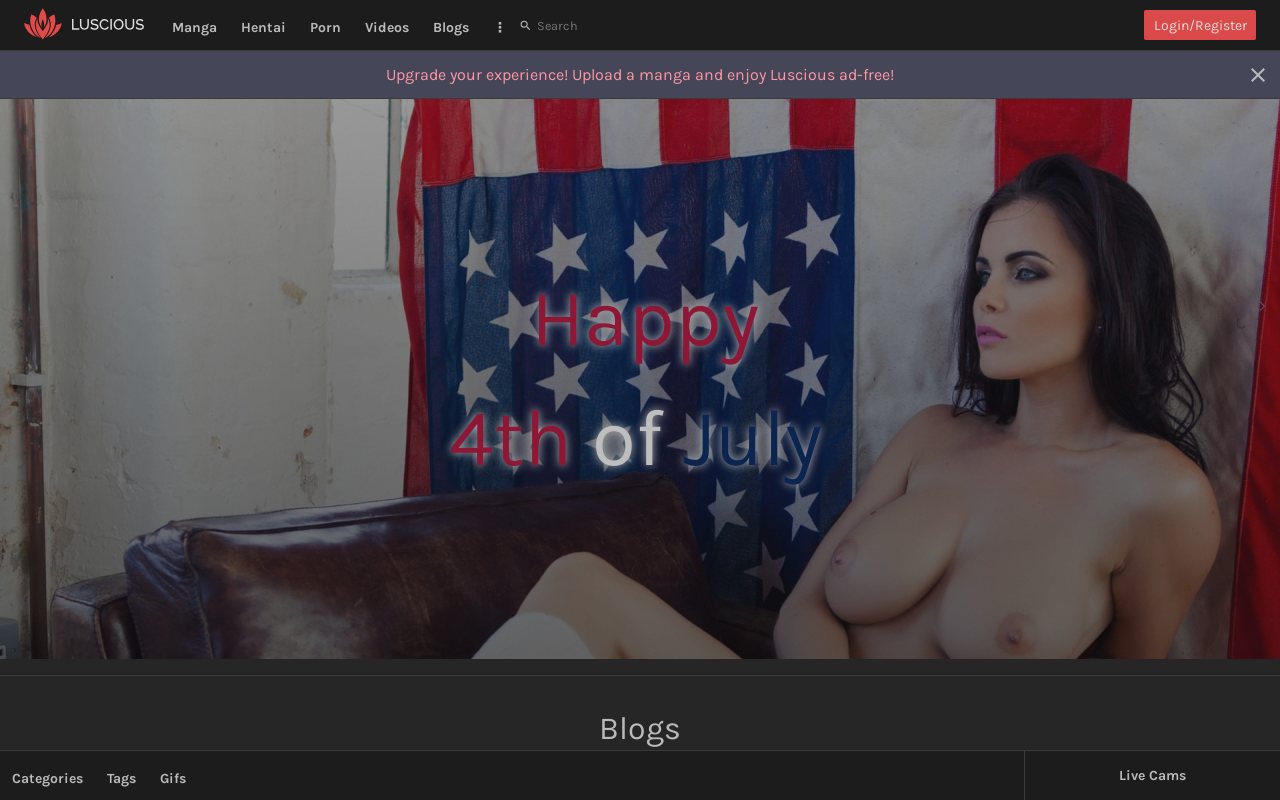 A review of Luscious
Fetish Dude is always looking for the movers and the shakers in the adult industry – especially with regard to enjoying content focused on the very best and sexiest hentai material out there. Today, I want to look at a place called Luscious which alleges that it's one of the hottest destinations around for those who want anime porn. Sure, the claim sounds juicy, but what will the reality be like? To find out, let's head on over to the website and see what's going on. Fingers crossed that Luscious is able to offer us the premium hentai experience we desire!
The homepage of Luscious
So to kick things off here, let's talk about the homepage of Luscious and how well that stands up to criticism. What you'll notice immediately is that there's quite a large area devoted just a short scroll down on the homepage to showing you the latest galleries that you can enjoy. I should stress that Luscious functions as a destination for traditional doujinshi, as opposed to the rule 34 variety, although they have both, so regardless what you're looking for, you should find it here. One thing I will say about the homepage is that I dislike just how large the main landing area is in terms of its wasted space. Right now, you only see the top half of preview galleries on a standard 1080p monitor – not really that functional. Sure, have a search and a little introduction, but you don't need to make it this large. That's wasted space and not good for the user experience.
By default, you'll notice that content is organized chronologically, with the most recent uploads presented before you. Note, however, that you can click 'popular' in the header, which will then show you all of the most highly rated galleries that the project has to offer. This is somewhat confusing though, because these are albums as opposed to individual uploads. It's fine, because they do have stuff like a focus on sexy thighs, beautiful pussies, creampies and works from various artists. I also noticed that there are a few non-animated uploads here, but those seem to make up such a tiny fraction of the database that it's probably not worth going any deeper.
The categories on Luscious
Fetish Dude has always been a massive believer in the power of browsing content by categories, so it's nice to see that Luscious has a section for this. They've got 4 different sub-type areas too, with the first one being 'genres'. In this area, you'll see categories such as ebony, cumshot, mind control, monsters and so on. Next up, we've got a language section, so you can explore English, Japanese, Chinese and even French material if that gets you going. I will say that English and Japanese seem to be the most popular though, so I hope you're down for looking at those: otherwise you might be a little pissed off!
There's also a meta category for interests, which is a lot more broad and only looks at the gender disposition of the content that you want to take a look at. Here, you'll see the likes of straight, lesbian, solo girl and yaoi. They also have some trans content if that type of thing floats your boat: nothing like some hot dickgirls in hentai, right? Finally, you've got a 'content types' section which has just three choices: hentai, non-erotic and real people. All in all, I'd say that the layout and design of this area is pretty damn good, although I was somewhat disappointed by the lack of preview images for a lot of the concepts. It's always nice to have a bit of eye candy and referencing for whatever it is that you want to take a look at, right?
Looking at the hentai on Luscious
There is a huge amount of hentai here and the overall organization is something that I can really get behind. They've got really good layouts on the individual pages for themes and a bunch of filtering options on the left-hand side to assist you with accessibility. I always find that hentai websites are much more equipped in terms of honing in on your niche of choice compared to mainstream and 'real' porn. I don't know quite why that is, but one thing that the anime porn community can be proud of is the efforts they'll go to in order to maximize usability and next to that, categorization. Everything has its spot and is titled appropriately, so that's really quite something. Nothing annoys me more than having a tough time accessing the hentai that I want. Fetish Dude is all about that kinky anime porn life, believe me!
Some other notes on Luscious
Luscious currently offers videos as well, but you will need to sign up in order to get your hands on the hentai series they have. This is slightly disappointing and seems like a way to farm emails: sure, that's fine, but I'll still mention that there are a bunch of competing destinations that don't have this requirement. I'd also like to see some small changes made to the overall design of the website so more content is displayed on each page immediately. You have to scroll down a little and in my eyes, that's just a big disadvantage when I want to look at a bunch of free hentai images online. Still though, overall access is fine and the content is great. Looks real crisp – no relaxation on content quality here. They give you the real deal.
A final thought on Luscious
Regarding the overall experience of Luscious, I cannot think of a single reason why I wouldn't recommend this spot. They've done such a fantastic job of setting this place up and I think that going forward, they're going to be hugely active in the space and one of the best spots around for adult content access in the hentai domain. So, in short, Fetish Dude urges you to head on over to Luscious right now if you're looking for a no-nonsense database of rule 34 material and full-on doujinshi library.
Thank you so much for reading and as always, happy jerking!
Plenty of rule 34
Plenty of doujinshi
Fast loading speeds
Lots of categories
A few adverts
Average design
Account required for videos