HypnoHub Review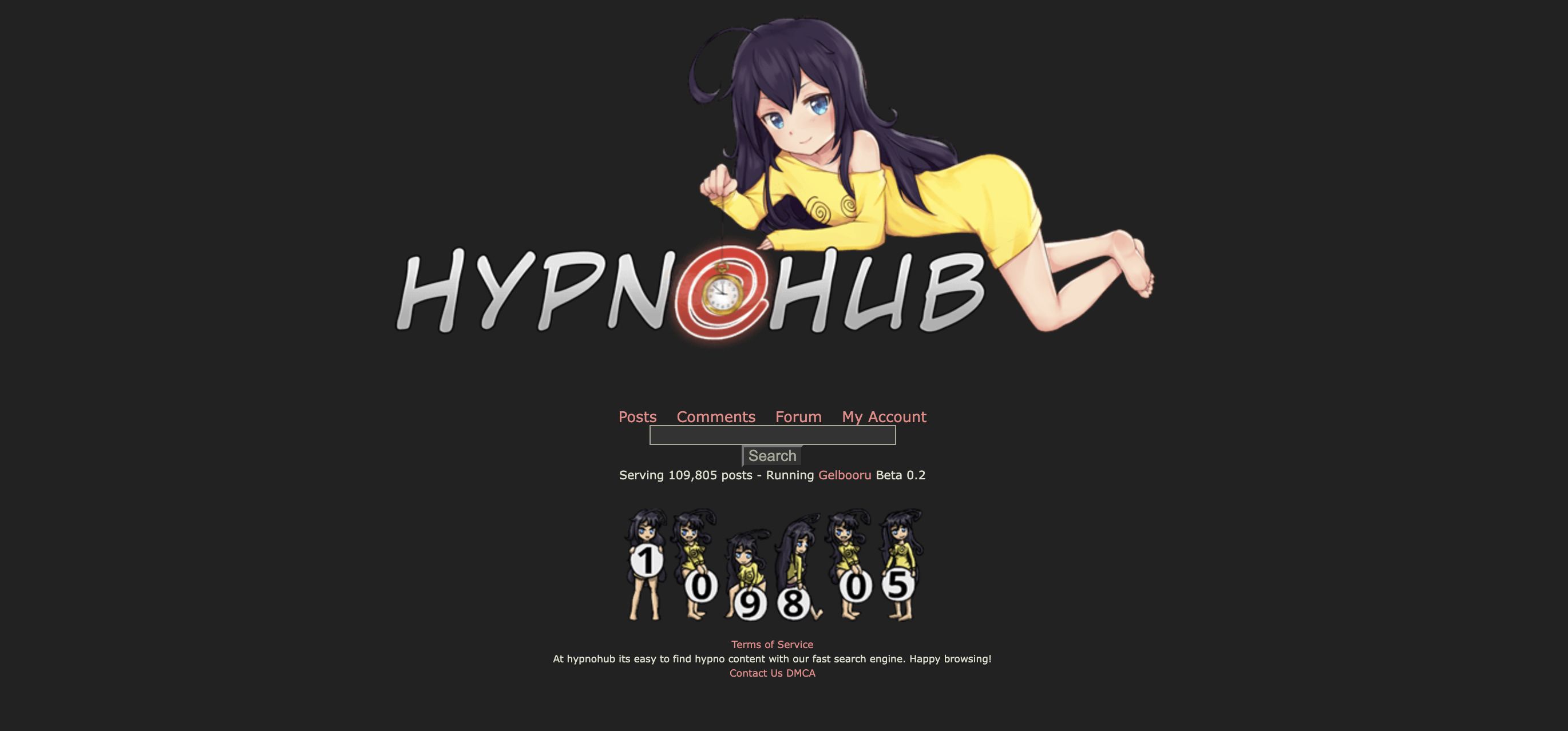 HypnoHub: a Fetish Dude take
After looking all over the Internet for the last 3 months for the best hentai websites around, Fetish Dude is finally ready to start reviewing all of the places that gave him a reason to consider them for a secondary review. HypnoHub is one such place and I'm hoping that it's just a straight fact this project delivers world-class hypno themed hentai. Seems like a focused niche, right? Well – fingers crossed that they've got everything sorted out here and I can just sign off on the complete experience. Without further ado, let's check out the entirety of HypnoHub and its offerings.
Homepage of HypnoHub
I've seen a number of hentai outlets and rule 34 collections use the same template that HypnoHub does: I'll be honest, it's a little disappointing. See, when you land here, you'll be shown a search box right in the middle of your screen that you're supposed to input a tag with. For most people, they might believe they could write literally anything in here and get results – not the case. These engines are oddly specific and really need you to understand the structure of the project, so you might want to read an FAQ on how MyImouto works before going any deeper. My personal advice is that instead of going to the homepage here and trying to use it, just press 'posts' and you'll be shown a more standardized page that's better suited to giving you the hentai you want.
When you do hit the posts page, you'll be shown a bunch of different entries, which I'm guessing are sorted chronologically, so the latest hypnosis hentai added to the database can be looked at right there. The approach they've taken is a standard gallery design, so you'll have a bunch of thumbnails and yeah, looks pretty good as far as I'm concerned. There is a pagination bar right at the bottom of the site, which allows you to go deeper through the archive. The biggest benefit for me is the ability to see 2,343 total index pages, which with 30 images on each would suggest that there are over 60,000 uploads on HypnoHub. That's a hell of a lot of rule 34 and doujinshi goodness, right?
A look at the content
While there is content that's focused on hypnosis here, a quick look at the tags and overall content here suggests that it's not exclusively themed around this topic. Certain tags like 'spiral eyes' do have thousands of entries though, so don't just think that this is your standard hentai database without an actual focus on hypnosis material. I think it goes without saying that most of the punters coming here are going to want to see girls that have been tamed and are quite willing to do whatever their masters tell them to. That's how I see the niche anyway – go on, tell Fetish Dude he's wrong! Everyone ought to realize that what I'm talking about here is entirely true and while it's nice to have a big stash of hentai, it's even more enjoyable to be able to get your hands on the stuff you really want. In this case, I'm hoping you love hypnosis hentai, because that's what you'll get!
More features on HypnoHub
There is a forum here, as well as a Wiki and a chat room that you can access if you want to chat with others. The community approach to HypnoHub is quite a big part of the vibe – especially since everything uploaded here comes from third parties. This is a common thing in the hentai space and I do believe that it's the best way to run things. You'd be amazed at how difficult it is to monetize a lot of hentai, merely because you've got very few avenues of keeping things legal and functional across the globe. Thankfully, spots like HypnoHub are here to act as a source for real amateur hentai works, which are typically what everyone wants in the first place.
My final thoughts on HypnoHub
Okay, I think that just about does it from my side of the equation. I have had fun here and I'm confident that going forward, we'll see some truly stellar stuff coming from this place. Right now, it's in a good position and perhaps one of the best spots around for hypno hentai. I haven't seen a better project, so yeah – let's run with that for now! Anyway, I think that's probably everything that Fetish Dude has to cover. The bottom line here is a simple one: if you like the idea of accessing a huge database of hypnosis and general themed hentai, HypnoHub is probably the spot to do exactly that.
Thanks so much for reading: now go jerk off to the anime porn images on HypnoHub!
Focused on hypnosis content
Regular new releases
Fantastic tagging tools
Great community atmosphere
Some off-niche material
Awful homepage