HentaiRules Review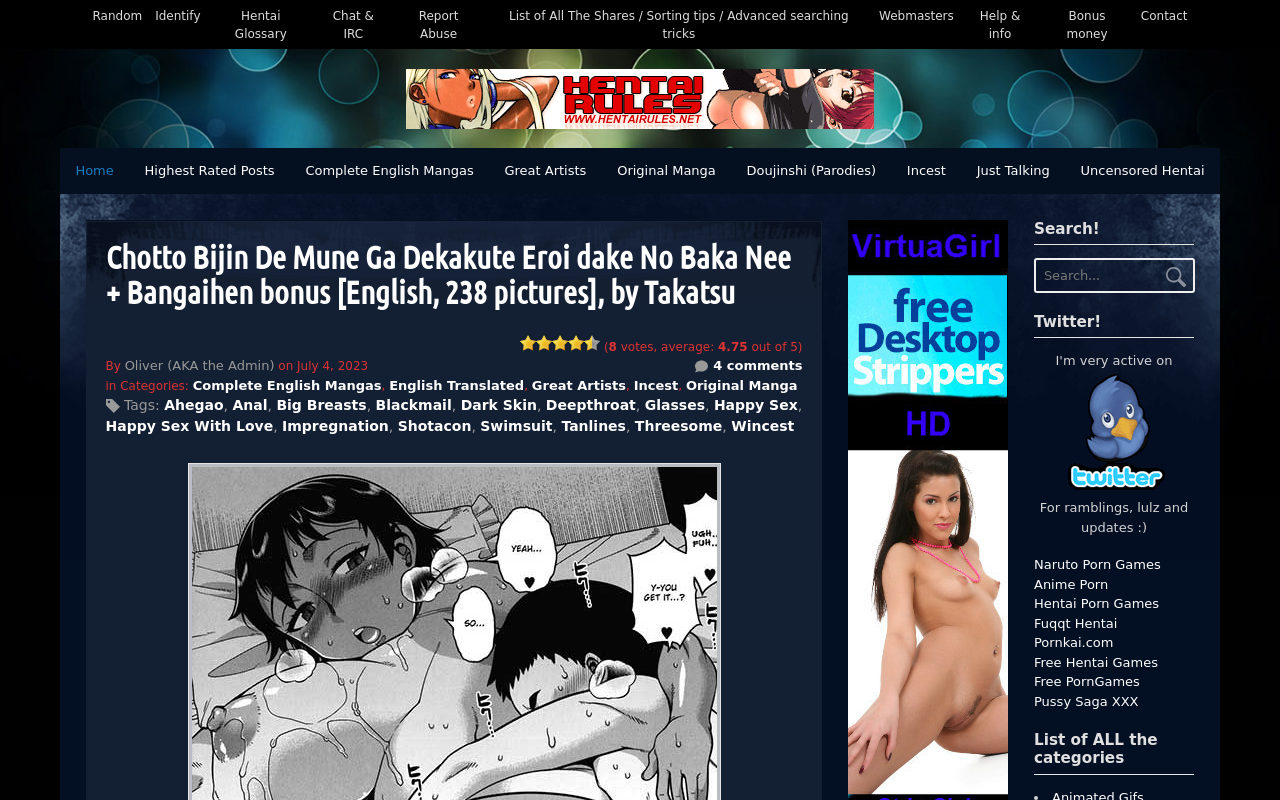 A trip to HentaiRules
While I agree with the premise that hentai does indeed rule, I won't know for sure if this site is a place to get it until I do a full and thorough investigation. It should be known by now that Fetish Dude doesn't merely recommend places because they exist: if HentaiRules wants to make it on my top list, they better be damn well good at what it is that they do. So, with that in mind, let's stop messing around now and really determine if HentaiRules has the goods to make us happy in the content department. Is this going to be anime porn heaven, or a spot worth avoiding at all costs?
Initial thoughts on HentaiRules
I'm happy to see that HTTPS access is given, plus my initial reaction to the homepage is relatively positive one. It is worth mentioning rather early on that HentaiRules runs in a blog-style format, which means that overall accessibility could be somewhat limited, but I'm hoping they have the tools to make up for that by including other great features. As I scroll down the homepage, I'm noticing that are one new gallery is added on a daily basis. That's okay, because you are still getting new material on a regular basis, but I feel like a number of competitive doujinshi galleries are going to offer you a much better update rate. HentaiRules may want to think about sourcing more media in the future if they want to be one of the premiere hubs for hentai.
Right at the bottom of the page, you'll find a pagination bar that allows you to go through all of the content on Hentai Rules chronologically. Pressing the 'last' button is beneficial essentially only to someone like me who has an interest in seeing how long HentaiRules has been around for and what sort of size the archive is shaping up to be. I found it quite interesting that this site has existed since 2007 and there are almost 2,000 pages here, which means tens of thousands of entries. This clearly appears to be a labor of love, which typically suggests a high level of interaction from a number of folks and constant maintenance. This results in positive outcomes for the weary traveler – we just get better hentai almost always!
Some header navigation tools
In the header, you'll find a 'highest rated posts' feature which allows you to see which entries on the blog have received the most love from the community. Clicking on this does show quite a bit of non-content and meta-type posts themed around the site itself, but you can scroll down or go back a few pages in order to see the content that it is you desire. A lot of the galleries come with descriptions and information from the person behind the project, so I guess that's quite cool and the type of thing you would expect to see after someone has maintained a place like this for over a dozen years.
If you're someone who only wants to look at uncensored hentai, you'll be pleased to know that there is a specific category for that which you can access in the header. For those who are unaware, it's technically illegal for porn in Japan to be produced without genitals being obfuscated in some fashion, which is why pixilation is quite common. Here, you'll find that HentaiRules has over 170 archive pages where there are no such measures to cover over the goods that you want. You've also got a niche-themed option too, so if you want to enjoy a little incest hentai, you can! As well as that, HentaiRules gives you the ability to look at doujinshi parodies or original content. Both have their merits and I don't want to get into an argument about it: we all know that there are some fierce rivalries when it comes to these types of topics in anime and hentai. Hell hath no fury like a weeb with an opinion: at least in my experience anyway.
The chat at HentaiRules
If you feel like talking to other people on the platform or just want to hang out with the regulars, it might be an idea for you to click on the 'chat and IRC' link right at the top of the site. I'm surprised that this project still uses IRC, which I know was quite popular way back in the day, but it's certainly not like that in the modern iteration of the Internet. What I really want to see from HentaiRules is some alternative option here, but I think I'll cover that a little more in my next paragraph, which is going to offer criticism for HentaiRules!
The downsides of the HentaiRules project
It's clear that this website is good, and it does fulfill its role, but I'm trying to work out just how much better this method of approach is compared to what most databases offer, such as nHentai and similarly structured products. I get that creating that type of site 13 years ago wasn't as easy as a blog, but I do feel like HentaiRules needs to get a little more modern and give people who don't frequent a much better experience. We always have to remember the competition and in the case of HentaiRules, there are plenty of willing alternative hubs that will fight for your attention. Oh, I also feel like a Discord server is a major priority right now: that's just how anime geeks and hentai addicts talk shop these days.
HentaiRules: the review wrap
I think that's all I want to talk about with regard to Hentai Rules. I had fun here and I do think that there is value in the database – it's large and easy to utilize. Having said that, it just feels like a little last generation and needs some rapid improvements over the coming years if it wants to stay competitive. My PC currently has a GTX 970 graphics card in it, and while it's still functional, I'm still thinking about a GTX 2070 Super upgrade! That's how I see this project: it's the former, which is fine, but it could be the latter if it wanted to be and that would just be so much better.
Okay, enough talk about graphics cards. I've had fun here on HentaiRules and I wish them the very best of luck going forward. Oh, and to you as well – may your next fapping adventure over doujinshi be the best one yet!
Great hentai database
Long-lasting project
Good community vibe
Dated blog approach
One daily update