HentaiHaven Review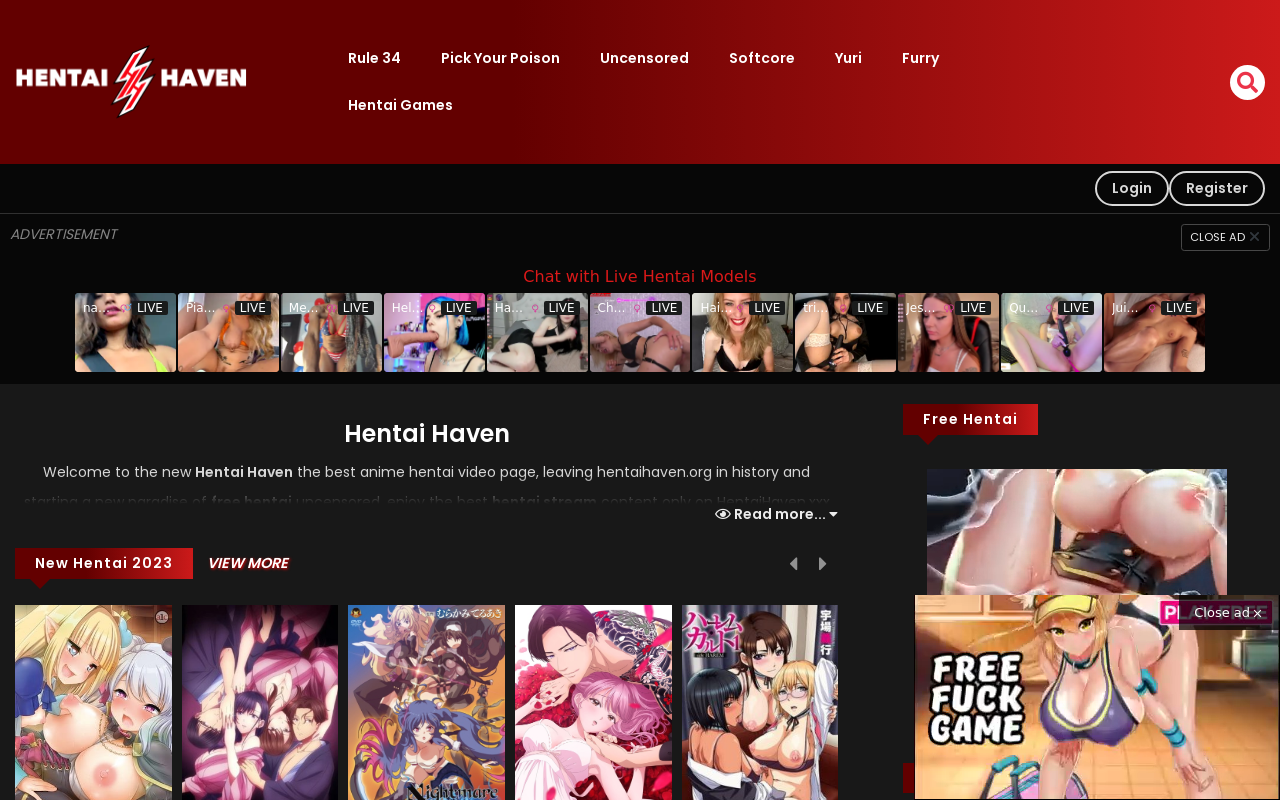 Hentai Haven: Fetish Dude's take
For many months now, I've searched far and wide over all of the Internet to find out where the best places are online for anime porn lovers. In this analysis, I want to explore a place called HentaiHaven to see if it's got the goods to be worthy of a recommendation. Since there's so much competition in the hentai space, it's wise to shop around to make sure you're getting a good deal. Now then: let's crack on with the review and see what Hentai Haven has to offer. I'm excited – this might well be the tube of the future for anime sex video lovers!
A primer on HentaiHaven
As suggested, Hentai Haven is a tube website, which I think is quite important to point out, as anime porn still has quite a lot of imagery that people actively seek. When you come to the homepage here, you'll be shown a fairly typical tube-style layout where the most recent pieces of work are displayed. HentaiHaven updates multiple time per day with fresh flicks, so if you're always in the mood for new hentai series, this is the destination for you. The preview panes that they use to display various episode consist of a thumbnail from the release, a title, view count, comment count and favorite feature. One thing I wouldn't quite work out is why some videos had more favorites than views – maybe the counter is glitched for one of them.
My only complaint on the homepage would be the fact that the images are a little too large, so you only see 3 scenes next to one another. If they switched over to a 4 or 5 display method, I think that would make the overall aesthetic here a lot better. It just means you have more to look at without scrolling down constantly, which can be a bit of a pain in the ass. Oh, and the favorited feature here is actually a 'fapped' button, so they might apply this to series in their totality, as opposed to individual episodes. Either way, you're able to sort based on that as a metric, as well as number of views, comments and alphabetically. Lots of options here to organize the hentai videos that you're going to watch.
Series at HentaiHaven
If you're someone who enjoys exploring content based on the names of various series, there is a button to see exactly that. I think it's fair to say that the database is pretty large – they've got hundreds of different hentai productions here. Just to throw a few names out that might tickle your fancy, I saw Angel Core, Innocent Blue, Hump Bang, Izumo OVA and Girl Next Door. There's a section on the site with all of them displayed, as well as the most popular videos on the platform. It would appear that punters here really enjoy Kutsujoku, Enjo Kouhai, Kiss Hug and Lovely Heart. Suffice to say that if you want a good variety of anime porn uploads, HentaiHaven is one such library of goodies that's going to give you exactly that. Overall, navigation and accessibility features here are quite good.
Watching HentaiHaven content
After clicking on a specific upload, you'll be shown a stream that appears to come from a third-party source, although it's branded with Hentai Haven watermarks, so chances are these other places are providing the scenes exclusively to this project. Buffering was relatively decent, although it took a while to scrub. I'm not talking minutes here, but around 2 to 3 seconds if you want to jump forward. This isn't going to ruin your experience, but small things generally add up on platforms such as this. Sadly, unlike many other anime porn tubes, you're unable to download content locally here. That's a bit of a disappointment and going forward, I would like to see them add that functionality. Nothing makes your average horny anime weeb hornier than being able to store smut on their own PC.
A conclusion on HentaiHaven
Fetish Dude spent the better part of 2 hours looking over HentaiHaven and I think I'm comfortable with going ahead and endorsing this project. It's not the best anime porn tube that I've found, but it's certainly one of the better ones on the market. It's just the lack of download feature and a few annoying adverts that cause problems here, but aside from that, Hentai Haven is going to give you an incredibly high quality experience. So, in short, be sure to visit this tube if you want to enjoy a choice collection of HD anime porn videos. Peace and love – Fetish Dude has more great hentai porn destinations to review!
Lots of great series
High quality content
Large hentai database
Too many adverts
Cannot download locally