Hentaigasm Review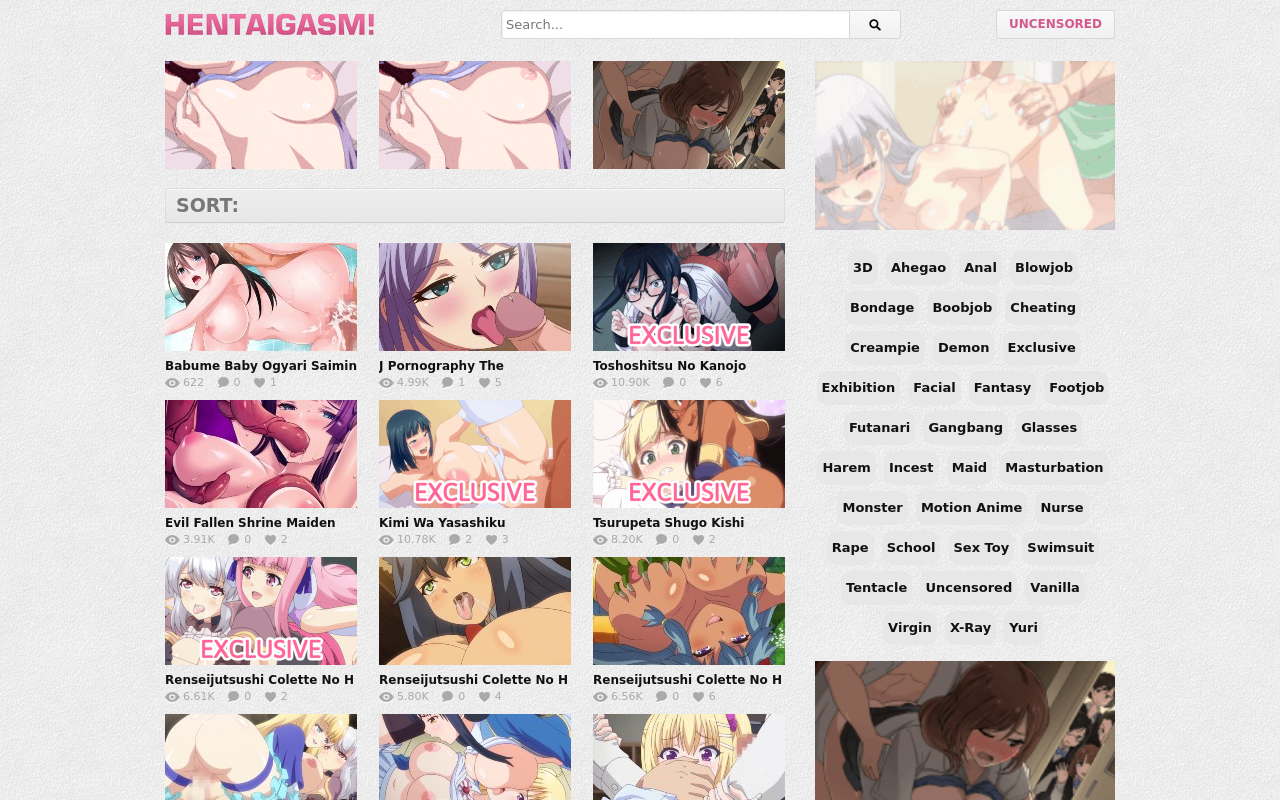 Fetish Dude's review of Hentaigasm
Having spent the better part of the last few months exploring the Internet for great hentai, I think it's about time that I wrote up some analysis on a spot called Hentaigasm. I've heard some great things about this destination, but have yet to see with my own eyes what they have to offer. It's quite a popular spot, so by no means a secret, but that doesn't mean I'll sign off on the project without actually seeing if it has the goods to be worthy of a visit. With that in mind, let's get down to the task at hand and see what Hentaigasm has to offer!
Initial security advisory on Hentaigasm
For the longest time, I've been of the opinion that websites should be secure to access, which is why it pains me to state right off of the bat that currently, Hentaigasm is not available with HTTPS. For some reason, they're still offering HTTP as their connection method of choice, which means nothing you send to or receive from the server is encrypted. This means that anyone who's able to monitor your connection can see exactly what it is you're grabbing – not good. It's not a huge concern for people in developed Western countries, but if you're in a part of the world where porn is banned, you may face certain issues. Okay, enough geeking out, let's actually see what Hentaigasm has now.
Homepage of Hentaigasm on blast
I'd say that the homepage of Hentaigasm is actually pretty neat in terms of what it has to offer for the punter. The bulk of the display area is devoted to showing you preview panes of various episodes that you can watch. It's probably wise to mention at this point that Hentaigasm is a video-based hentai outlet, as opposed to a database for doujinishi or rule 34 goodness. Make of that what you will, but I think that these places generally give you the best experience, especially since hentai videos over the last few years have become incredibly good. The production value and whatever else is really quite hard to match for a lot of competitive media sources.
By default, sorting from Hentaigasm puts the latest releases at the top of the page, but you'll see a handy bar of alternative arrangements that you can click on just above here. Here, you've got the choice between organizing media based on its name, view count, number of likes, comment count and randomly if you feel like getting something that's totally out of the blue. At the bottom of the page, Hentaigasm has a pagination bar that actually goes all the way back 46 pages deep, suggesting that the archive here has several hundreds of videos for you to watch. It's not the biggest database ever, but since it's all premium hentai, it doesn't make much sense to complain.
Genre access at Hentaigasm
While there are genres you explore here, there isn't a category page you can visit to give you convenient access to what it is you seek. On the right-hand side of the website, you'll see that you have the ability to explore content in the following types of fetishes: anal, bondage, rape, vanilla, virgin, tentacle and incest. There are others too, but I think most people coming here for hentai will be satisfied with those as a representative example of the collection. Fetish Dude really wishes there were just a few more though – some folks have very select interests, and since the search function isn't the greatest, I'm convinced that this place would perform a lot better if they had, say, 100 or so different tags you could check out. This would require a page devoted to them, but that's pretty standard on most hentai projects these days anyway, so what's the big deal?
A conclusion on Hentaigasm
I think I've made it quite clear by now that my overall experience at Hentaigasm was a pleasant one. These videos are great, plus most of them are available to be streamed in 720p formats, so if you're someone that loves hentai when it's delivered in HD, that's going to make you very happy indeed. Sure, I do have a few complaints, but that shouldn't take away from the fact that Hentaigasm is still a top-shelf hub with lots of hentai that's going to make you happy. The bottom line here is that if you feel like watching anime porn straight from Japan with English subtitles, it would be wise for you to get a good look at what Hentaigasm has to offer.
Thanks a bunch for reading my professional analysis based on Hentaigasm. Come back to Fetish Dude for more anime porn website reviews whenever you need them!
Great hentai collection
Good genre specification
High average video quality
A few adverts
Limited search feature
No Discord server