HentaiFreak Review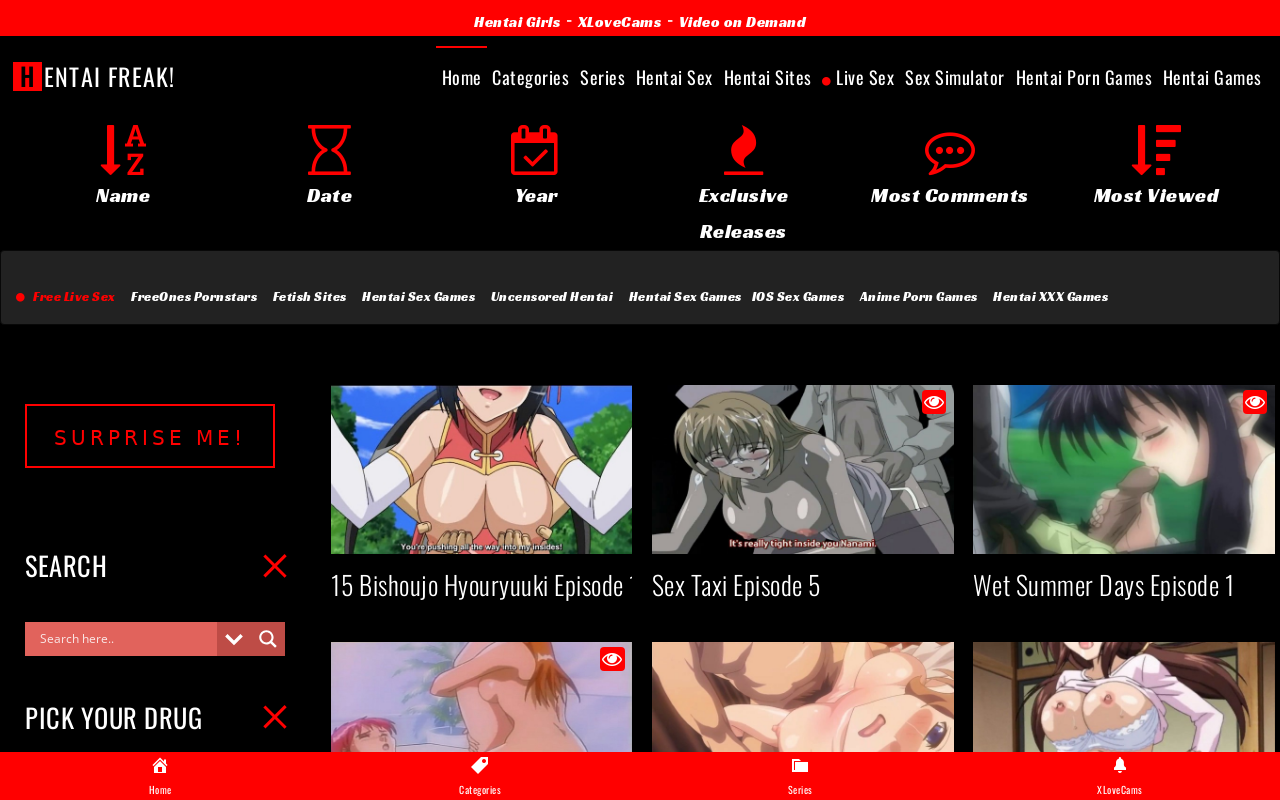 HentaiFreak: a review by Fetish Dude
I'm sure you've probably heard of HentaiFreak before and if not, you're going to be in for a big surprise when you check this place out. While I typically try to remain as neutral as possible when it comes to reviewing anime porn destinations, I think in this instance, it's actually quite hard for me to do that for a number of reasons. It's really popular and I have visited here before – as well as enjoyed it – so I suppose it's already getting a good rating straight off the bat. Still, I do want to write up a full analysis, so let's get into the guts of Hentai Freak and see what they have to offer.
First thoughts on HentaiFreak
The homepage has a relatively standard layout and design, with a focus on giving you access to the sexy anime videos you desire. It's probably wise to mention that this is a spot themed around hentai videos, so if you're looking for galleries, there are better spots for you to go to (check out the main category page for more information). Anyway, HentaiFreak seems to sort the homepage based on upload date, although I cannot actually see whether or not that's the case. Preview panes are relatively minimal in terms of the information they give: just a series title, episode reference, HD icon indicator and preview thumbnail. Some clips also have a little eye, but I've got zero idea what that means – sorry!
Sorting options on HentaiFreak
One thing I do have to give credit to the team at Hentai Freak for is their huge array of sorting options that are incredibly easy to see right at the top of the website. You've got the choice to sort scenes alphabetically, by date, number of views and the highest number of comments. That's really all of the main features that I need to see in order to determine that a tube is at least making an effort to improve their accessibility. You'd be amazed at how few sites actually have an interest in making sure that people who visit can organize the hentai videos they have in a sufficient fashion just like this. My advice is to look at the most viewed and most commented episodes – that's likely going to show you what the real anime lovers are jerking off to. Alternatively, you can go hunting for the categories, so let me talk a little bit about that.
The hentai categories on Hentai Freak
After smashing the categories button right at the top of the page, you'll be shown an alphabetical list of all the fantasies in anime porn that you could possibly desire. Stuff that's available here includes anal, threesome, swimsuit, POV, cosplay, femdom and double penetration. Not a bad little assortment, right? I'm always something that wants to push the narrative of niches being important, so yeah – HentaiFreak is doing a great job here in that respect. When you do get around to clicking on a category, you'll then be shown a bunch of videos that are themed around that topic. Just like on the homepage, you're then able to go and sort all of the material based on comments, view counts or whatever else you want. Again, this is what Fetish Dude likes to see, so props to HentaiFreak for keeping it 100.
The series on HentaiFreak
Sometimes, you just want to look at one series you've seen before or an upload that a person has suggested to you. In that case, you may want to look at the series section on HentaiFreak. This is going to give you full control over what you're watching, with a number of great options no matter what type of hentai video series you're looking for. Some of the names that I saw here included Hump Bang!, Dark Blue, It's a Family Affair, Euphoria, Aki Sora: Yume No Naka and The Hills Have Size. Essentially, a good array that I think any self-respecting anime porn lover is going to be interested in looking at. You can't argue with their commitment to quality and variety, that's for sure!
My wrap on HentaiFreak
I think that just about does it for this review. Fetish Dude has spent around an hour looking through what Hentai Freak has to offer: there were very few things here that gave me cause for concern. In that respect, I think it's a good idea for me to wrap up the analysis and hand off the task of checking out the material to you, the reader. Look, I like hentai as much as the next guy, but we all know these series are great, so why do I need to go any deeper? Bottom line: visit Hentai Freak now and enjoy this free hentai video tube. You won't regret it – that's a Fetish Dude guarantee!
Huge variety of hentai
Great HD streaming service
Good organization tools
Plenty of categories
Some adverts
Average loading speeds