HentaiDude Review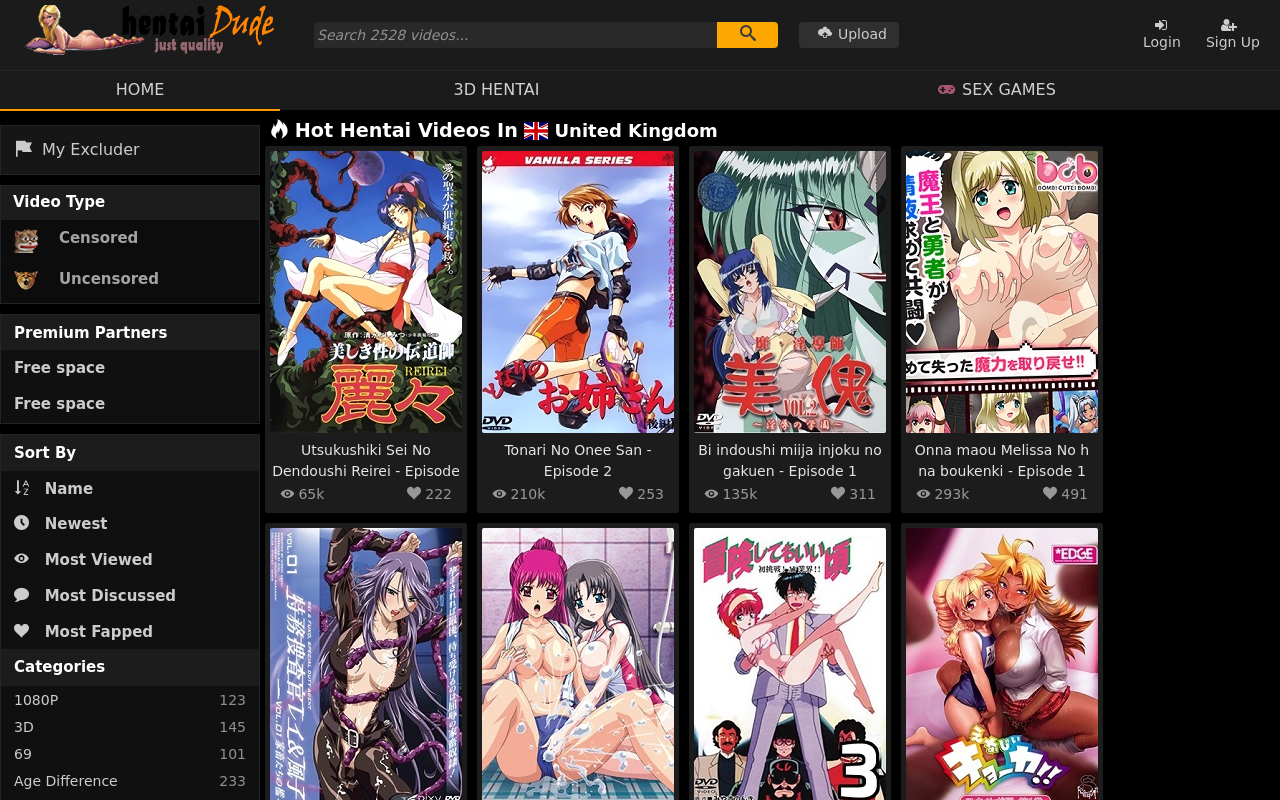 Visiting Hentai Dude
Hello there: it's Fetish Dude back at it and in this review, I'm actually going to be looking at another dude and his pornographic offerings. The website in question goes by the name of Hentai Dude and it's going to be an absolute privilege to see what he's got on offer. I don't think anyone can question my commitment to providing folks out there with world-class anime porn, so it's going to be interesting to see how well HentaiDude stands up to the scrutiny that I throw his way. Will this be top stuff, or bottom-tier rubbish? Read on: you'll find out soon enough.
A look at the HentaiDude homepage
Overall, I'd say that the homepage layout here is pretty reasonable. According to the title and navigation tools, HentaiDude is primarily focused on giving you access to hentai videos as opposed to drawn images. This is actually quite interesting, because if you survey the entire landscape of porn, that area with the biggest focus on still imagery has to be hentai. Still, I'm excited to see what the anime fucking and sucking here looks like, because we all know that when hentai turns into a video format, it gets pretty wild, pretty quickly.
The homepage's main display area is devoted to the 'hot' videos that the project has to offer, but it turns out that this is country specific, so wherever you are in the world, fellow jerkers from your neck of the woods will be influencing what you see here. If you scroll down a little, you'll find a second area for 'recently featured' hentai videos, although I don't really know how that differs from the hot section. Seems like they're basically promoting the same thing: good quality anime porn videos! Below that you'll see a pagination bar to go deeper into the archive, and that's pretty much it for the content block area. That's not it for the homepage though – I still have stuff to mention!
The sidebar of HentaiDude
If you glance over to the left-hand side of the site, you'll see a fairly robust section devoted to giving you full ability to sort through and access the porn that you want in a convenient fashion. Perhaps the best feature here is the ability for you to sort content by its various metrics, including upload date, view count, number of comments and number of times a video has been ejaculated to. This last concept is entirely subjective and requires input from the people who are actually doing the jerking, so yeah – take that with a grain of salt. I wouldn't be surprised if there were quite a few biases here, but I don't think it needs to be peer-reviewed in order to be decent.
The categories of HentaiDude
In the sidebar, you've also got a category section, although sadly there is no aligned page you can visit in order to look at all of the various content segments. Hentai Dude has a number of tantalizing options for you in the niche department, including the likes of ahegao, creampie, facial, sex toys, school girls and tentacles. Hell, they've even got swimsuits if you're a true weeb that likes to keep it as Japanese as possible. After you click on a specific category, you'll be taken through to a page where you can see a huge number of videos within that domain. They're sorted by default based on upload date, but you can use all of the same key metrics as mentioned before to organize the hentai by whatever method you desire. I personally think that the 'most viewed' option is the best: especially if you're looking for something that's a little more niche. Oh, HentaiDude also has a button that you can click if you want to look at censored or uncensored content. I'm not too sure if people actually prefer pixilation, but if you do, that's an option that's open to you.
Some of the various Hentai Dude series
A lot of the allure of this place will come down to the hentai that it has to offer, so it would seem prudent for me to go ahead here and mention just a few of the outlets that you'll find in regard to the anime porn that's on offer. Out of the top 10 series this week, the names that I recognize include Jinshin Yuugi, Black Widow, Inbo and Imouto Paradise: given that all of the episodes from these are available, I'd say that it's a pretty killer collection of hentai. You'd be hard pressed to find an outlet that has all of the major bases covered – something that Fetish Dude can get behind and then some!
Watching the anime porn on HentaiDude
When it's time to watch content, you'll be shown a pretty standard embed display and stream the content straight from the site. I sampled 10 different uploads – from 10 different series – and was pleased to see that they had HD quality provided for every single release. That's pretty rare to see these days, plus those that weren't dubbed into English also had subtitles for you to be able to keep up with what's going on. Settings were somewhat limited, but a really cool feature is that if you sign up to the site (totally free and takes all of 60 seconds), you'll actually be able to download content locally. This is a major win for folks who like to locally document and store all of their hentai: a trait that I think many anime lovers share.
Fetish Dude's HentaiDude conclusion
Hentai Dude isn't Fetish Dude, but I have to give credit where credit is due: this is one nifty spot to find anime porn videos online. It's quite impressive in terms of structure, the pages load super quickly and the sheer range of the series on offer leaves little to be desired. In short, I'm more than happy to sign off on this particular project and I have no doubts that you're going to feel the same way when you visit yourself. So, in short, Hentai Dude delivered and that's all anyone can demand. Thanks for reading – may your next jerking experience be the best one yet!
Great hentai videos
Lots of available categories
Can download scenes locally
All offered in HD
Account required to download
No doujinishi images