Gelbooru Review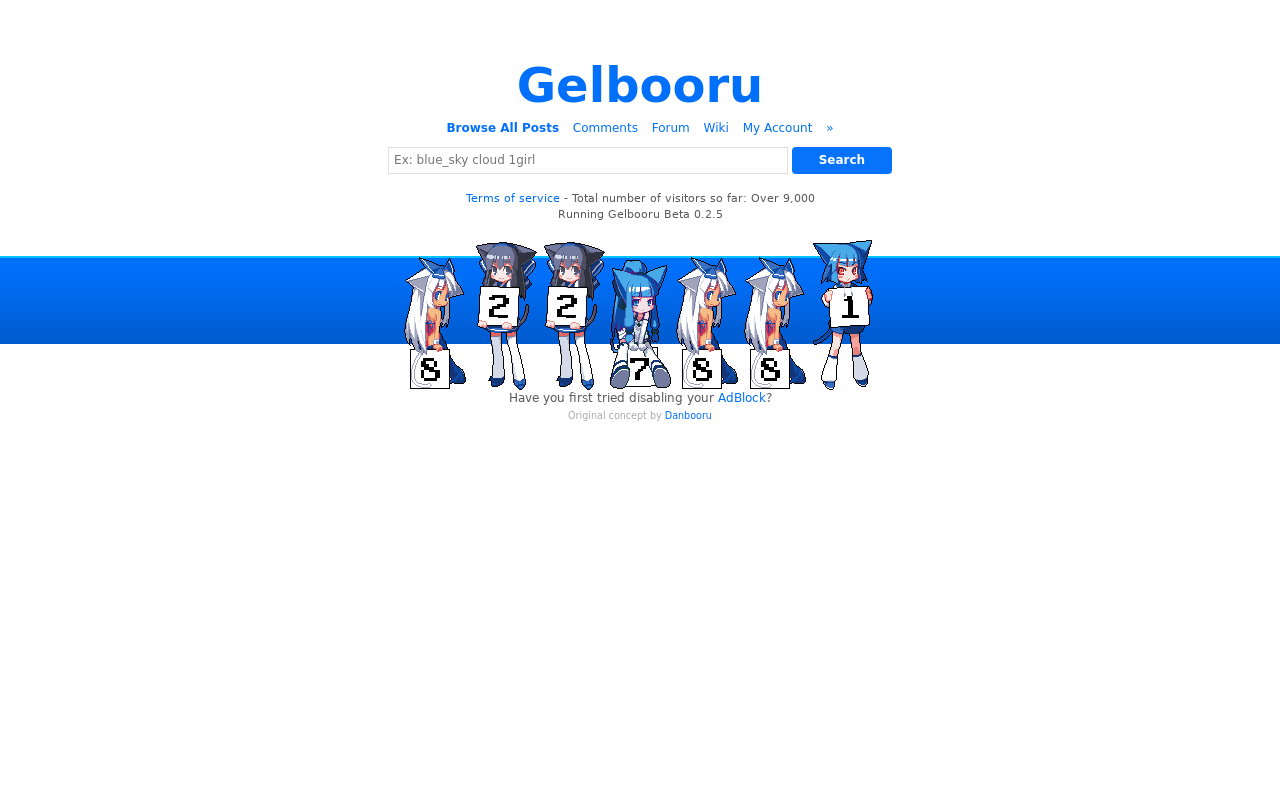 Gelbooru – a review by Fetish Dude
I've been thinking a lot lately about the overall porn experience for a number of different niches and to be honest with you, I don't think any genre gets anywhere close to the average offering by hentai websites. They're just a step ahead of the competition and because of that, if you want to break out into the world of anime porn, you better make damn well sure you've got the goods. Today, I'm looking at a spot called Gelbooru that alleges to offer anime and hentai images in a quite frankly obscene quantity. Now that might sound good, but I want to get to the bottom of what's actually on offer here before I sign off on the project. So let's do exactly that! Read on for a complete, thorough analysis of Gelbooru by yours truly.
The homepage of Gelbooru
While a lot of homepages for pornographic websites will kick off by showing you a bunch of content, Gelbooru instead approaches the madness by showing you a search box and a few choice links that you can click on if you're unsure of what to type in. If you are looking for a somewhat traditional approach to surfing porn websites like this, simply press the 'posts' button and you'll be presented with what it is you desire. I think I'll come back to the search box a little bit later, as I want to explore this section of the site first. To be honest with you, it's probably better to consider the posts page to be the homepage: it does a far better job of providing you with excessive levels of utility.
Gelbooru posts section
So when you do select the post button, you'll be presented with what I'm guessing is the latest images uploaded to the database of Gelbooru. While a lot of hentai websites tend to focus on galleries of doujinshi, the appearance here would suggest to me that Gelbooru is more interested in single images I'm oaky with this, but it's important to realize that you'll get quite a different experience here than you would from a spot such as, say, E-Hentai. I don't want to touch on the content too much just yet, but I also noticed that there was some non-porn image uploads to Gelbooru. While there certainly is a lewd side to the project, I wouldn't want to suggest that it's pure hentai, because you've got some pretty tame imagery from the looks of what's on the homepage. Don't worry though, if you are looking for smut, you shouldn't have much of an issue with getting it. The great thing about high levels of smut on a database is that you'll never run dry of the XXX anime you desire.
The tags of Gelbooru
There are a huge number of tags that you can access on Gelbooru, which are generally a great way for you to find the type of porn that you're after. These function similarly to categories when you go to a tube, but instead of stuff like gangbang, anal and Latina, you're getting categories that are much more aligned with the world of anime porn. This means that you'll see the likes of blue_eyes, monochrome, full_body, large_breasts, china_dress and kneehighs. There's very much a focus here on giving you access to a supreme level of focus, so no matter what it is that gets you hot under the collar, Gelbooru can probably provide you with what it is you desire. Note that most of these categories are actually packed with tens of thousands of associated pieces of content too. Gelbooru is not short on images, that's for sure.
Searching for specific series
For some people, being able to look at porn from various series is the best way for them to enjoy whatever it is they desire. I'm happy to report that there are numerous video games, anime series, hentai projects and associated media types that all have doujinshi on Gelbooru. You'll find rule 34 material for the likes of Fire Emblem, Pokemon, Angel Beats!, League of Legends and so on. You can find these relatively easily by utilizing the search feature, although from what I can tell, there are no actual ways for you to see a complete list of them. That's something that Gelbooru really ought to add at some point – it would make the process of accessing the content you want a hell of a lot easier. Call me a guy that wants a simple jerking experience, but yeah: nothing's going to change my mind on this particular topic of choice. Fetish Dude is all about that functional lifestyle, so if Gelbooru wants to help its users enjoy the anime images they've got, this is the best way to go about doing exactly that.
The overall experience of Gelbooru
I think the whole rule 34 focus is pretty good, because it allows people to source and document all of the content that they want. This is particularly good for people with some incredibly specific desires and requirements for content. I mean, how many other websites are going to give you the ability to search for doujinshi that features concepts such as the prone bone sex position, heavy breathing, pussy juice or even grabbing sheets? I don't want to describe it as autism, because I think that has a lot of stigma, but man – these anime nerds really do love to make sure that everything is managed, documented and fully labeled, right? Props to them for doing so, though – it makes accessing hentai just that much easier.
My conclusion on Gelbooru
Friends, I think that Fetish Dude has literally written all that he can on the topic of Gelbooru. I've had a fantastic time here and I have little doubt that you're going to feel the same way when you hit up Gelbooru for yourself. It's a little different from most of the gallery hubs I write about in the anime space, but that's fine, because it serves a different purpose. All in all, I'm more than happy to visit Gelbooru whenever I need to get my hands on top quality rule 34 material – you should be too!
Thank you for reading this professional analysis of Gelbooru. Be sure to come back to my website whenever you need expert coverage on the top hentai projects out there.
Hot hentai database
Fantastic tagging system
Large quantity of content
Very few adverts
Limited full galleries
Navigation could be better