E-Hentai Review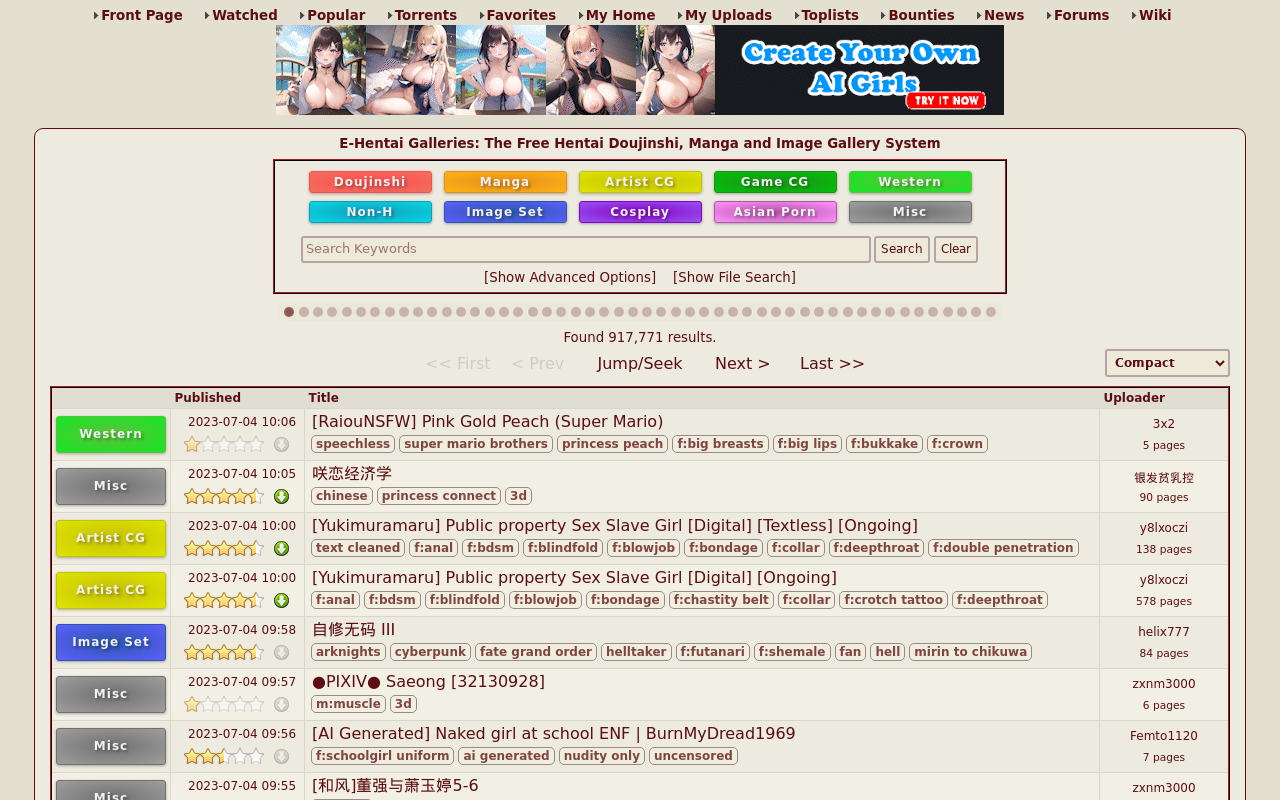 Fetish Dude's review of E-Hentai
Hello there – it's Fetish Dude back yet again with more great anime porn coverage. I don't want you to think for a second that I'm getting tired of this line of work, because if there's one thing I love above everything else, it's being able to look at hentai all day while espousing my opinions on it. That's why I'm excited and keen to check out the project up for consideration in this particular analysis! It's called E-Hentai and I've heard some great things about it, but in order to sign off on the whole shebang, I need to determine for myself whether or not the juice is worth the squeeze. So, without further ado, let's explore the whole E-Hentai website.
My first thoughts on E-Hentai
After landing on the homepage of E-Hentai, you'll be presented with a huge list of works that you can download. Now I think it's somewhat prudent for me to point out that E-Hentai is actually a gallery focused website, so if you're coming here in order to watch videos, you might be a little disappointed. The layout gives off torrent vibes, and while there is a section on the site for peer to peer transfers, it turns out that E-Hentai allows you to look at their full suite of uploads without having to download anything at all. I wouldn't describe the design as being particularly cutting edge or fancy, but one thing I will say about E-Hentai is the fact that they have a stellar layout and navigation team, so you're never really struggling to get around or anything like that. Really, it's quite a nice thing to look at – E-Hentai has done a fantastic job here and everything seems to be where it ought to be.
The content structure at E-Hentai
E-Hentai has no central uploader that provides the database with the content that it has to offer. In fact, the uploads here are decentralized across a huge number of users who contribute to the project and share what they have to offer. Note that there are so many different categories here too, so you've got people who specialize in all sorts of goodies. In terms of frequency, there are literally dozens of new galleries and sets added on an hourly basis, so the flow of fresh hentai is something that has to be seen to be believed. There's quite a big community focus here too, where you're encouraged to assist in the task of documenting everything and ensuring that anyone who wants to come to E-Hentai to enjoy the content is able to do so without much pain or suffering. Note that you won't be affected if you don't contribute, but if you've got something to add, E-Hentai is a collaborative effort that needs all the help it can get!
The E-Hentai categories
Just above the search bar, you'll see a number of different content-type categories that you can explore. There are currently 10 options, though the last one is 'misc', which essentially covers everything not already covered in the other 9. The options I think people are most likely to look at the doujinshi, Western and cosplay sections on E-Hentai. I hate to say it, but this is a bit of a weeb palace – no matter what you're looking for, if it's associated with anime, video games or comic books, there's a good chance E-Hentai has something in its library that is lewd and associated. When you do pick a category, you'll be shown a new section of the site that is just focused on that content style that you wanted. Here, you'll have the ability to search through all of the uploads and even utilize the advanced search options if you want to play around with that. There's something quite comforting regarding just how convenient it is to get around E-Hentai and all of the content that it has to offer. No doubt my fellow anime porn lovers are going to feel exactly the same way.
Picking out a production on E-Hentai
After you decide on an image set, you'll be taken through to the main archive page devoted to that upload. In this area, you'll be shown a huge amount of meta information, including file size, length, favorite count, rating, languages, characters and other associated tags. You'll also have torrent download links and the ability to look at the content directly from the website if you so desire. E-Hentai has a pretty decent browser navigation tool for the galleries that you can navigate using the buttons at the top of the page or by using the arrow keys. One really cool feature that shows E-Hentai knows what it's doing is that you can navigate using A and D buttons. The gamers are heart are going to absolutely freak out when they realize this – it's probably my favorite thing about E-Hentai.
The sources for E-Hentai
I think one important thing I ought to mention quickly is that all of the material here comes from third-party artists, many of whom aren't actually doing it in order to receive money in exchange for their projects. This is part of the whole doujinshi scene and I think it's quite agreeable how the middlemen upload all of the great hentai they've got for us normal guys to look at. Torrent seed strength is also top-tier stuff – it's clear they know what they're doing in this respect.
A final word on E-Hentai
Fetish Dude has spent the better part of 2 hours looking over E-Hentai, which was likely an hour more than I needed, but meh – who cares! I think that the overall experience here is absolutely incredible, and I have no reason to stay silent on the matter: this place rocks. It has so few shortfalls and basically gives you exactly what you want, which is stellar anime porn like you've never seen it before. All in all, I think it's a great idea for anime porn addicts to get on over to E-Hentai to see this place for themselves. The quality of the hentai on offer here is simply magnificent, so yeah – stop beating around the bush and get your dose pronto!
Thank you for reading another professional analysis written by Fetish Dude. Be sure to read my other reviews on great hentai websites when you get the chance to! Peace be upon you and as always, happy fapping!
Huge hentai archive
Regular new uploads
Great curated database
Fantastic search features
Limited video content
Average loading speeds