Danbooru Review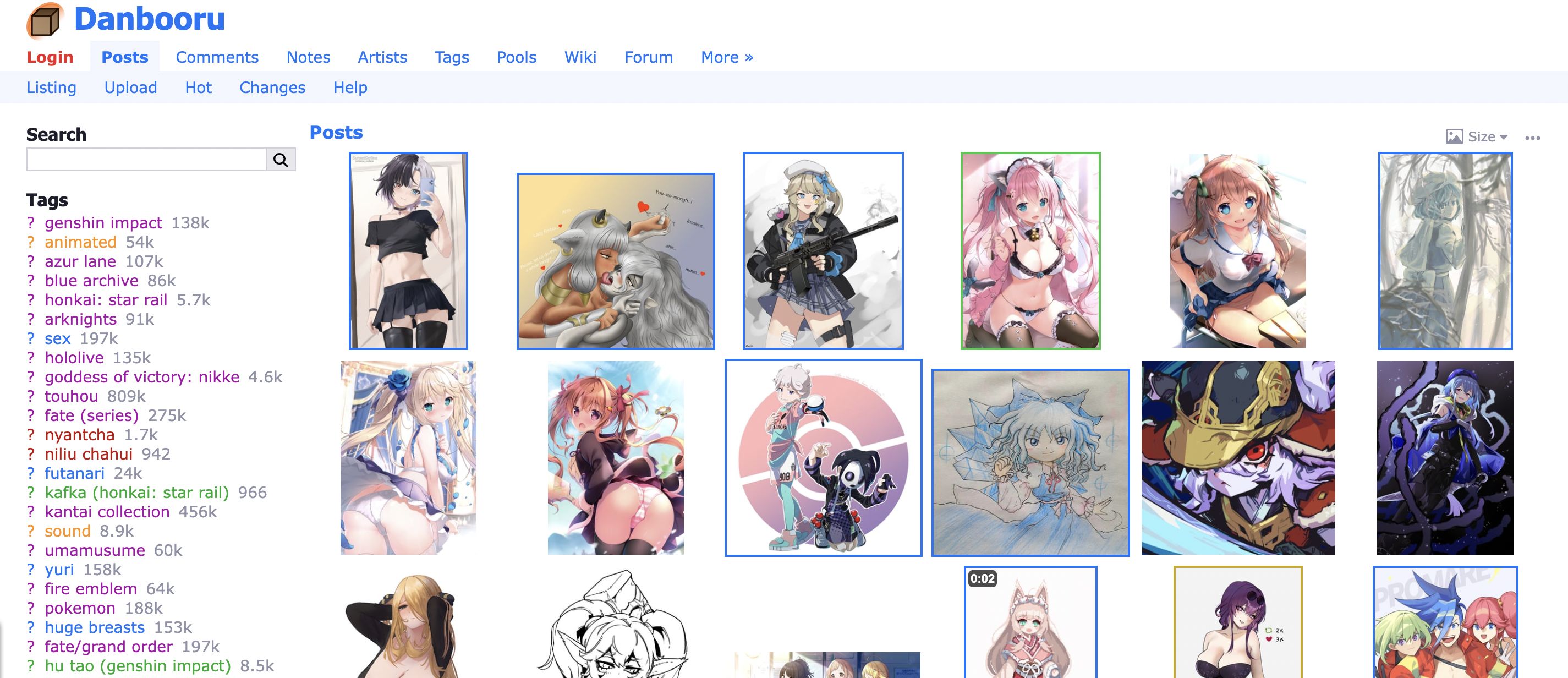 My visit to Danbooru
I don't think too many people who have at least a semi-interest in hentai will be oblivious to Danbooru. This is a pretty popular community and platform as far as I understand it. Hell, it might just have the highest number of active users at any one time for the anime porn world too! I'm not too sure, but that seems somewhat reasonable, especially considering what I've seen written about Danbooru elsewhere. Anyway, the rest of this page is going to be devoted to a full review of what the website has, so let's get stuck in.
The homepage of Danbooru
You'll find that a lot of hentai websites these days decide to kick things off with a display of a search bar and nothing else – I'm really not a fan of this. The good news regarding Danbooru is that they've gone for a more prudent initial display, that functions somewhat similarly to a tube site in terms of its layout and features. You'll come to the homepage and be shown a number of posts, sorted in chronological order, so the latest and greatest hentai offered by the project is shown right there. I suppose it's wise to mention about now that nothing on Danbooru is exclusive, nor is it produced by the guys behind the website either. This is all third-party material and it's submitted by hundreds of different people. Think of it as being a library of sorts, only people bring their own books and help with documenting what everything is about. Pretty cool concept, right? It sure helps out those that want to jerk off to hentai!
Exploring the tags on Danbooru
When you visit these types of places, you've got to expect the best viewing experience to be offered by the method of you looking around for tags that are directly relevant to your interests. Since there is so much content – and it's spread across so many different niches, series and characters – it pays to know what you seek. Heading on over to the tags page is a good way to kick things off, as this is the main hub of choice for people that want to hone in on their particular fetish. Danbooru functions slightly differently to normal sites when it comes to their concept of 'tags': this includes content fetishes, series, characters and more, so be prepared to see a hell of a lot of stuff here.
To give you an example of exactly how Danbooru functions, I think it's wise for me to talk a little on the topic of how you actually go ahead and look through content here. On the one hand, you've got keywords such as open mouth, blue eyes, large breasts and thig highs that you can utilize if you want to see hentai with these features. In addition to this, you'll also find character concepts, so if you're looking for Cirno, Alice Margatroid, Hatsune Miku or Princess Peach, it's not too hard to find their related entry areas. Danbooru also allows you to look through various 'series', which are basically media franchises. Examples include Pokemon, Final Fantasy, Azur Lane and Idolmaster.
A look at the Danbooru tag pages
After you've selected a tag, you'll be shown a bunch of content related to that particular theme. Sadly, it would appear that these are organized by upload date, and you have no other ability to switch it to anything else. This is slightly disappointing, since at the very least, you should be able to see the highest rated and most commented uploads, right? These are common features on tube sites at least, and I feel like the transition over to galleries and images isn't all that crazy.
As it turns out, Danbooru has a searching cheat sheet you can access in the wiki area and from my perspective, this is perfect for those that really want to be able to get the type of media they're after. This allows you to use a bunch of searching features, wildcards and so on so that you're given the preferred type of media that you're after. You can also check here for information on how to order content by its favorite count, using the favcount command. It's a bit complicated, but if you're someone who genuinely just wants to look at hentai all day, this is probably the best option for you. Might as well get familiar with the platform, right? But still, this doesn't take away from the fact that I feel a lot more comfortable searching for doujinshi when it's easy and convenient. What's next, I'll have to start running bash scripts or some other craziness? No thanks!
The content depth at Danbooru
Arguably, the best part of Danbooru is the fact that they have an extreme amount of hentai here. I know that you folks are going to want to be able to gauge the database, so let me kick off by pointing out that in the Alice Margatroid library of hentai here contains over 28,000 pieces of art. I know, it's pretty crazy, right? They've also got more than 35,000 entries for Precure, so that's a double whammy for the weebs. Fetish Dude is a big believer that when you're a third-party indexing service, you have to make sure that you've got a lot of smut to offer. If not, chances are that you're going to fall behind the competition. The good news at Danbooru is that they've got more than enough rule 34 here to make everyone happy!
My final thoughts on Danbooru
That should just about do it for this review on Danbooru. To be honest with you, I spent around an hour longer than I needed to here, because it was quite obvious from the get go that this doujinshi and hentai porn library was going to be good enough for me to recommend. The only thing I will say is that if you're looking for video material, this might not be the best bang for your buck. They do have WebMs, but yeah – this is very much a place that's dominated by images. Anyway friends, that's all from Fetish Dude – thank you so much for sticking through this entire review and I wish you the very best of luck in your pursuit of hentai bliss. Take care – happy jerking!
Fantastic tag organization
Huge content database
Active community features
Extensive search tools
Hard to master
No official Discord server