VR Fuck Dolls Review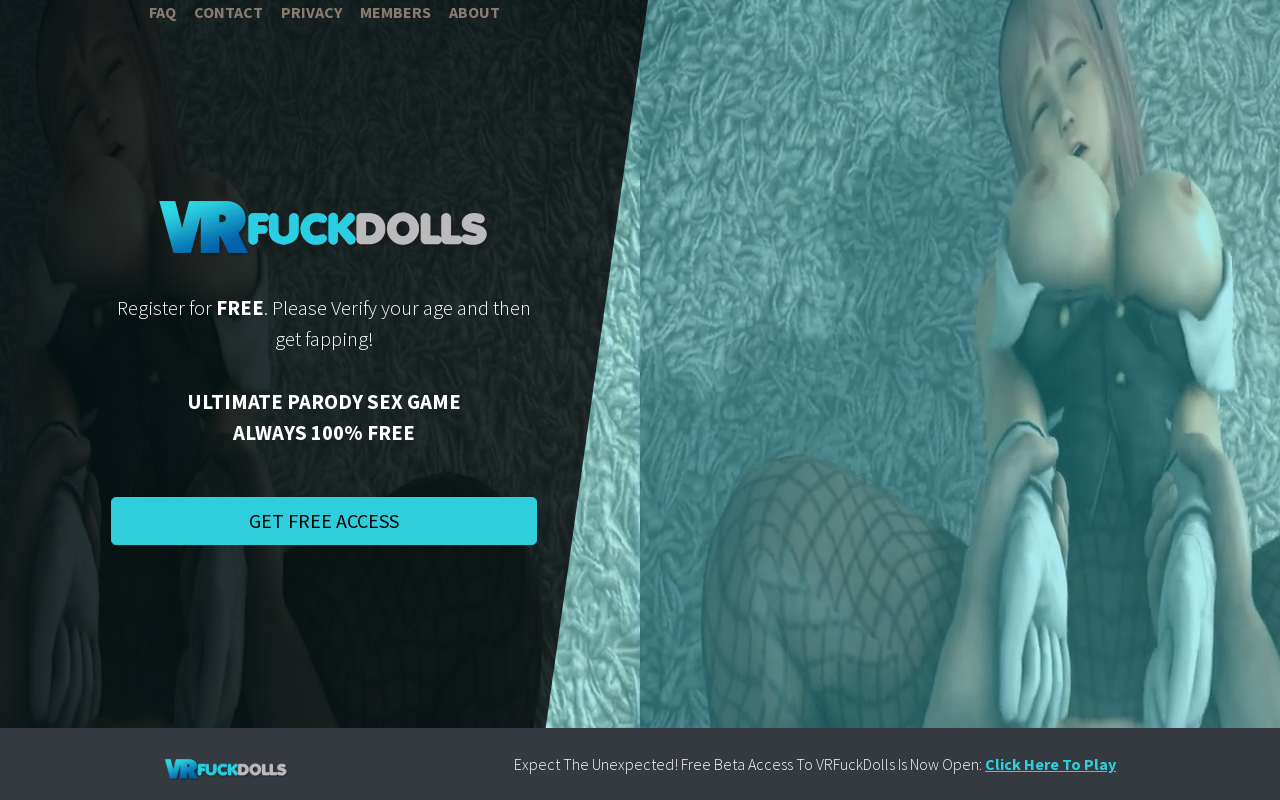 Analysis of VR Fuck Dolls
I hope you've got yourself a virtual reality headset, because if you want to play the juicy titles at VR Fuck Dolls, you're going to want to have one! You can use any VR device based on the suggestions that the tour has, but I can only vouch for Vive – that's what I'm going to be using for this review. I want to stress that VR Fuck Dolls can be played without a virtual reality headset – but if you've got one, it's probably a good idea for you to go ahead and actually load it up. The games are so much better and yeah, it really is designed with adult VR fun in mind. So, with that out of the way – let's get down to business and check out VR Fuck Dolls!
First Things First: VR Fuck Dolls Membership
Currently, VR Fuck Dolls is 100% free for you to sign up and play at. There are some premium options in place if you're someone that wants to spend a few bucks on a virtual reality porn gaming destination, but it's entirely optional – and I really do mean that. These guys haven't severely limited your free to play capabilities – it functions just like League of Legends instead of, say, Runescape. Second, VR Fuck Dolls does require you to download all of the games to your PC. They've previously tried a stream setup, but the input delay and other issues caused them to switch to the localized approach. The good news is that the download servers here are absolutely juiced – I completely saturated my 100 Mb/s connection, and since the games are around 10 GB in size – well, it won't take you very long at all to get your hands on the titles. Speaking of which: let's look at the games.
Right now, VR Fuck Dolls has 7 games available for you to play – it might be a relatively small archive, but you absolutely must realize that these are all produced by the platform and you cannot get them anywhere else. They started in 2021 and have released a new game every 6 months since – if you're reading this way into the future, there's a good chance that VR Fuck Dolls has more than enough gaming entertainment for you to enjoy. The games are also highly polished and it's clear that they care about putting out good products. This isn't a platform that puts any old rubbish online for people to play: you're going to find the cream of the crop if it's adult games with a VR focus that get you hot and bothered.
Trying Games at VR Fuck Dolls
I decided to play Virgin Island VR first – the premise of this game is that you're going on holiday with your best pal to a place that was a 'mystery offer' in a newspaper. You're not too sure what's going on there, but once you land – yeah, let's just say that you're blown away at how few men there are – and how many ladies they have. Turns out that not all is how it seems: there's something dodgy going on under the surface, and it's your job to find out what! How do you find out, exactly? Well, that's going to involve you fucking as many chicks in VR as possible – think you're capable of doing that? There are many fantastic NPCs here and they all have their own traits, favored positions, voice acting and so on. Oh, I do want to stress that the voice work here is sensational – they've absolutely nailed it with hiring good quality VOs that really bring the game together.
For me, one of the most important elements when it comes to playing an adult game online is the quality of the visuals – you know that's incredibly important with VR too, so I'm pleased to report that VR Fuck Dolls has you more than covered. We're talking about the most visually stunning and pleasurable content that the Internet has to offer here. Girls with great bodies and the physics are sublime too. There's just something about the shiny skin they've got that does something to me. Let's just say that Fetish Dude is going to be coming back to VR Fuck Dolls in the future – and it's not going to be a part of a review, that's for sure!
Other Things to Consider
VR Fuck Dolls has a Discord server with a 24/7 support channel – if you come across any problems or issues, you can post them here and someone will be sure to take care of you. What I appreciate about VR Fuck Dolls is that they've also provided complete Wikis and walkthroughs for their games – this will all but ensure that you can get 100% in each and every title they've got. They also had a cool developer blog where they share mechanics, difficulties and so on – it's nice to get a deeper look at how the project works and that type of thing.
Now, this project does have some adverts – but that's what I'd expect from a service that's offering free VR games. They have suggested that they'll stay on the freemium model for now, but they really don't want anyone to go without because they're charging money. Premium removes adverts, allows some alternative characters in certain games and gives you access to a VIP longue on the Discord server. You also get to play betas for new games before they come out to everyone else – probably the best perk.
VR Fuck Dolls: Conclusion
What do I make of VR Fuck Dolls? It's a great spot, and I don't think I'm being silly with saying that this place is really defining what the genre is about and what levels other projects can aspire to reach. Truth be told, there's not much competition in the VR space if you're looking for porn games, but they're doing a good job putting up stellar content regardless and I have no doubt that they'll continue to do so for quite some time. Bottom line: Fetish Dude approves of VR Fuck Dolls and if you want to play VR sex games, this is a great place to do exactly that.
Free access available
Supports all VR devices
Fast download speeds
Small game library
Requires VR headset