Violent Stimulation Review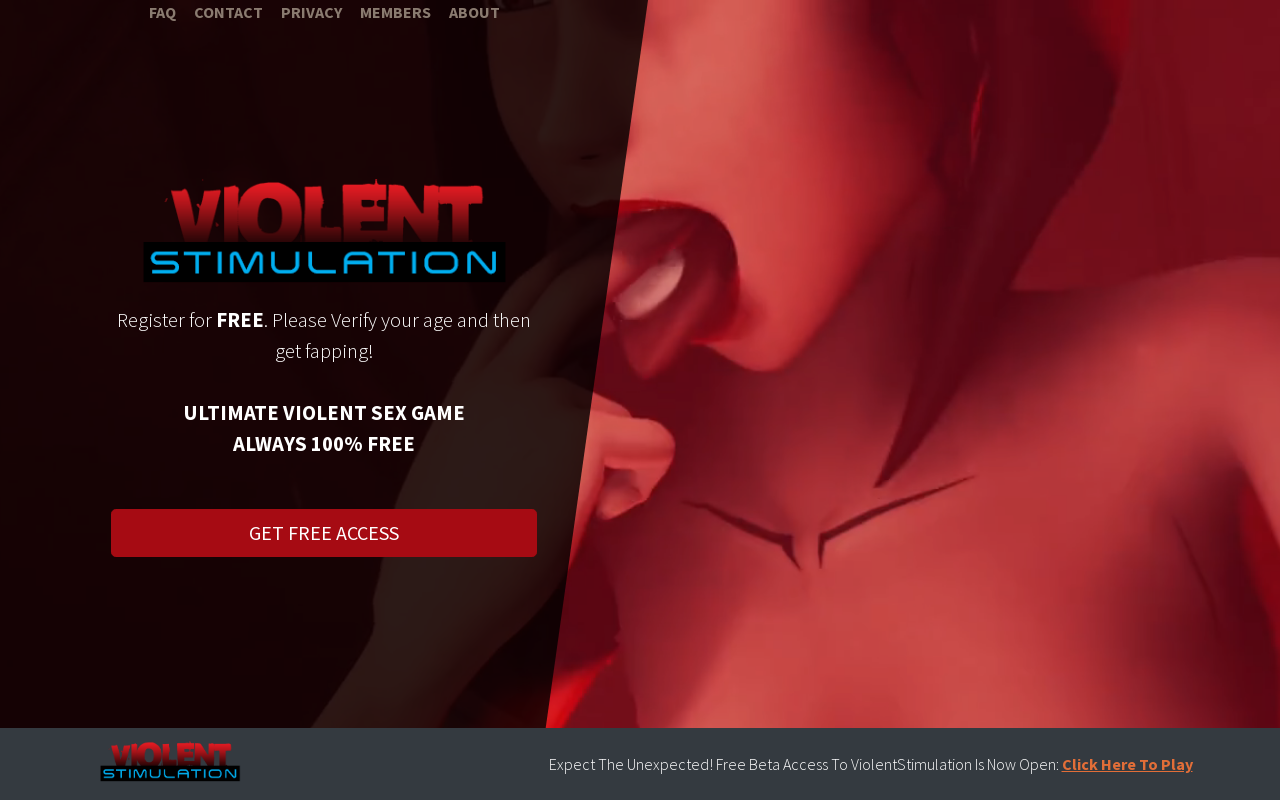 Violent Stimulation: a Professional Review
Howdy all – it's Fetish Dude and today, I'm hitting up a spot that promises to bring you the absolute best in BDSM action. It's called Violent Stimulation and believe me, if you're in the mood for high quality kinky fun where it's all about punishment and destruction, this might just be the hottest hub for you. I've looked around for some of the best extreme spots and I'm pretty sure this is one of the greatest around. Want to know why? Well, all you've got to do is read on for my complete, honest review. Fetish Dude is ready to tell you all about Violent Stimulation and its stellar collection of XXX games!
The Violent Stimulation Member's Area
First up, you'll want to create an account here. It takes just a few seconds to get access: Violent Stimulation currently has 15 games and they're all free to play. There is an optional subscription service if you want to support the developers, but it's not at all required to have a good time. You basically just get access to early betas, a few cosmetic items and that's it. While I do think it's a good idea for you to consider chucking them a few bucks – don't think for a second that you have to in order to have a great time at Violent Stimulation.
The member's area design is clean and tidy. They've clearly spent a lot of time getting this to look exactly how they want it. I appreciate when destinations show their professionalism in this respect and I'd imagine that most people would agree with me - Violent Stimulation is as pretty as it gets. Now the platform did launch with Violent Sex Diaries as its main game back in 2021, but since they've had so much success since then, they've decided to add a bunch of other games to their catalogue for you to play around with. Violent Stimulation has 9 games in total – all of which cannot be played anywhere else on the Internet. They're completely exclusive to this portal, so if you want to play them – this is the place to do exactly that.
Playing Violent Stimulation's Games
When it's time to play games, you'll realize that Violent Stimulation has done a great job with overall design and accessibility. Firstly, they load up in the browser, with official support provided for Firefox, Safari and Chrome. I did try the website in Opera and it worked fine, but just know that it's not officially supported, so it might stop working at any time. Violent Stimulation's games are all pretty fluid in terms of their gameplay – there's a lot of sex simulation stuff here, and it's mainly about calling the shots and deciding what you want to see. Suffice to say, I'm of the opinion that this place rules and the games are wonderful.
In terms of the violence levels – it's pretty hardcore BDSM at times, but the team has made it such that you can decide how rough you want things to be. Make no mistake about it though: you're going to want to ensure that you've got yourself the best possible mental state going into this place. Have a good idea of what BDSM you want to see, because the games could not be your exact slice of pie if you're expecting the wrong thing.
I spent about 2 hours in total playing 4 of the 9 games that are available here. My job as a reviewer is generally to get as much done as possible, but it's always a tradeoff between time spent in individual games and then being able to actually tell you whether or not the platform as a whole is good. Based on what I saw from those 4 games though – this place is absolutely awesome. The graphics are fantastic, there's little difficulty when it comes to storyline progression and even the sound design is stellar. There is voice acting here, which lets me know that the studio behind Violent Stimulation is incredibly serious when it comes to their craft. This isn't a cheap and cheerful operation – they're doing whatever they can to bring the heat!
Other Violent Stimulation Considerations
There's a Discord server here and when I joined, it had just over 6,500 people as members. The server seems to be pretty well operated and there are specific regions that you can utilize if you want to seek help for a particular game, make a suggestion to the developers or just share some BDSM that you enjoy. There are quite strict rules about content though, so make sure you read the rules when you join – you don't want to get banned now, do you?
Violent Stimulation also has a full library of XXX videos if you're interested – they mainly come from professional studios and feature some of the greatest kinky fun I've seen. There's a lot of submission and domination here – I really couldn't find anything that I'd consider to be a vanilla porn scene. I also loved the fact that they have a night mode, because I find that when I'm playing porn games at 11 p.m., I don't want my eyes to be burned. Anyone who's had that experience will tell you – it's not a very fun one! The only other thing I'd say about Violent Stimulation is that there isn't too much competition when it comes to BDSM material, but they're still doing whatever they can to give you the goods.
Final thoughts on Violent Stimulation
I wish I could spend more time here, but there are other sites to review and yeah – it's probably best that I go ahead and check those out inside. The bottom line when it comes to this portal is that they have some truly incredible XXX content, and I know that anyone who's keen on BDSM gaming will find what they want right here. Just know that the games are really quite violent, so if you're not a dominating person – it might be best to steer clear. Anyway, thanks so much for reading and Fetish Dude will catch you in the next review. Peace, love and happy jerking!
Free to play
Exclusive content archive
Discord server
No offline gameplay
No forums