Fap Dolls Review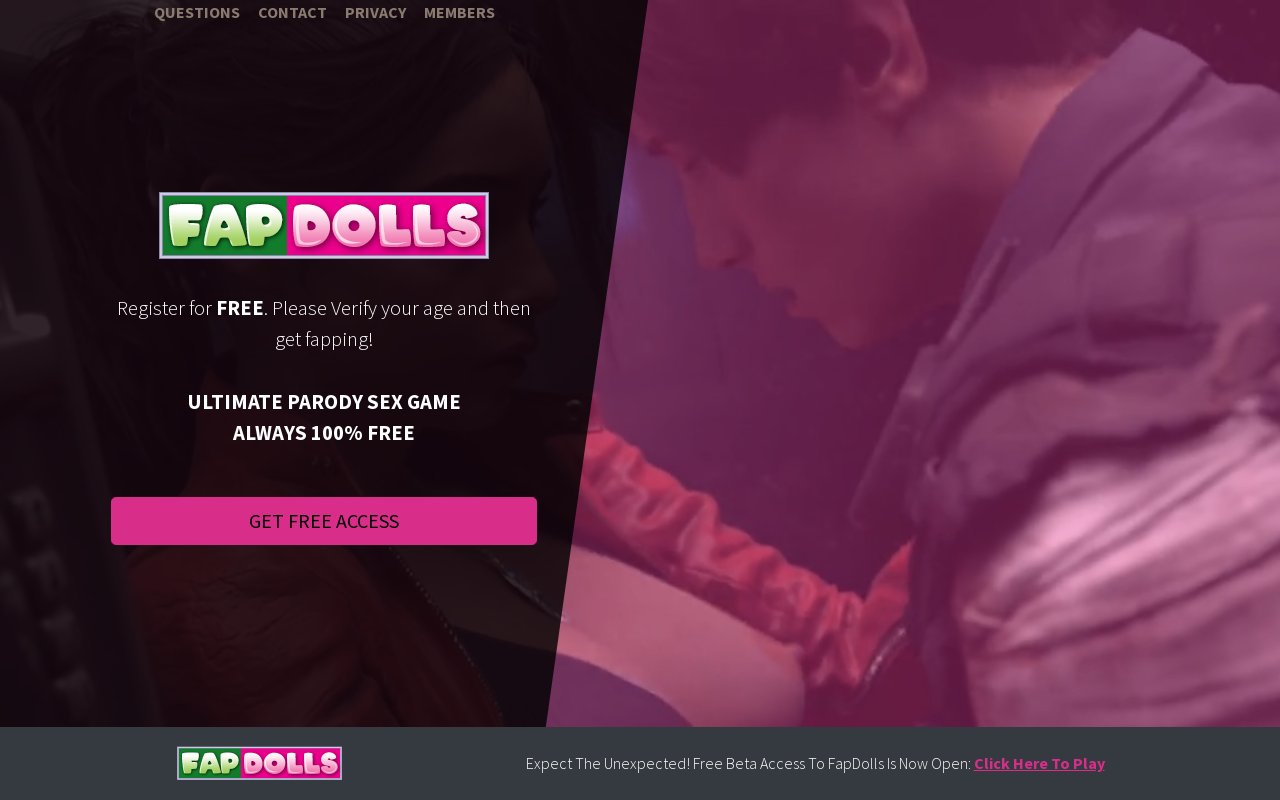 Playing Fap Dolls: Fetish Dude Tries
What's up, gamers? Are you horny and looking for interactive erotic bliss? Well, the good news is that Fetish Dude is here to hook you up with a project that I think you're going to absolutely love. It's called Fap Dolls and for my money, the Internet doesn't get much better than this if you want an immersive, high quality porn game that's free to play and fun as fuck. I've spent the last few hours playing this title so I can come on my platform and write all about it. With that in mind, let's crack on and see why Fap Dolls is one of my favorite destinations for XXX gaming.
First Thoughts on Fap Dolls
So, to kick things off: I want to make it clear that Fap Dolls is a completely free to play gaming destination. That's right – you won't have to pay a penny here to get access to what they have to offer, and I know for a fact that anyone who's serious about getting their hands on great XXX games is probably sick and tired of having to pay before they play. Well, the good news is that Fap Dolls doesn't have this issue – simply create an account and that's all you have to do! I really appreciate the simplicity of the process and the safety measures here too: they want to ensure that anyone who's joining is over 18, so if you're a kid – go outside and play with a ball!
I'll say it right now: the biggest draw card when it comes to Fap Dolls is the quality of their graphics. To say that this game is attractive is an absolute understatement. I don't think I've found a place that's as visually stunning as this one – plus, it's able to be taken to 4K if you go for the downloaded version of the game. You can actually run Fap Dolls from your browser, but it only runs at 1080p and 30 FPS – if you want the complete Fap Dolls experience, grab the local edition and run it in all of its glory. Don't get me wrong – I think this porn game looks just fine in the browser, but it's so much better when you have it on your PC.
The Central Theme of Fap Dolls
Fap Dolls is sort of like an open world RPG mixed with a dating simulator. The way that they've created this game is really quite refreshing, and while there are small levels of difficulty here and there, you're not actually going to feel like you're playing a particularly difficult adult game. The puzzles are probably the toughest thing that you'll come across, but you generally mentally solve them within 10 seconds and once you do – it actually feels good! Especially when you get the instant feedback of erotic attention and interactions: I think it goes without saying that I'm going to be conditioned to save puzzles in no time at all. It's real engaging and I found myself struggling to actually pull away from this game at times, it's just that good.
The Fap Dolls Story
There are currently 4 different storylines that you can pick from to start off your adventure – there's quite a bit of text here, but one really neat thing about Fap Dolls is that you're able to pick how much text you want to read. They've got full and partial – if you're looking for a bit of a story but don't want to sit through novel-length discussions and so on, you can get an abridged version, which I really like as a concept. Come to think of it – why don't more games do this? The binary of no story against full story is a bit of a weird one – sometimes, I just want the cliff notes. Anyhow, Fap Dolls has done a good job with writing compelling characters and they each have their own charm and attributes. If you want to excite one, you'll have to do thing X – whereas trait Y gives other ladies the tingles. It's up to you to figure out how these dolls are best suited to your personal strengths.
Character Development in Fap Dolls
One of the core training elements of Fap Dolls is how you want to build your character. There are only so many hours in a day, and it falls upon you to decide how best to use them. This is one thing that Fap Dolls really does well – with so many choices, maximizing the returns on your investment becomes a little bit of a task. Sure, you could spend all day at the library to become a complete nerd, but then you're weak and don't have any money. What about the gym? Spend too long there and everything else falls behind. It's also true that if you neglect one part of your development, you miss out on meeting certain women. After all, there are plenty of babes that only go for park runs in the morning but never hit up the cinema, right?
Downsides of Fap Dolls
What are the downsides here? I was struggling to think of some, but I guess the adverts can be a little annoying. Thing is, when you offer a game completely free of charge, you're going to have to find cash somewhere. It's not the end of the world to have ads, and if you want to get a premium membership, they do go away. It also supports the developers, so that's pretty cool, right? The only other downside was that Opera wasn't supported for browser access – not sure why, but Firefox, Safari and Chrome all function just fine.
Fetish Dude's Final Thoughts
Okay guys: I've really had a fantastic time playing Fap Dolls, and I can assure you of this much: this game is about as good as it gets in this particular genre of content. I've looked far and wide for the best porn games out there and Fap Dolls certainly manages to hold its own against other destinations. So, what are you waiting for? Try it out for yourself and see just how great this hub can be. Thanks for reading and I'll catch you in my next sex game review.
World-class graphics Fast download speed Free to play
Some adverts No Opera support