Tranny Porn Games Review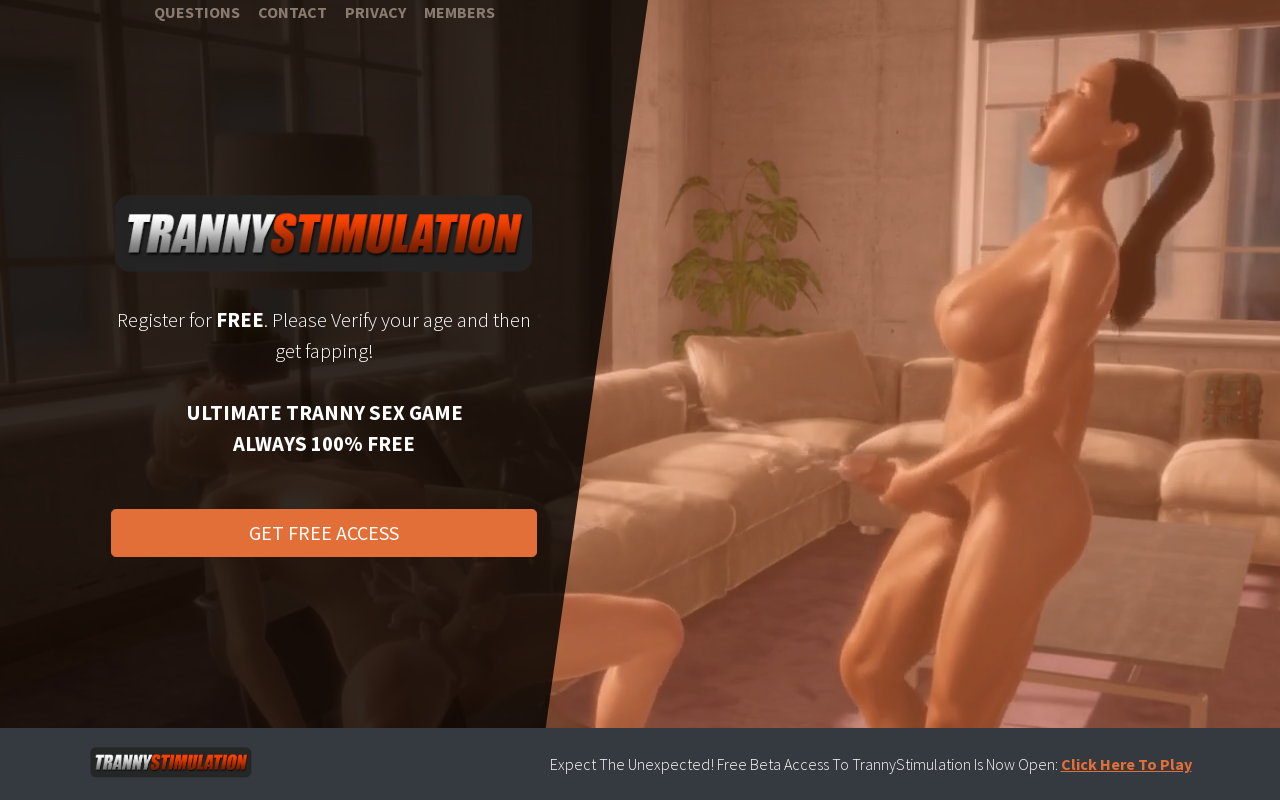 Fetish Dude Visits Tranny Porn Games
Got an addiction to shemales? You're not alone: the good news is, there's a gaming platform that I can recommend to you – right now! It goes by the name of, yup – you guessed it – Tranny Porn Games. They've got the hottest selection of interactive titles themed around chicks with dicks: sound like something you might be interested in? Well, continue to read and I promise that Fetish Dude will tell you all about what this hub has to offer. Let's get down to business and explore the delights provided by TPG to those who are in love with transsexuals!
The Tranny Porn Games Member's Area
You do need an account to play games on this website, but it's simple to sign up and all you need to provide is an email address and password. I've got a lot of respect for spots like this that just let you jump straight in and enjoy the titles they've got – no sitting around here. Tranny Porn Games runs a tight ship and they've operated since 2020: new games are added around once every 3 months, but older titles also receive patch updates every so often. These patches aren't just bug fixes: they love to add new content and introduce fresh quests, storylines and whatever else they can. Suffice to say, if you care about a trans gaming hub that's constantly updating and active – this is the place that's going to satisfy that desire.
Right now, Tranny Porn Games has 22 shemale-themed titles in its member's area. Want to know the best part? They're all produced and published in-house. What does this mean? Well – you won't find the games that are inside Tranny Porn Games anywhere else on the Internet. They've created these incredible releases and yeah – they're going to stay here for good. I also love the fact that you play everything through the browser – no need to download any files to your PC. It's a great system and it means that you don't have to risk viruses or anything else. Trust me – Fetish Dude knows the risks when it comes to adult games online, and it's mitigated a lot when you can do everything through the browser.
Themes and Content at TPG
So, what are the games like here? It's a fantastic mixed bag, and I love the fact that you've got variety. They say variety is the spice of life, right? Well, I genuinely think that it applies to shemale-themed sex games, and you're going to see for yourself just how far these folks have come with their archive in terms of options. If you want a dating simulator, there are options. If you want a medieval fantasy title – there's one here for you. They also have visual novels with a few choose your own adventure themes – it's totally up to you what type of gaming experience you get from TPG. All I can say for sure is that based on the 6 games I sampled, they love polishing their products and ensuring that everyone who visits gets something that's worth accessing. Transsexual gaming has really hit a new level of awesomeness – it's right here.
Visual Quality at Tranny Porn Games
Games have to look good in the porn genre if they're going to be well received – I'm happy to report that TPG does exactly what it's supposed to in this regard. Visually, the games are stunning and look impressive: Fetish Dude is actually surprised at just how great some browser games can appear these days. Suffice to say, I think that Tranny Porn Games is going above and beyond to bring you the heat. There's a certain theme across all of the games too – that's likely because the same development studio has been working on the projects they've got. What's especially great is that it's true to life, but enhanced in a way – these trans girls look delicious, and you're going to love fucking those sweet, sweet asses all night long.
Gameplay & Accessibility
Since you access all of the titles through your browser, this means that you can technically load up all of the shemale porn gaming titles here on a mobile device – how awesome is that? I'm of the opinion that more places should operate like this, and I was pleasantly surprised at how great this place run on my iPhone. It's impressive just how far the industry has come, and I must say that Tranny Porn Games are doing more than I expected a place in this niche to bother with. Fetish Dude has noticed a lot of lazy webmasters over the last few years – nothing about this place suggests that they don't know what they're doing.
Downsides of TPG
It's always a good idea to balance my reviews out, so how about I mention a few things I actively found to be a problem at TPG? Firstly, the loading speeds weren't the greatest – each game takes about 15 seconds before it actually starts up, so that could be improved. I also don't like the fact that they don't have a Discord server, because I think when it comes to gaming, everyone wants to be able to talk to others about their experiences and so on. The forums are good, and there is a Wiki, but still – adding a Discord server would be absolutely fantastic if you ask me. And you should – I know what the hell I'm talking about when it comes to shemale gaming, okay?
A Final Word on TPG
Look: I think it really goes without saying that if you're into shemales and you want to play games themed around them, this is likely going to be the best option on the market for you. The fact of the matter is that TPG is going above and beyond what rival spaces are offering, and as a result, they're probably the best destination online right now if you need XXX games themed around transsexuals. That's their pitch and the end result is a stellar platform that I think you're going to go crazy for. Anyway, thanks for reading – Fetish Dude will see you again real soon!
Free to play games
Hot transsexual action
Regular patch updates
No Discord server
Average loading times