Jerk Simulator Review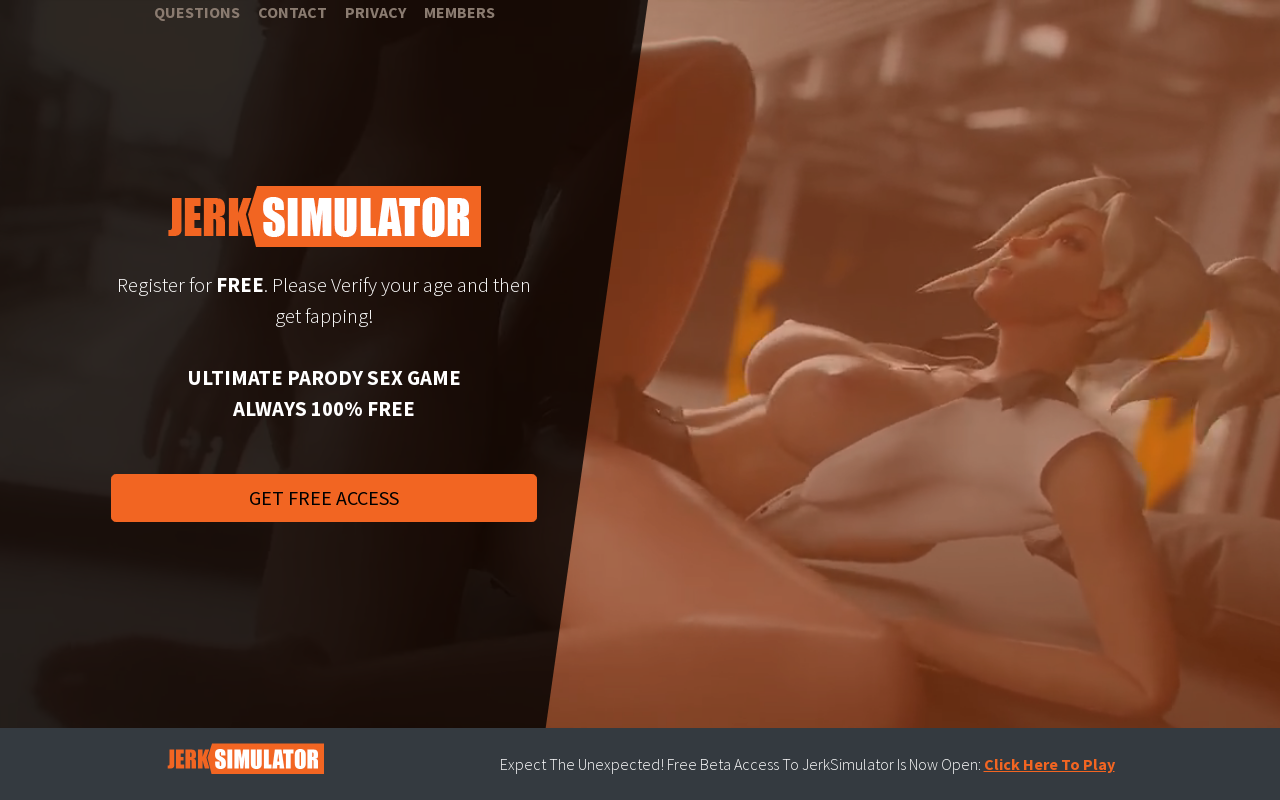 My Visit to Jerk Simulator
Let's face it: the Internet has a lot of great games that you might want to play, and a hell of a lot of adult entertainment too – but what happens when you want to fuse your passion for both of them together? Well, that's where Jerk Simulator comes along: it's a fully-fledged hub devoted to bringing you XXX gaming at a moment's notice. All you've got to do is get your cock ready and prepare for an onslaught of adult interactive fun that'll have you busting nuts over and over again. Is your dick ready? There's only one way to truly find out! Now, continue reading on down below for Fetish Dude's complete analysis of Jerk Simulator.
First Thoughts on Jerk Simulator
First thing's first: I want to stress that Jerk Simulator is a free to play destination, but you can buy a premium monthly membership if you want some optional extras. These extras are exactly that though – optional. You get a few cosmetic options in games, the removal of adverts and access to betas of new titles before they're made available to everyone on the platform. It's only $10 a month, but if you don't want to pay anything, that's not going to be an issue. After signing up to the platform with an email address and password, you can instantly jump into gaming – pretty damn awesome.
Jerk Simulator has a main game that they call – yup, you guessed it – Jerk Simulator, but it also has 13 other free games of a similar level of production and quality that you'd be silly not to also try. The original game started the platform back in 2019 and ever since, they've added fresh releases. I don't think I'd even go so far as to say that the original title is the best of the bunch – it's good, but so are all of the other games they've got here. I think I speak on behalf of a lot of gamers when I say that having this much variety is very much an awesome thing indeed. Especially when you consider the fact that everything offered by JS is 100% produced and published in-house. This means that they don't license games from a third-party producer: it's all here, made by them, for you to play.
Jerk Simulator Graphics
Historically, I've felt that the problem with porn games was that they simply didn't look that good. This is very much not the case when it comes to Jerk Simulator: they're obsessed with providing you with visually stunning releases that you can play over and over again. What I really appreciated about the games was that they could be accessed via the browser or downloaded in a launcher. Note that if you play Jerk Simulator's adult games via the browser, you will need to stay online for them to work. The launcher allows for offline gameplay, so depending on your exact circumstances, you might favor one over the other. Download speeds are more than sufficient though – I managed 10 MB/s, which considering that most games here are just a few gigabytes in size – yeah, that's more than sufficient.
Gameplay & Storylines
Some games at Jerk Simulator are just sex sims: they don't have much of a story at all, and you're basically just having two people that you designed fuck in front of you. I say two people – all of the sex simulators I came across here actually allow you to create threesomes and orgies, so it's up to you how many cocks and holes you want involved. Other titles on Jerk Simulator are themed around a central story – they have lots of text and you're supposed to spend quite a few hours getting into them. It's very much a case of pick your poison – work out what's best for you and I have no doubt that you'll find the dozen plus titles here more than relevant to your interests.
The games aren't exactly difficult, although 2 games I tried did have a scaling difficulty option, so if you're someone that appreciates a challenge – that's good news for you, right? Jerk Simulator offers guides on their forums for each and every title – if you're really struggling, they've gone through the process of providing you with a complete solution to everything, and as far as I'm concerned, that's pretty damn awesome.
As for the sex? Yeah, Jerk Simulator is absolutely crushing it, and I know for a fact that they're one of the best in the business when it comes to raunchy simulations. How do I know this? Well, I've tried all of the rivals and I know what the standard is for great sex gaming content. There's an element of subjective taste to all of this, but it's also just objectively true: Jerk Simulator is goddamn awesome.
Other Thoughts About Jerk Simulator
The Discord server here is really active – there were just over 11,000 people signed up to it when I joined. It's divided into great channels and it's just the right size to be able to have a decent chat and even receive some help if you're struggling. They also have a suggestions channel – if you want to see a change made to Jerk Simulator, this is the place to put what you're thinking out there. They take feedback seriously, so yeah – definitely something to consider. I do have one complain: there's no night mode available for the website. I actually made a suggestion for this, and what do you know – it's being worked on as we speak!
My Conclusion on Jerk Simulator
So – now that I've discussed everything and spent quite a few hours going through this portal – how do I think it stacks up? In a single word: awesome. Look guys: I've been around the block enough times to know a good porn gaming destination from a bad one, and this hub is doing exactly what it needs to for reviewers like me to sign off on it like it's the best thing since sliced bread. I do recommend you check it out – free to sign up for and with over a dozen hot XXX games, you simply cannot go wrong. Thanks for reading – Fetish Dude will see you again real soon!
Free porn gaming
Fast download speeds
Discord server
No Opera support
No night mode