Family Sex Games Review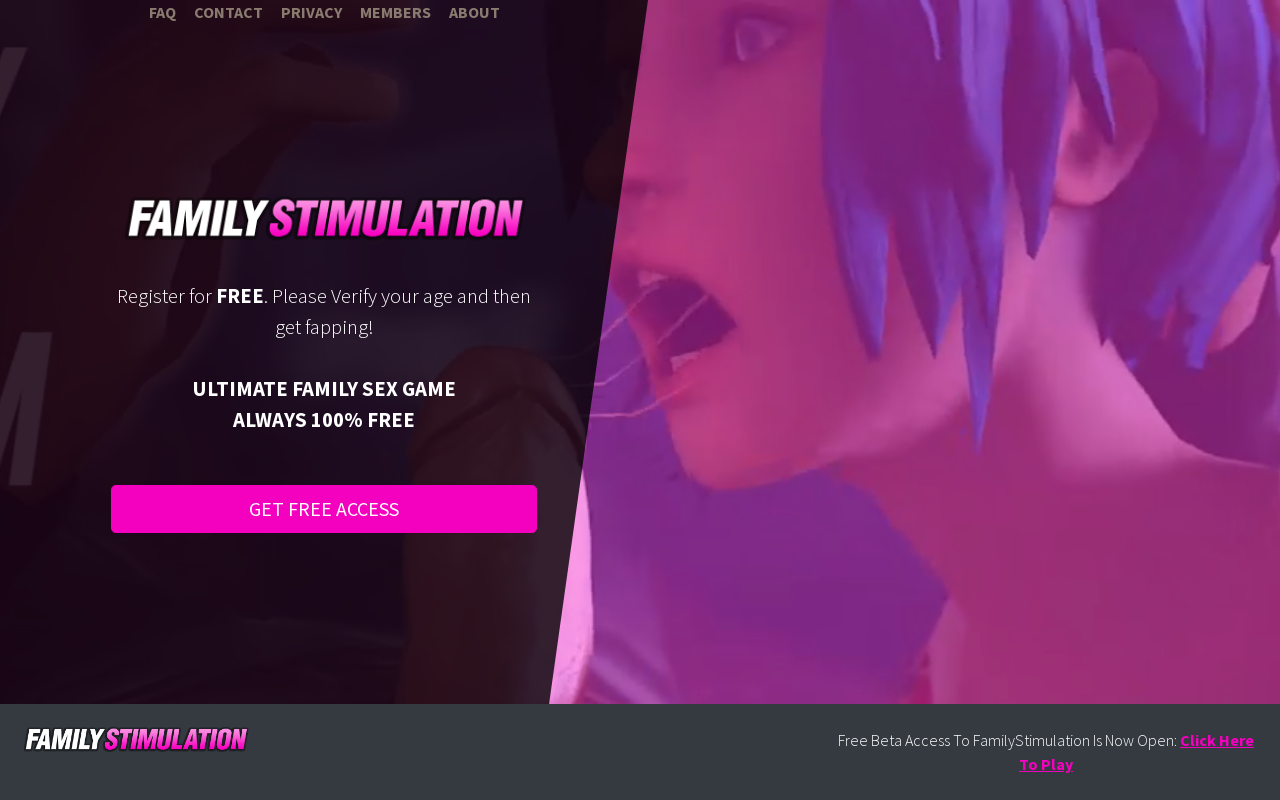 Family Sex Games: Fetish Dude Explores
Since I'm into all sorts of erotic fun and I love to promote many different niches, it stands to reason that I'd hook you up with adult games that are themed around incest, right? Look, there's nothing wrong with keeping it in the family, and I'm more than happy to tell you all about Family Sex Games: it's a portal and, as the name suggests, it's a place to find interactive titles devoted to moms and sons, dads and daughters and many other arrangements of family members getting down and dirty. I'm eager to jump in and write up a full analysis on this family sex gaming hub, so let's get down to business and see what's available here.
The main member's area of Family Sex Games
The process of creating an account is relatively quick and mostly painless: all you have to do is provide a username and password, as well as an email address. I should mention that FSG is all about keeping people safe online, and if you're under the age of 18 – well, let's just say that you shouldn't be involved in any of this stuff, so leave immediately! If you are over the age of 18 – congratulations, you're going to be able to enjoy the free selection of adult games themed around incest that this portal has to offer. Suffice to say, there are a lot of options here and Fetish Dude was really surprised at just how great this place ran. The main page displays all of the latest games as well as recent patches – I think it's fair to say that Family Sex Games keeps an active portal and they love to post new releases and updates whenever available.
At the time of writing this review, I was pleased to see that Family Sex Games had a total of 28 titles. That's quite a lot of porn games, and the best part is that they're all 100% original and exclusive. You won't find these incest releases anywhere else on the Internet, so if you want to try them out – you're going to have to sign up here in order to get them. I should also mention that you can play all of the games at Family Sex Games through your browser: they even have support for Android and iOS devices. Pretty damn awesome if you ask me, because I know for a fact that a lot of competitive gaming services do not have this level of accessibility provided for those who game on the go.
The Games in Focus
I decided to try out a total of 4 games while here: I know that this is just a fraction of the archive, but you have to appreciate that I'm on a relatively tight schedule and I can't exactly spend all of a weekend jerking off to incest games! The good news is that the four games I played were absolutely fantastic. One in particular caught my eye and I think I'll go back at some point this week and finish it off: it's called Daddy's Island Adventure. The premise is that you go on a holiday with your daughter and well, I think you can probably work out where this is going, right?
The first thing I loved about this title was the fact that you're able to custom create characters – design the perfect daughter and put yourself in the game! Although there is a dick slider, so if you want to add a few inches to your pecker – that's totally cool. Daddy's Island Adventure is a sort of visual novel, but there are quite a few key decisions you'll make along the way that decide where things go. That does bring a little bit of replay value, so I'm all here for that. I also appreciated that the game saves all of your erotic scenes (unlocked with progress) so that you can replay them whenever you want from the main menu. If you're coming here purely to beat your meat – well, it doesn't get much better than that now, does it?
Graphics at Family Sex Games
For the longest time, porn games generally sucked because the graphics weren't so hot. I'm really pleased to report that Family Sex Games is doing some serious work when it comes to their visual clarity and the realism of these characters is fantastic. If you're someone that wants to see next generation incest gaming on your PC or mobile – I cannot think of a better place to get exactly that. They've innovated a lot of this stuff and what's better, it requires very little stress on your GPU. Even if you have a bit of an older machine, you're still going to be able to play what's offered at Family Sex Games with no issues.
Downsides of FSG
I think it's prudent to balance out reviews with a few downsides. Firstly, there are adverts inside the member's area here – that's how they make their money though, so I'm not going to cry too much. Second, the download servers for the local versions of the games weren't too quick: you can pay for a 'premium' account which gives you priority speeds and a few other cool features, so I guess there are options available if you want to part with some money. I'd also like to see Family Sex Games add a night mode option – currently, the website is a bit blinding when you access it in the middle of the night for a release.
Fetish Dude's Final Thoughts
So, what's the rub here? Well, I think that anyone who's into sex gaming and incest needs to visit this place. Even if you just take a look at the tour and decide from there if it's for you – yeah, that's a good idea. They've got an active Discord server and forums for help and you can even give suggestions: from what I've seen, it looks like the team behind the project is always looking to improve their product and make it as good as possible. Definitely a place to take a look at if you're into incest gaming – it won't get much better than this, that much I can guarantee. Anyway, thanks for reading yet another porn game review from Fetish Dude – see you soon!
Free access available Lots of games Stellar graphics
Average download speeds Some adverts