TeensLoveBlackCocks Review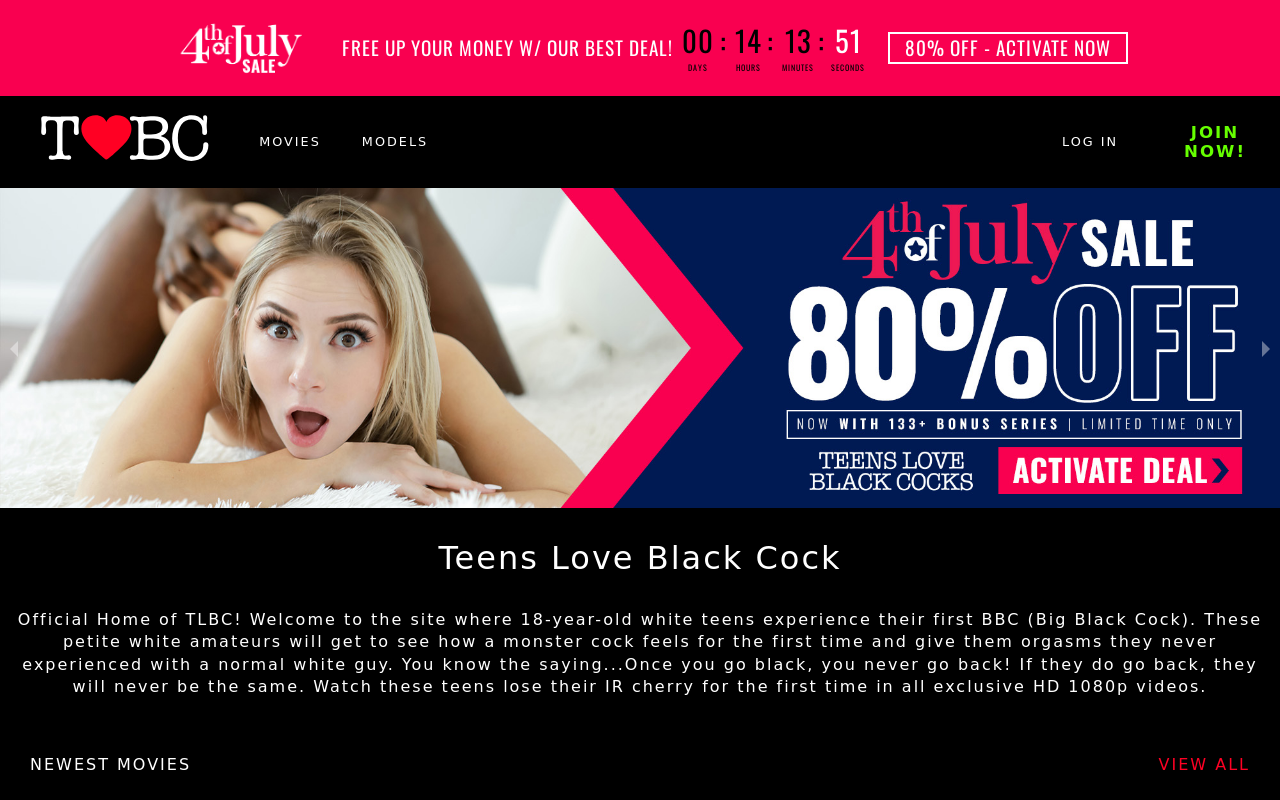 Fetish Dude visits TeensLoveBlackCocks
Hello friends: it's Fetish Dude here and in this review, I'm going to be checking out a place by the name of Teens Love Black Cocks. I think you ought to be able to work out what the premise here is without me spelling it out, but just in case you're really confused: this is a premium porn website where barely legal white sluts are dicked down by huge ghetto cocks. Fetish Dude is excited to explore inside because interracial porn is huge these days and I'm sure that what this place has to offer is going to make a lot of horny dudes out there very happy indeed. So, without further ado, let's venture forth and check out Teens Love Black Cocks!
The initial tour analysis if of Teens Love Black Cocks
Before I go any deeper into the website itself, I do want to look at the tour of TeensLoveBlackCocks. The layout is relatively standard, with a bunch of preview images provided of petite girls alongside ghetto studs that're hoping to fuck them in their tight, white holes. There are no dates attached to the uploads, but I'm guessing that they do update relatively often, since I'm seeing a lot of new names here of ladies who're well known the business and who have exploded in recent times. Below the previews, you've also got a section where you can see all of the 'teens' who have appeared in productions before on TeensLoveBlackCocks: more on that later, though. For now, I want to sign up and get a look at the member's area of this place. They claim to show you white girls getting gutted and fucked by big black cocks – just how accurate will that be?
A member's area analysis of TeensLoveBlackCocks
The member's area here is relatively basic in its layout, but it's nice to see that they show you the latest scenes as soon as you log in. Scenes provided here have both videos and image sets attached, but I'd imagine that almost everyone is only interested in the movie side of the equation here and couldn't care less about the photography. It's quite clear that the design of TeensLoveBlackCocks is modern, although again – it's very minimal in its structure, so don't expect a bunch of bells and whistles. They focus on the pornography and since they do that, I imagine it's a good idea for me to do the same, right?
An initial note on TeensLoveBlackCocks content
Videos here are 100% exclusive to the platform, which means that you won't find any of the porn that's offered by TeensLoveBlackCocks anywhere else on the Internet. The smut is produced and published in-house, which is a good thing for those who do decide to sign up here: you always want to get your hands on the latest goodies and stuff that you won't find elsewhere. In addition to that, I'm happy to report that TeensLoveBlackCocks has a bunch of HD uploads, so if you're looking for high definition porn, that's going to be great. Streams can be enjoyed both in 720p and 1080p formats, with lower resolution options if you're not feeling as if those are the right ones for you. Downloading is pretty decent and I was able to cap out my connection at 20 MB/s – pretty stellar stuff if you ask me. I wouldn't be surprised if going forward, they even upgraded everything to full 4K, although that doesn't seem to be the case right now. All in all, I think that the objective metrics of TeensLoveBlackCocks are pretty good. Oh and one last thing: scenes here last around 30 to 45 minutes in length, so you'll see the interracial fucking and sucking for quite a decent length of time.
The subjective appeal of TeensLoveBlackCocks
The porn itself is very vanilla in terms of its approach: you will see a lot of fucking and no condoms are used, but there aren't too many wild approaches used or themes that are included aside from the interracial angle. Lots of the ladies that feature here are young, but I don't think that it's fair to say that they're all teens. The reality of this niche is that it's quite hard to find popular, barely legal girls who're fit for the task of fucking black dudes, so sometimes you have to employ ladies between the ages of 20 and 25 in order to pick up the slack. Don't worry: you won't find any MILFs here, but TeensLoveBlackCocks isn't entirely honest when they say that they only work with the youngest ladies in the business. That's simply not true.
Since we're on the topic of stars, I suppose it would be a good idea for me to mention just a few of the interracial sluts that you'll find on the receiving end of black cock, right? Some of my favorite performers include Mackenzie Moss, Nora Ivy, Karla Kush, Chloe Cherry and Aften Opal. Almost all of the ladies here are pure white and American – just the type of sluts you like to see fucking big black cocks, right? There is a slight domination vibe that comes with the footage, which I think you'd probably find out for yourself best realized by looking at the preview trials. You can watch an unlimited number on the tour so if you really want to know what the content is like, that's probably the best way to go forward.
My conclusion on TeensLoveBlackCocks
I'm pretty happy with the overall experienced offered by Teens Love Black Cocks – they're obviously committed to top quality interracial porn and you'll love watching these nasty little sluts getting blasted with hot, sticky cum from the most hung black guys around. Their database is a little on the skinny side right now, but I wouldn't be surprised with the update schedule they have if the archive was kitted out in no time at all. Ultimately, the decision of whether or not to sign up here comes down to whether or not you want to see young, white girls being fucked by thugs. If that sounds like your cup of tea, then by all means – sign up to TeensLoveBlackCocks and enjoy the interracial entertainment they've got to offer!
This review of Teens Love Black Cocks was brought to you by Fetish Dude: the number one adult website reviewer. Be sure to come back to my platform whenever you need more analysis on the best XXX projects around! Take care and happy fapping.
Great interracial porn
Full 1080p HD footage
Regular new releases
Lots of BBCs
Some non-teen pornstars
No 4K content yet