HoodAmateurs Review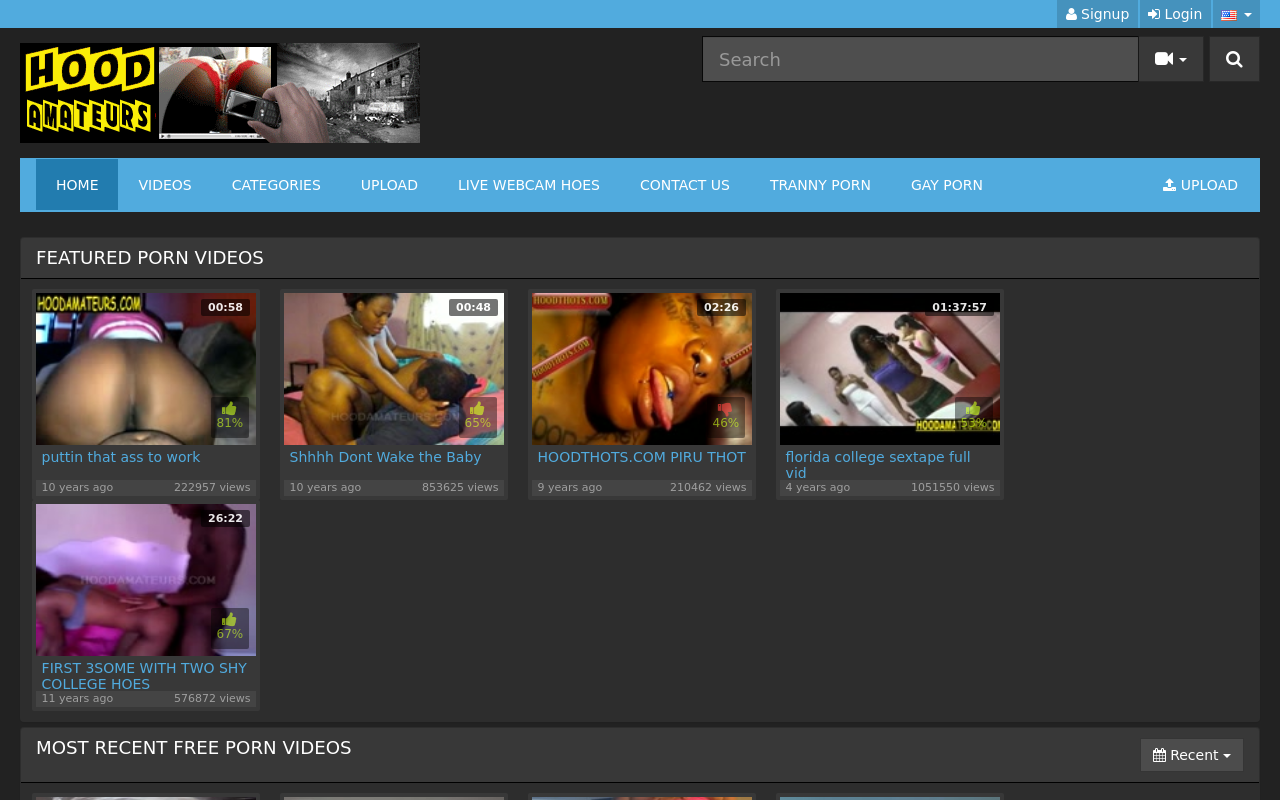 HoodAmateurs: black porn bliss?
I've spent the better part of the last week looking exclusively at porn sites in the ebony domain, so I think it goes without saying that right now, I've got a good idea of what the landscape is like for dudes who're hunting down black chick porn. Today, I'm going to be talking about a joint by the name of Hood Amateurs to share my experiences here and let you know whether or not I had a lot of fun. For the longest time, I've tried to provide the best reviews around for places that you ought to check out – will Hood Amateurs be one of them? Read on and Fetish Dude will let you know in record time!
The Hood Amateurs homepage experience
When we land on the homepage of HoodAmateurs, we'll be presented with a website design that is, how should I say, relatively unattractive. It feels like a ghetto site that isn't exactly up to date in terms of layout, but from what I can tell, it does have a good number of links and buttons you can press to better refine the adult material you're looking for. The first content bar you'll come across is populated with preview panes showing off some featured clips – these are likely hand-picked by the folks behind HoodAmateurs who want to be able to point you toward something they personally like.
Below that, you'll find a section that has the most recent uploads, which seem to roll in multiple times per day, so if you're the type of dude who lives on a 24-hour cycle, this is going to be top-tier for you, as it's going to show off all of that great porn that you want. As for the preview panes, those consist of a thumbnail from the shoot, video length, like ratio, title, view count and finally, upload date. Pretty much all of the information you could want, although I have to say that the titles could probably be a little bit better. They seem to miss the mark, but hey, that's not the end of the world, is it?
The content on HoodAmateurs
I think it's probably a good idea for me to talk about the content next. Since there are 1070 archive pages here and 20 scenes on each one, the simple math suggests that HoodAmateurs has well over 20,000 uploads for you to enjoy. I don't think it's unreasonable for me to suggest that a lot of these are picked and shared by hand either: they're very much on-niche with their content. What I mean by this is that HoodAmateurs is packed to the rafters with homemade ebony porn. We're talking real-ass black broads that just want to fuck, suck cock and share videos of them doing so without being paid. Sure, there are a few webcam streams here and stuff like that, but the vast majority of what Hood Amateurs has is top quality thot entertainment from ladies with less than 10,000 followers on Instagram. These as sexy bitches that just love to enjoy dicks and yeah – I have to give credit for just how focused HoodAmateurs is on this niche. They sure know how to collect amateur ebony porn videos, as this place is probably the best library of the stuff I've ever come across.
Improvements for HoodAmateurs
I always think it's a good idea to make some suggestions, so let me go ahead and do that with HoodAmateurs. Firstly, the lack of actual categories here is pretty annoying – they've got a section and even the infrastructure for it, but the place is an absolute mess and there are no reasonable categories here, except for BBW and tranny. Ideally, they'd tidy this spot up and make sure that anyone who's looking for a specific type of amateur ebony porn can get it without a worry in the world. I'd also like to see them adding the ability for guys to download content locally, since I'm all about that storage-based approach to adult material online.
HoodAmateurs: my conclusion
Professional porn addicts who just want to see their favorite girls perform probably won't have a good time here, but everyone else? Hood Amateurs is a simply stellar spot and I wouldn't be surprised if they continued to pump out regular doses of fantastic amateur ebony porn that they source from a variety of different locations. Believe me when I say that standard, larger tubes won't be able to offer you this real approach to porn. So yeah: my advice is to head on over to HoodAmateurs as soon as possible if you genuinely love homemade ebony sex. These sexy black bitches are going to make you shoot thick ropes!
Great homemade porn
Quality options available
Regular new releases
No category section
No community features