ShesFreaky Review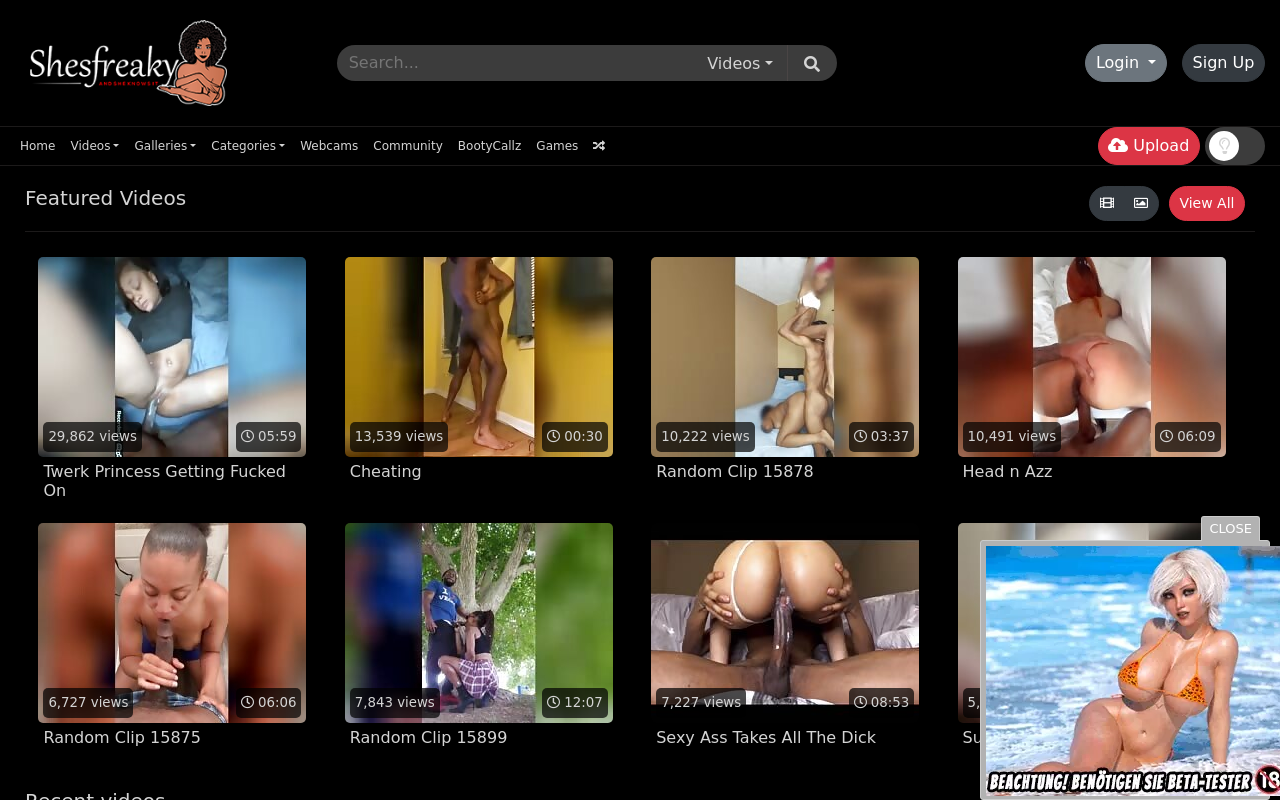 Fetish Dude's visit to She's Freaky
While I love watching Asian porn, Latina sex videos and many other types of broads in action, Fetish Dude will always be down to enjoy some top quality ebony adult entertainment whenever it's available. That's why I'm particularly happy to be able to write up on a spot by the name of She's Freaky in this review. It's been a long time coming for my black porn section and now I'm finally going to get to the bottom of what a good tube with a focus on ebony smut is all about – or so I hope! First, I need to see ShesFreaky and decide for myself if it's good. So let's get to it, shall we? Read on for my full review.
Initial thoughts on ShesFreaky
Since most guys visiting this website are going to be landing on the homepage first, that seems like a reasonable place to begin this review. I'd estimate that roughly 60% of the instant visual real estate you have is devoted to showing you preview panes of videos you can watch: not too bad, but I would certainly like to see this increased somewhat. The first content block you'll come across is for featured scenes, which I'm guessing have been picked out by the person behind She's Freaky so you know what's good. Below that, they've got an area that you can look at for the most recent uploads – good design overall, and these are typically the two content box areas that I recommend above all overs for the initial homepage display.
The preview panes for scenes consist of a thumbnail from the scene, a title, view count and length. What's quite interesting about ShesFreaky is that because so much of the content here is amateur and uploaded from mobile phones, there are quite a few vertical releases. I don't know if this is a good thing or a bad thing, but they've done a decent job of the thumbnails in this case. Fetish Dude really did quite like the homepage, but I've got to explore other parts of She's Freaky before I give this spot my blessing. Just part of the routine, you know? Fetish Dude isn't in the business of recommending places that don't hit the spot!
Category browsing on ShesFreaky
If we hit the category button at the top of the site, we'll be taken through to a section of ShesFreaky where you can go in order to explore content based on different fetishes. To be honest with you, I think the layout here is a little poor. Instead of just showing off all of the available niches alongside one another, they've decided that they want to display them with a bunch of scenes from each category lumped in together, so you have to scroll down a whole heap in order to get whatever it is that you want. I don't quite understand this approach, and I highly doubt that it's better than the generic style of tubes – seems like She's Freaky has a few changes to make here. I'd also like to see them restrict the number of porn genres that they display, since a lot of redundant or just not that demanded by the users at home.
My thoughts on ShesFreaky content
As much as I do enjoy the fact that there are genuine porn videos here of black babes fucking hung white dudes, masturbating and just being general teases on Instagram or whatever else, I don't quite understand why there's so many white girls. I'm not just talking about white girls getting gangbanged by a bunch of ghetto thugs either: straight-up white on white porn. That doesn't fit in with the niche that this place is allegedly going for, so I'm slightly confused as to what the hell is going on. Is it really that hard to just remove all of the non-ebony chick content? If you're going to focus on something, at least focus on it!
My conclusion on ShesFreaky
Fetish Dude had a relatively okay time at She's Freaky, but don't go thinking that this is some stellar tube without competition. I think there are better places to get amateur porn from if you only care about black babes, but they might not have some of the content that ShesFreaky does. Overall, it's an okay spot to visit, but there needs to be some serious work done here if ShesFreaky wants to be considered a top-tier hub with enough amateur black porn to satisfy me. This is a cautionary recommendation – there might be better places online that you'd want to check out first before settling with this spot.
Thanks a bunch for reading my complete, professional review on ShesFreaky. Be sure to come back any time you need help finding a stellar black porn tube.
Lots of ebony porn
Regular new releases
Reasonable search feature
Good homepage layout
Awful category setup
Average quality scenes
Some non-ebony porn