GhettoTube Review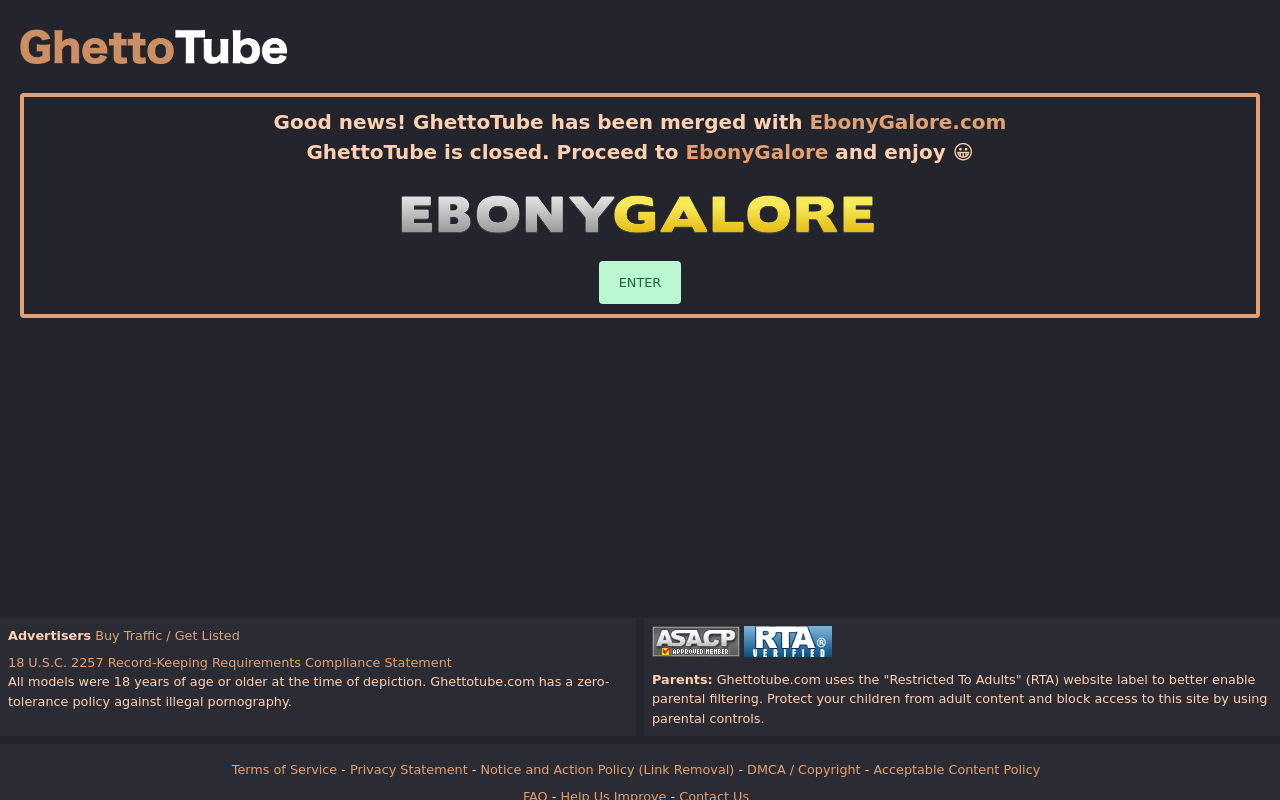 Fetish Dude visits GhettoTube
Howdy gang – it's Fetish Dude and yes, I'm going to be bringing you yet another porn review today. This one is going to be focused on a tube by the title of GhettoTube, which focuses its efforts on showing you both women and men of the ethnic variety. I hope that you're in the mood for some chocolate goodness, because if you're not, chances are that GhettoTube isn't going to be able to provide you with the type of adult entertainment you're after. Anyway, enough beating around the bush here: let's get our asses over to Ghetto Tube and see what's going on.
My first thoughts on GhettoTube
I'd say that the homepage here is relatively standard in its style and layout – this is a good thing. I find too many tubes messing around and they're not really able to provide you with that authentic experience that makes enjoying the smut a walk in the park. Around 90% of the initial visual real estate that you'll come across is devoted to preview panes of various clips that you can watch. These currently consist of a thumbnail from the shoot, a title, like ratio, upload date, view count and length indicator. I honestly have to say that these preview panes are probably the most functional and well formatted that I've come across in the last, say, 50 tubes that I've checked out. They've even got a HD button when you're able to enjoy certain uploads in either 720p or 1080p. I feel like these guys really understand what a good porn experience is all about. GhettoTube is delivering, that's for sure.
Exploring the categories on GhettoTube
Many people love looking for porn based around their specific genre of interest, so I think it's a good idea to hunt for the niches here on GhettoTube and see how they stand up to scrutiny. First of all, they've got all of the major genres covered, which is going to be good for folks that only care about the most vanilla of activities. Head on over to the categories section on GhettoTube and you'll see clickable niches including the likes of cumshot, big tits, amateur, anal, mature and lesbian – not too shabby, right? They've even got the quantity of each genre available for you to take a look at, but I'd say that the overall size of Ghetto Tube is certainly on the small side. This isn't necessarily a make or break deal though: there are plenty of great spots out there that are lacking a little in the size department. I mean, even you with your small cock can still pleasure a sexy ebony babe, right? Turns out that good things can come in small packages!
The pornstars of GhettoTube
If you're not all that interested in looking at niches, perhaps it's a better idea for you to go and look at the various pornstars who have material on GhettoTube. This page has a bunch of the best broads in the business, but I do want to mention that they mix in some male actors here too. For instance, the number one spot is taken up by Lexington Steele: I know he's done thousands of scenes over the years, but is it really fair to suggest that most guys visiting this page are going to click on his profile? I think they're much more likely to want to look at the likes of Jenna Foxx, Nia Nacci, Kendall Woods and Skin Diamond. These girls are well versed in the business of fucking in front of a lens and I don't think it makes much sense to mix in dudes with this type of page. At least they do sort automatically based on popularity or whatever other metric that puts the best girls in the business right at the top of the index. You'd be amazed how many places only bother to go alphabetically and yeah, it totally sucks when they do that.
A wrap on GhettoTube
So how would I say that GhettoTube did overall? To be perfectly honest with you, I was more than happy with my experience here and I feel like anyone who wants to enjoy some good quality ebony porn videos is going to have a similar response to what they find on Ghetto Tube. The index being on the smaller side is the biggest issue, but they've still got thousands of videos, so it's hardly the end of the world, is it? Anyway gang – that's all that Fetish Dude has to say on the topic of GhettoTube in this review. Thanks a lot for reading and come back any time you need advice on the best ebony spots around. Fetish Dude will always be here to point you in the right direction!
Great ebony pornography
Lots of HD footage
Regular new releases
Good category archive page
Limited search functionality
Needs more amateur porn