Teen Porn Games Review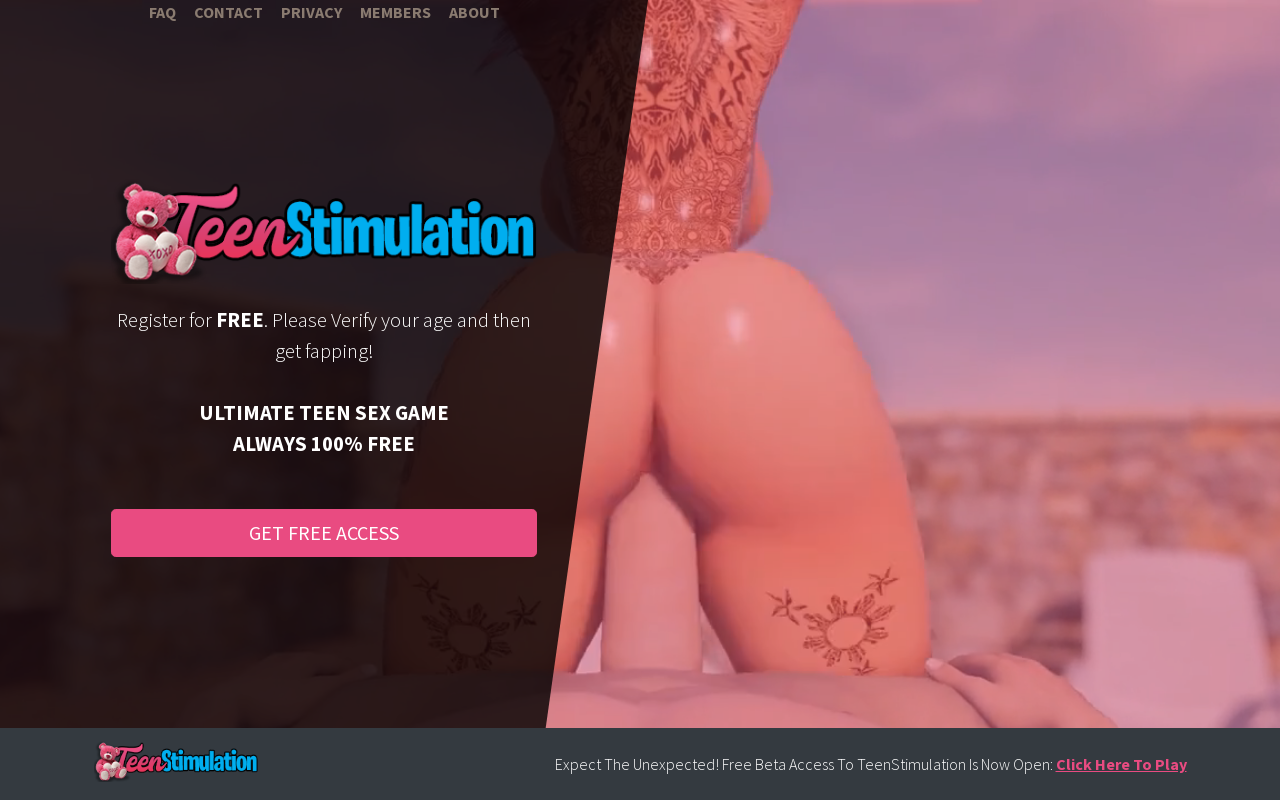 Teen Porn Games: Barely Legal Bliss?
Everyone loves a good teen slut, right? Well, if you happen to be reading this review and you're not looking for the ultimate collection of barely legal brats in an interactive environment, it might be an idea to go someplace else. Why, you ask? Because Teen Porn Games, as the name might suggest, is a spot to find great titles themed around 18 and 19 year olds taking hot cock! I've always wanted to find a spot like this, and now it's finally time for me to see what the world of teen porn gaming actually has to offer. With that in mind, let's jump into my review and see what I found when looking around TPG.
First Thoughts on TPG
Okay, so the first thing that I want to talk about is the signup process. TPG is currently in a beta stage of access, since they launched at the start of 2023 and want as many punters as possible to try out their titles. The great news is that this means you can get an account completely free of charge. That's right – Teen Porn Games is offering you the ability to get inside and access all that you could possibly want in an instant. I'm incredibly impressed at the fact that this portal is so quick to join too – just a username and email to get what you need. Nothing else!
Once inside, you'll find that the entirety of the game archive – currently 13 releases – is accessed via the browser. They have plans to release a launcher for offline play in the next 6 months, but it's not a huge priority for them right now and instead, they want instant access provided to anyone that wants to game. Supported browsers include Opera, Safari, Firefox and Chrome – if you're rocking any of these, you'll be good to go at Teen Porn Games. The site runs quickly and I can tell that they've put a lot of effort into the design and general layout. Getting around all of the key areas is a literal walk in the park – try it for yourself and see.
The Games in Focus
As mentioned, there are 13 games here, including names like Teen Slut Titans, Barely Legal Babysitter and Total Island Lockdown. They all have a unique theme and style, but I can say for sure that they're all relatively easy and don't require you to think that much. TPG also has two visual novels that are purely driven by text-based decisions – if you're looking to sit back and relax while you play some naughty games, this is probably the best way for you to do exactly that.
I decided to load up Total Island Lockdown as my first game of choice. The sounds in this game are actually really awesome – the music is just right, and what's more: it's fully voice acted! Based on the achievement screen, it would appear that there are 27 NPCs in total that you can have sex with, with a rewarded provided if you manage to do all 27. The game is sort of like a dating simulator, but there are RPG elements and puzzle solving things involved too. Total Island Lockdown is a bit of a fantasy world and that's okay – I mean, who creates a haven full of gorgeous women and then puts you in the middle of all of it without any payment being required? You still have a job to do here though – go ahead and seduce these chicks, because they're looking for some hot cock and you might just have what they're after.
Graphics at Teen Porn Games
The teenage characters in all of the porn games I tried here were absolutely perfect. Flawless skin, great bodies and they moved in ways that humans do too. I find that movement is often something that porn games struggle with, but believe me – they've done a great job here, and I think you're going to realize for yourself that TPG is just a cut above the competition in the teen sex niche with regard to their visual quality. It's refreshing to find a studio that cares so much about how their characters look and yeah – TPG really does know how to give you a gorgeous character that you'll want to fuck time and time again. It's easy to get addicted to these women – that much I'll tell you for free. Oh, and they really are the barely legal kind too – if you're into girls that are of prime breeding game, TPG is going to give you exactly that.
Other Site Areas
There are Wikis for each and every game here – it seems that they're incredibly filled out too, so if you want some information on a particular game that you're playing in order to make your journey as simple as possible, that's not going to be hard. TPG also has a Discord server and when I joined, there were 6,670 available online. I think it goes without saying that if you're someone who cares about the community of porn games and chatting with others, this is a viable destination for you to check out and jerk off at. The last thing I'll mention about Teen Porn Games is their free porn cache. I know – you're here for interactive fun, but they also have a stockpile of amateur content starring hot teens that you can grab if you wish. Over 1,000 videos by my count, all in 1080p formats and above – awesome.
Conclusion on Teen Porn Games
Addicted to porn games? Addicted to teens? Fuse those two loves and get yourself a membership to Teen Porn Games as quickly as possible. This portal is really quite something, and I know for a fact that you're going to love spending time here if you're actively hunting for interactive XXX bliss. The Internet has many incredible places if you want gaming and if you want teen porn – but to have those things combined? Yeah, that's rare, and TPG really is nailing what they set out to do. Anyway, thanks for reading my review of this teen porn gaming hub – see you again soon and please, enjoy!
Free access available
Play via browser
Free 1080p porn
Relatively small collection
No night mode