Jerk Dolls Review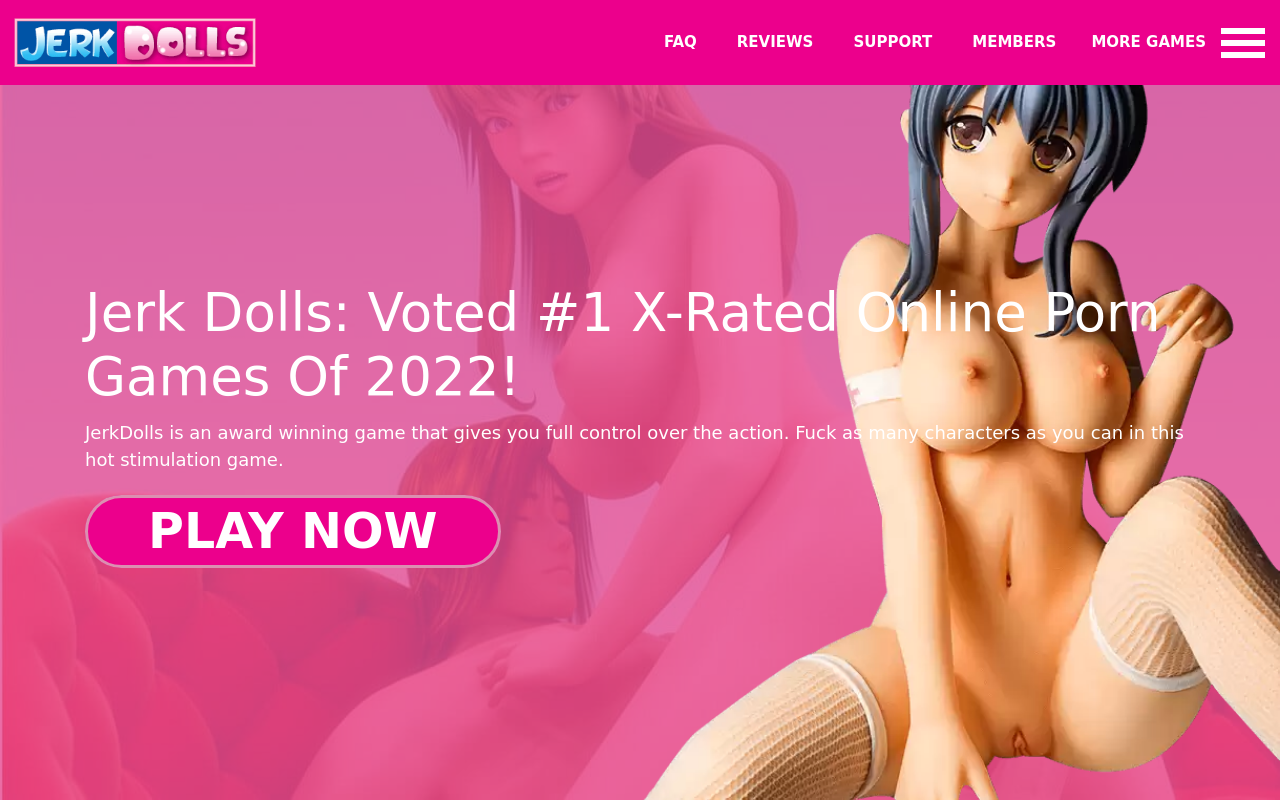 A Review of Jerk Dolls
Never heard of Jerk Dolls before? Well, let's just say that you're missing out – and then some! I've been all over the Internet for the last few weeks looking for the best adult gaming projects out there and this one really does take the cake. If you're a champion gamer that wants to wank your willy off to high quality, free to play XXX games – look no further. Jerk Dolls has been around for quite a while and if it's world-class porn gaming that gets you horny as a motherfucker, check this spot out. But first – read Fetish Dude's review below to see what I think about this hub.
Signing up to Jerk Dolls
Creating an account here is a piece of cake – all you've got to do is provide an email address and password – that's it! JD is quite strict on only allowing in adults though, so if you're under the age of 18 – go someplace else! Once inside, you'll find that Jerk Dolls has their main game (called Jerk Dolls) and then a side collection of 11 games that you might also want to explore. They've done a great job putting this hub together and the overall aesthetic and design is something else. I like websites that appear polished and attractive: it just lets me know that their porn game is going to be the same.
You can technically play Jerk Dolls through your browser, but I would recommend the launcher – you'll get better quality graphics and more frames per second. At the time of writing this review, Jerk Dolls was a 6 GB download and unzipped to be 9.2 GB – that's a relatively large game, but given the breadth of content I found inside, I was really quite surprised by how small the game files are. Whoever's cooking up the code for this XXX interactive release really knows what they're doing. Talk about optimization!
What is Jerk Dolls?
It's sort of like a dating simulator, but it has some RPG elements and other things that don't quite fit it into that category. If you do like dating simulators – well, this is going to be a top quality product for you. It's also a fantastic game if you're the type of person who's into sex simulators, because you generally have a lot of control over the scenes as they play out. I wouldn't say that Jerk Dolls is particularly difficult, but there are some puzzles you can solve at different difficulty levels to unlock new NPCs and positions. It's actually quite cool – playing the game casually gets you 80% of what's there, but if you want the other 20%, well, that's going to be a bit of a challenge.
I haven't even spoken about the best part yet: the graphics at Jerk Dolls are absolutely fantastic. Not only does the game engine run smoothly, but the characters have an enhanced lifelike quality to them that'll blow you away. Hands down – the best visual content I've come across in the gaming space. Jerk Dolls has always had a reputation when it comes to the graphics of their game archive and playing this just demonstrates to me that the community knows what's good. Even the physics are fantastic – the way that those booties wobble and bounce is out of this world!
Jerk Dolls' Story
Okay, so there isn't too much of a story here, but there is a bunch of text that you can follow if you want a buildup and backdrop for the eroticism. From what I can tell, there are around 43 NPCs in the base game that you can have sex with – all of them with their own personalities and back stories. You'll also find that there are different methods to unlocking sex scenes with them. Some are just horny and will fuck you without much difficulty – others will require a lot of fine tuning to get into the pants of. It's up to you to work out what the best methods are, but the website does have a Wiki will full information if you really want to maximize your chances of a 100% play through. It's possible, and there's even a guide on the forums if you want to follow it.
Other Jerk Dolls Games
As I mentioned earlier, there are a few games in the mix here that JD has expanded into. I played three of them and had a great time: they're not as deep or complex as their flagship title, but it's cheap (well, free) thrills and I cannot think of any reason why you wouldn't at least give them a play. The graphics are the same: it's just a bit quicker to the sex and have different themes around the gameplay. I really appreciated the puzzle mechanics across the entirety of the platform – whoever's doing the level design here is a goddamn genius. It's just that right level of difficulty where you have to think for a second but not immediately Google for an answer. Believe me, it's hard for mainstream games to get this right – let alone a porn gaming portal across multiple titles.
Other Jerk Dolls Thoughts
You can grab a premium membership if you want: it's not required at all, but you do get various unlocks and benefits if you do decide to part with a little cash. JD also has a mobile optimized service where you stream the games through your phone's browser. It's in beta right now, but it would appear that they're doing a pretty stellar job – I tried it out on my iPhone and had zero issues. The only downside that I found on this platform was that there are adverts, but how else is a free to play XXX gaming portal supposed to operate? Makes sense they'd need to make ends meet with some advertising.
A Conclusion on JD
So I think I've covered all of the most important things when it comes to Jerk Dolls: the releases here are top tier, the team behind it knows what's good and yeah – I don't have too many criticisms at all. If you're a gamer and you're horny, this might just be the best place on the Internet for you to get your hands on what you need. Check out the tour and if you like the art style, feel free to create an account and get down to business. It's that simple!
Free to play Fantastic design Fast download speeds
Some adverts No Firefox support