Free Adult Games Review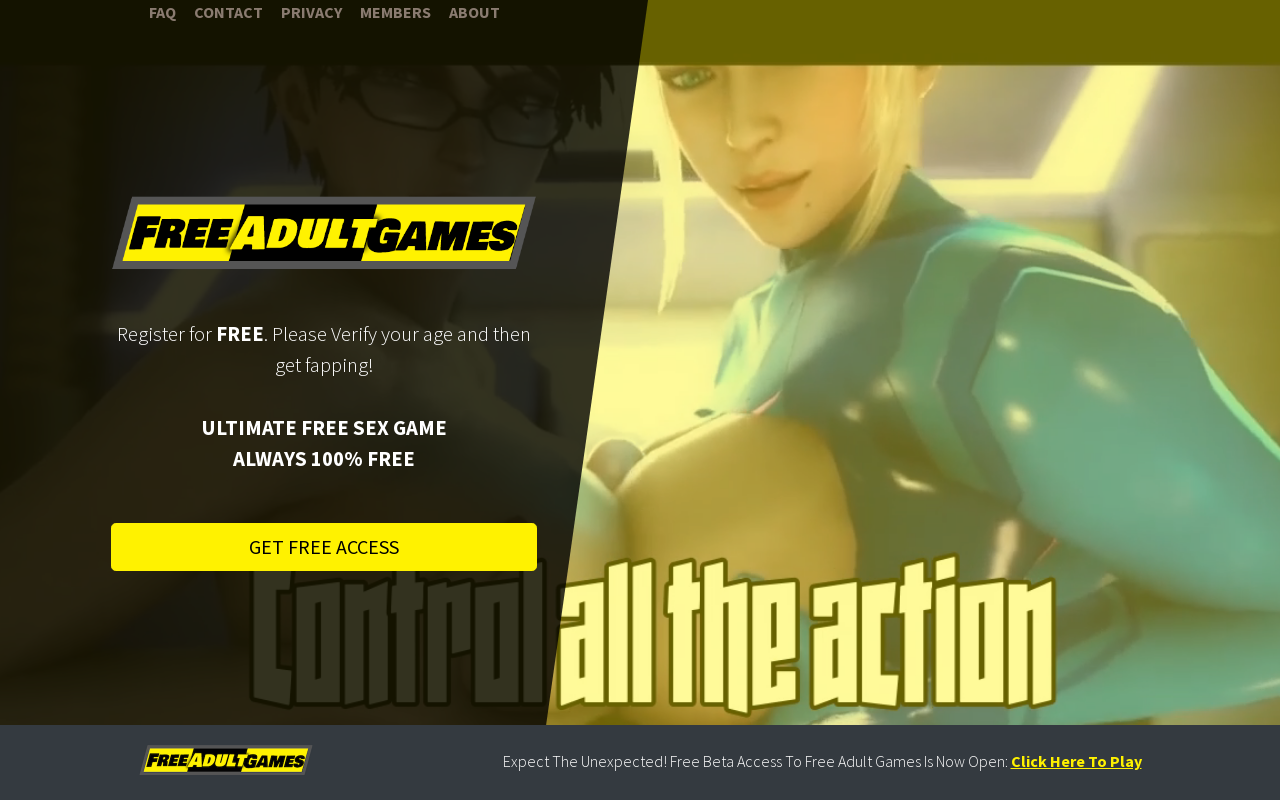 I review Free Adult Games
You should be warned ahead of time that if you're prone to addiction, it might be an idea to tread carefully when it comes to this website and what it has to offer. Free Adult Games is absolutely fantastic and as the name suggests, it's packed with no cost interactive XXX fun. To write this review, I first had to spend a total of 5 hours on this website – any less and it wouldn't have done the project justice. But now I'm done: it's time to sit down and tell you why I really think that Free Adult Games is the best thing since sliced bread. Strap yourself in and get ready to read another Fetish Dude review: I've got just what you need right here.
Signing up to Free Adult Games
So when it comes to sign up time, the process is quite simple: all you've got to do is create an account with a username and password and that's it! So long as you're over the age of 18 and genuinely interested in playing free porn games, you're good to go. The account is mainly there as a way for you to save your progress and to ensure that you can easily find your favorites and everything else. There is a premium version here that gets rid of adverts and comes with a few other benefits (some games have cheats in them that you can only enable with the membership), but it's absolutely not required. I did the whole review without paying and yeah, it was absolutely fantastic.
Downloading vs. Browser Gameplay
You've got the option of playing all of the titles offered by this website via your browser or downloading a launcher and then each game individually. It's really up to you what approach you want to take: all I'll comment on is the fact that for those who want to access via browser, you will be restricted to 1080p gaming. It's also the case that only Safari, Firefox and Chrome currently have official support. I did try Opera as a browser and it seemed to work just fine, but there's no guarantee down the road that things will stay this way. The good news is that the launcher is free of viruses (I checked using a multi-tool upload service online) and the download speeds are insane. I capped out my 100 Mb/s connection: suffice to say, I'm impressed at this porn gaming destination!
Exploring the Games Library
At the time of writing this review, I'm pleased to report that Free Adult Games has a collection of 46 different releases. I also want to make it clear that this place runs a completely exclusive archive. That's right: you won't have to pay a single penny to access games that aren't available anywhere else on the Internet. Some of these games are short and simple – others are relatively complex and will require you to think. That's not going to be a problem though, right? If you struggle with thinking – well, it might be best for you to avoid a place that's all about interaction and decision making! Having said that, Free Adult Games does actually have functionality in place for you to play what I would describe as visual novels – these are more like slow-form games with just a few options, but in a 'choose your own adventure' style. Quite cool if you ask me.
There are plenty of niches for you to explore. Are you looking for mature women that know how to fuck? Then there are 7 MILF games to try out. Perhaps you're looking for dating simulators? Free Adult Games has 4 of those that you'll just love! It's all about variety and choice here. One really cool thing about this portal is that they also run regular polls to find out what their audience wants. That's right – you can personally influence the future projection and decisions of the team at Free Adult Games! Vote in the polls and let the team know exactly what you're looking for. They're also active on Discord and have a great server for you to get help and assistance, either with the platform or the games themselves.
Playing Some Free Adult Games Games
Oh man: I had to stop myself from trying out too many games because honestly, it was getting a bit ridiculous. I played Lux Harmony to begin with and it's stellar to say the very least: this game is a fantasy RPG where you engage in combat and are rewarded with sex scenes every time you win. It's got a great story element to it and from what I can tell, it takes over 10 hours to actually complete it, with plenty of replay value if you want to try out different builds and complete the achievement log. I also tried Puzzle Porn Pirates – if you like having your brain teased, this is the exact type of porn game that I'd suggest.
Downsides of Free Adult Games
There are adverts here, and I think I speak for everyone when I say that I absolutely hate them! The other thing that I noticed missing here were official forums. Okay, they have a Discord server, but sometimes, forums are just good for you to be able to browse through and find long-form content and discussions on. Other than that, I'd like to see Free Adult Games offer better descriptions for their titles: right now you just get a few words, so you have to manually play each title to get a good understanding of what each sex game is about.
Final Say on Free Adult Games
I'm done with my review here – but I don't think I'm done with Free Adult Games. There's a good chance that I'll be back again in the near future to access more of their quality content. The updates come thick and fast, signing up is free and yeah – it's just a positive, high quality porn gaming experience all the way down. If you're looking for a portal with adult games – why would you go anywhere else? Check it out: Fetish Dude will check you out in the next review too. Stay safe and happy gaming, you horny jerker!
Free to play portal Great graphics Exclusive game archive
No forums Average descriptions