Extreme Porn Games Review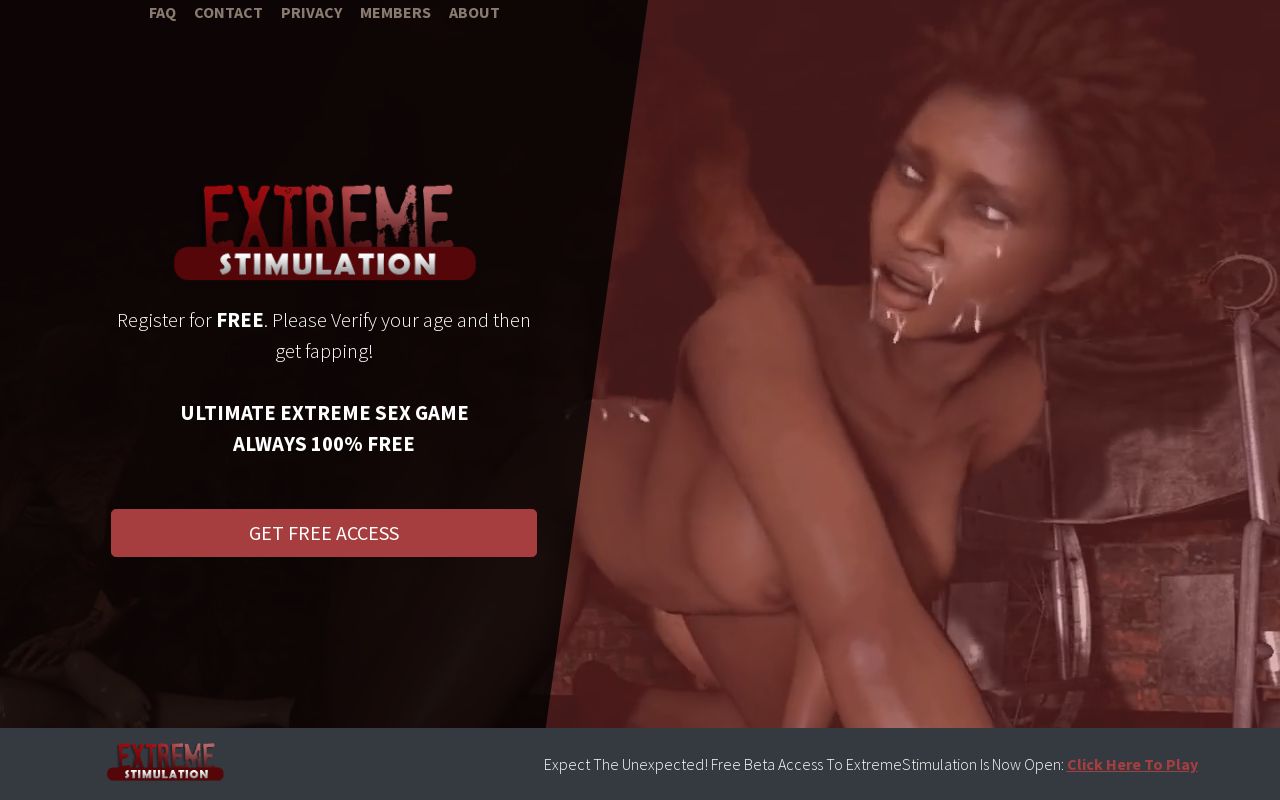 Extreme Porn Games: Proceed With Caution
Okay folks – I'm here today to talk to you about Extreme Porn Games, and I hope for your sake that you're ready for a portal that really brings the heat when it comes to kinky fun. This place has a lot of violence, a lot of rough sex and plenty of domination. If that's something that you cannot handle or doesn't sound hot to you – get away immediately! Extreme Porn Games is not the place for you, because they're all about the rough and tumble approach to XXX action. Now, with that in mind, let's explore this portal and see why so many love coming to Extreme Porn Games for their daily game jerking needs.
First thoughts on Extreme Porn Games
Creating an account requires just a username and password – pretty damn simple in the grand scheme of things, right? You'll also find that the project is completely free to play, but you can opt into a freemium package if you want a few benefits. These benefits include priority access to closed betas, a few cosmetic unlocks throughout the games that are available here and the ability to edit the Wiki. Oh, they also remove all of the adverts from the websites and the games – that's pretty cool, right? Again: this is entirely optional, and the platform works just fine if you don't pay, but it might be something that you want to consider.
Extreme Porn Games currently has 17 games: all of them are exclusive, which means that the studio here created them all and has them ready to go for you. Note that Extreme Porn Games runs all of the games through the browser – you won't have to download anything to get into the action. Currently, supported browsers include Firefox, Safari, Opera and Chrome. I think that's around 99% of the population, so no one ought to complain, right? Extreme Porn Games also saves all of your progress automatically, so if you have to quickly leave or your PC shuts down – don't worry, everything is backed up for you.
Visual Quality at Extreme Porn Games
I generally don't mention visual quality as my first review point, but believe me: this place is absolutely incredible when it comes to the visuals. I don't think I've ever seen a project put this much effort into getting the female sprites to look as perfect as possible. These girls are as delicious as they come: they've got stellar bodies, perfect skin and they really make the best noises. That's something else about Extreme Porn Games that's quite interesting – the audio here is incredible, and I think it's mainly because they've worked alongside quite a few voice actresses to get the game feeling as realistic as possible. I also want to point out that even if you don't have the best graphics card, these extreme sex gaming releases run just fine – I tried it on my relatively underpowered laptop and everything was smooth as silk. I'm really impressed with what Extreme Porn Games has managed to do.
Difficulty in Extreme Porn Games
Are Extreme Porn Games hard to play? Not in my experience. There are 17 titles here and I decided to play 5 in order to get an idea of what's going on. I must say that they're easy to understand and while you do need to interact with them – it's not really that much of a problem. Extreme Porn Games' main focus is on giving you good quality visualizations and cutscenes where you get rough and decide what happens next. They're not at all interested in making you work hard to dominate these women. After all, it's an extreme place, and ladies sometimes just need to be punished, right?
One of the games that I played – Puzzles Plugs – did have a difficulty setting available. There were 3 options and naturally, you can decide how hard you want it to be to progress through the title. It's a good idea and I wished that some more porn games out there made it an available option. Why, you ask? Well – I want gamers to at least have the option to fight for their debauchery. Does that make me a bad person? I didn't think so.
Other Extreme Porn Games Considerations
There are official forums here, but no Discord server right now. The forums have a lot of information about the games and quite a few players have written guides. There's also a content area, so if you want to share BDSM and other violent-themed content, you can do exactly that. Extreme Porn Games also has a section for BDSM sex videos – there are 500 in total, and they're full-length productions that come from established destinations. I really appreciate the fact that these scenes are also available in 1440p at a minimum – I noticed that around 70% are also offered in 4K. If you're someone that cares about quality, look no further.
If I had to criticize Extreme Porn Games, I'd say that it would be really nice to have a launcher where I could play these games offline. Right now, you need to be connected to the Internet and to visit the website to play the games – this is likely done so they can serve you adverts. I'd say this is the second issue too: there are ads here, and while I expect that, they're just a bit too much for me in terms of frequency. I guess I could spend $5 for a premium account, and I'd actually recommend that if you decided to make Extreme Porn Games a regular port of call.
The Final Word on Extreme Porn Games
I had a stellar time exploring this portal – they've got some great games that you can replay time and time again, they're working on a mobile port for their most popular games and the voice acting is simply sublime. I think that if you're genuinely interested in porn games with lots of extreme concepts such as fisting, domination, violence, bondage, anal and more – there aren't many places that are going to beat this one. Try out Extreme Porn Games for yourself and see why everyone's obsessed with this hub. Fetish Dude will catch you in the next review!
Free extreme games
Cloud save feature
Free BDSM videos
No offline gameplay
No Discord server