YouPorn Review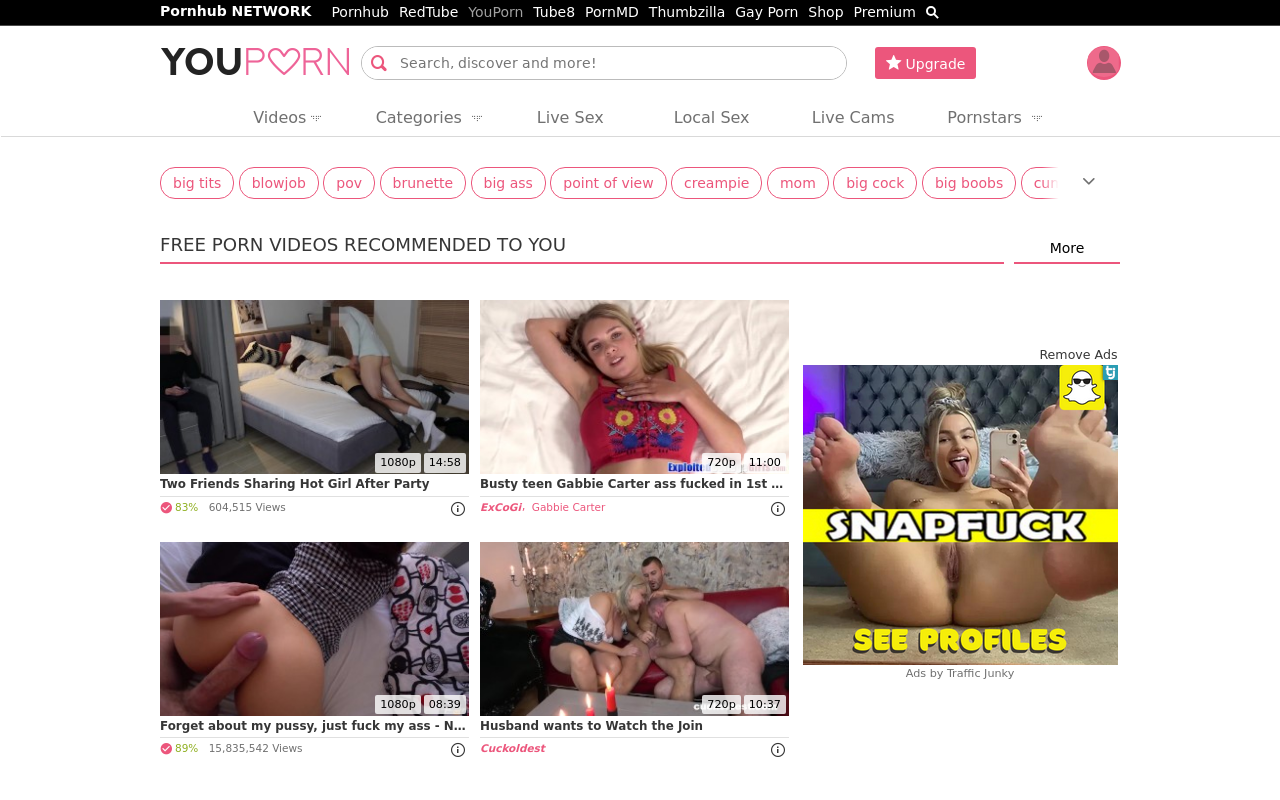 Fetish Dude gives his analysis of YouPorn
Howdy friends – welcome to my review today here on YouPorn. Right now, I'm going through all of the major tube sites out there and determining whether or not they're actually any good and deserve the attention that they currently receive. What's interesting about YouPorn is that they're actually owned and operated by the same people behind PornHub, so they've had a hell of a lot of growth lately and obviously have access to some world-class XXX videos. Question is, will I be able to rate YouPorn highly, or will it just be another average place with scattered clips and poor quality scenes? I'll find out soon enough! Read on – Fetish Dude will give you his full thoughts and feelings.
An initial look at YouPorn
To kick things off, I'm going to do what I usually do in this instance: check out the homepage! This is the typical approach, since 99% of people are going to start out here and I want to see what the experience is like. Firstly, there is an AdBlock checker installed to YouPorn, so unless you want an annoying popup, you might want to disable it. There are adverts here at YouPorn, but they're not too aggressive and because of that, I'm happy to visit without mine being enabled. Note that it's possible to turn off adverts completely if you sign up for premium, but that does cost money! It's a pretty good deal, but for this particular review, I just want to look at the free version of YouPorn, since that's what the vast majority of you are going to want to play around with.
The homepage of YouPorn: is it good?
Right at the top of the YouPorn homepage, you'll find 4 recommended scenes that are based on your previous viewing habits. These aren't immediately great, but they'll eventually get good as you teach the site what it is you're interested in. Scrolling down, you'll actually find a few categories to click on, which I found quite interesting. The ones suggested to me included MILF, lesbian, anal and amateur: I'm confident that a lot of guys reading this are going to be happy with that assortment of niches. Now as you scroll down further, you'll find date-based upload information, although what's quite strange is that this appears to be bugged. The clips only have a few views and around 10 new uploads have been added in the last fortnight: I'm pretty confident that's not the case! Either way, it's no excuse: YouPorn is a massive project and it ought to be checked daily to make sure that it's still functioning as expected.
The preview panes for the scenes are quite good: they show you a scene thumbnail, title, maximum quality tag, length and channel (if one is associated with the scene). You'll also get a small GIF of the action contained within when you mouse over the clip: something I've always liked about some porn tubes. I think my only complaint here is the fact that you don't get much rating information for many of the scenes – again, this would appear to be a bug. I don't quite know what's going on, but there are a few issues when it comes to accessibility here when it comes to YouPorn's homepage.
Exploring YouPorn channels
While this concept was pretty uncommon way back in the day, having access to porn channels is now a regular occurrence at places like YouPorn. What do I mean by channels, exactly? Well, you'll come across a number of professional studios that have dedicated sections on the site, so you can see their best scenes all in one spot! Some of the names that you're likely to recognize include JAV Hub, Hot Guys Fuck, Czech Gangbang, Mom XXX, Nuru Massage, Vixen and Sis Loves Me. What I like about YouPorn is that they've actually got a good range of niches here. It's not just the same recycled vanilla porn without a focus. Don't get me wrong, I love Reality Kings, Brazzers and so on: I just feel like having gangbang porn, Japanese sex and massage videos is a good thing for the consumer. Fetish Dude wants to see as much variety as possible, because we all know deep down inside, we've got naughty desires that we ought to be blessed with stellar content featuring!
The pornstars of YouPorn
I think it's safe to say that the 'pornstars' section at YouPorn could do with a lot of work. I'm not entirely sure what their deal is, but when I hot 'popular' here, I'm presented with two dicks in front of my face in the first 6 profiles. Don't get me wrong: I know that the male talent can be important for some people, but I'd argue that almost everyone who's coming to this section of the site wants to see girls – and girls only! At least give me the ability to turn off the dudes here, because right now, that's impossible.
The good newqs is that they do have a lot of videos devoted to the most popular girls around, including the likes of Cory Chase, Riley Reid, Dani Daniels, Brandi Love and Piper Perri. Everyone ought to know that these are some of my favorite broads and they really know how to fuck: Fetish Dude is happy to have access to hundreds of their uploads all in one location, with many of the available free scenes offered in high definition. It's an absolute matter of fact that if you're giving people HD content starring the finest girls around, you're likely setting yourself up for success.
My final thoughts on YouPorn
Well friends: I think that's the end of the line here for YouPorn. I've had a good time exploring this tube and while I do think that there are improvements to be made, it's still a valuable website with a lot of great content for you to look at. They've got a remarkable amount of HD smut and for that reason, they're getting the official seal of approval from Fetish Dude. I'm confident that your average porno punter is going to love what they come across at YouPorn, so yeah – go right ahead and check it out sooner rather than later!
Lots of porn categories
Fast loading speeds
Lengthy XXX videos
Average homepage design
Some buggy features