Beeg Review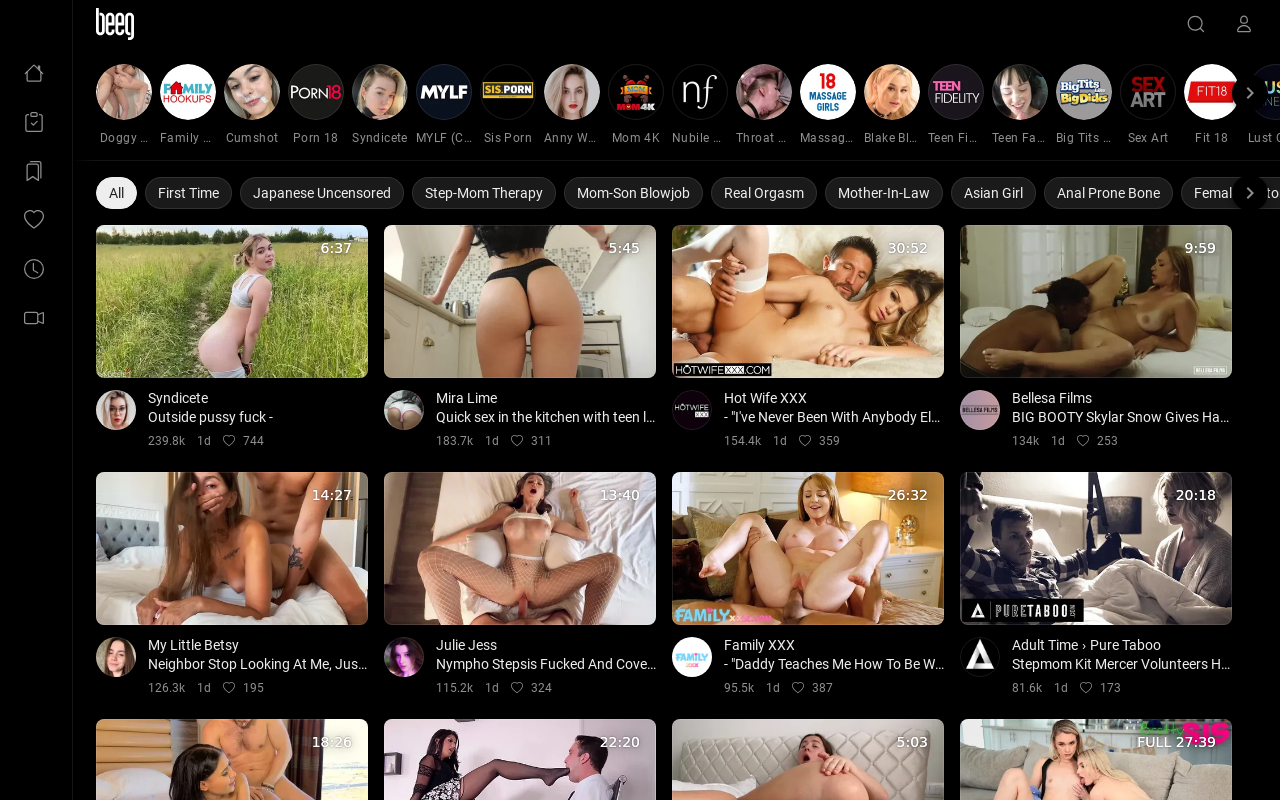 Beeg: Fetish Dude analysis
As much as I generally like to go into reviews being as objective as possible, I will let you know ahead of time that I've visited Beeg multiple times before and when I was single, it was my daily driver for jerking purposes. Alas, I still plan to write up a professional take on this spot to give you the information you need with regard to whether it's good and more importantly, why I used it for my own purposes. Now then: how about we get down to brass tacks and explore the Beeg website to get the full impression of what this spot has to offer? Seems like a plan to me.
The homepage of Beeg: initial thoughts
Fetish Dude loves kicking off tube reviews with a look at the homepage, since this is typically where you're going to be spending a decent chunk of your time. Beeg keeps it incredibly minimal here and likely has one of the most basic designs out there, but don't go thinking this is a bad thing: the opposite is likely true. What you'll come across is around 90% of your monitor being taken up by preview panes of scenes you can watch, but these are bunched close together and only feature a snapshot of the video as well as a length – that's literally it. No titles, no ratings, none of that!
When you mouse over a scene that you like the look of, Beeg will then go ahead and show you a title for the scene and play a small mini-preview to give you an idea of what's going to happen. This is a feature I see a lot on porn tubes and I think it's pretty cool – I just wished more places decided to do it! As you scroll down the page, you'll notice that Beeg essentially gives you an endless display of thumbnails, but will eventually require you to hit 'next' after like, 700 uploads or something silly. In the header navigation, you'll see just 4 links: channels, people, tags and a third-party cam embed, so in reality, it's only 3! Let's explore.
Channels on Beeg
For those unfamiliar with the language, channels are essentially professional studios in the industry that create high-level adult material that is then distributed via various means to the masses. There will be plenty of names that you recognize here, including My Friend's Hot Mom, Taboo Handjobs, POVD, Exxxtra Small, Sis Loves Me and Asshole Fever. These are some of the best in the business when it comes to erotic productions on a professional level, so I do have to admit that Beeg absolutely kicks ass in this domain. They're working with some of the best outlets for smut and that can only really be seen as a positive thing, right? That's the take of Fetish Dude anyway – you may beg to differ and that's fine! Just get the hell off of my site, kid: you know nothing about this business.
People on Beeg
I don't know why they went for the title of 'people' instead of pornstars, but either way, I'm less than impressed with what I came across here. I mean sure, it does have various performers, pictures of them and a quick count of their scenes, but most of the top folks are dudes! Beeg, do you really think that even 10% of the people who land on this page want to see dudes who fuck, instead of the chicks? You might have links for Adriana Chechik, Riley Reid and Piper Perri further down, but why on Earth would you think it's a good idea to show 13 men before the ladies? Sure, it's based on videos, but just filter out the guys, goddamn it!
When you do click on a chick, you'll then be shown all of her content, but there are no additional ways to sort or filter material: that's literally all you get. It seems a little bit lame, but again, Beeg is a place that's supposed to be as minimal as possible. They're not here to try and dominate the Internet for advanced mechanics and whatever else. Beeg is the Rammus of the porn tube world: it's not difficult to understand, but it'll still kick ass if you let it.
Tags: what niches are on Beeg
The last link is 'tags', which gives you a text-based collection of all the various genres you can explore. There are so many here that I'm pretty confident no matter what you're looking for, these guys can help you out. We're talking cuckold, boss, Asian, underwater, stripper and secretary – the world is your porn oyster when it comes to Beeg. They've even got content number counts next to each preference, so regardless of what niche brings you to the platform, chances are you're going to cum pretty quick.
It's probably a good idea to just mention here that Beeg deals exclusively with professional content. What I mean by that is that everyone involved in these videos is being paid for their participation. They have no homemade clips to speak of and because of that, all of the uploads are offered in stellar quality formats. You'll rarely see anything below 720p and from my experience, 1080p seems to be what the majority of clips available here come in. This is great news for people like me who really want to look at the finest quality smut.
Beeg: a conclusion
Bestowing my blessing upon Beeg seems like a pretty simple thing to do here. I must say that they've accomplished a lot over the years and have still stuck to their very basic premise of giving you the porn videos you want with none of the bullshit. Just the pornstar page issue is what keeps me up at night – if this wasn't the case, Beeg might get bumped up a few spaces on my platform. Still, it gets a high position and naturally, I think you should go visit it.
Fetish Dude appreciates your visit here today. Thanks a lot for coming along and be sure to read the rest of my reviews if you want to find more great places like Beeg to jerk off at!
Almost entirely HD porn
Great minimal design
Plenty of categories
Default male pornstar listing
Limited amateur uploads