WatchMyGF Review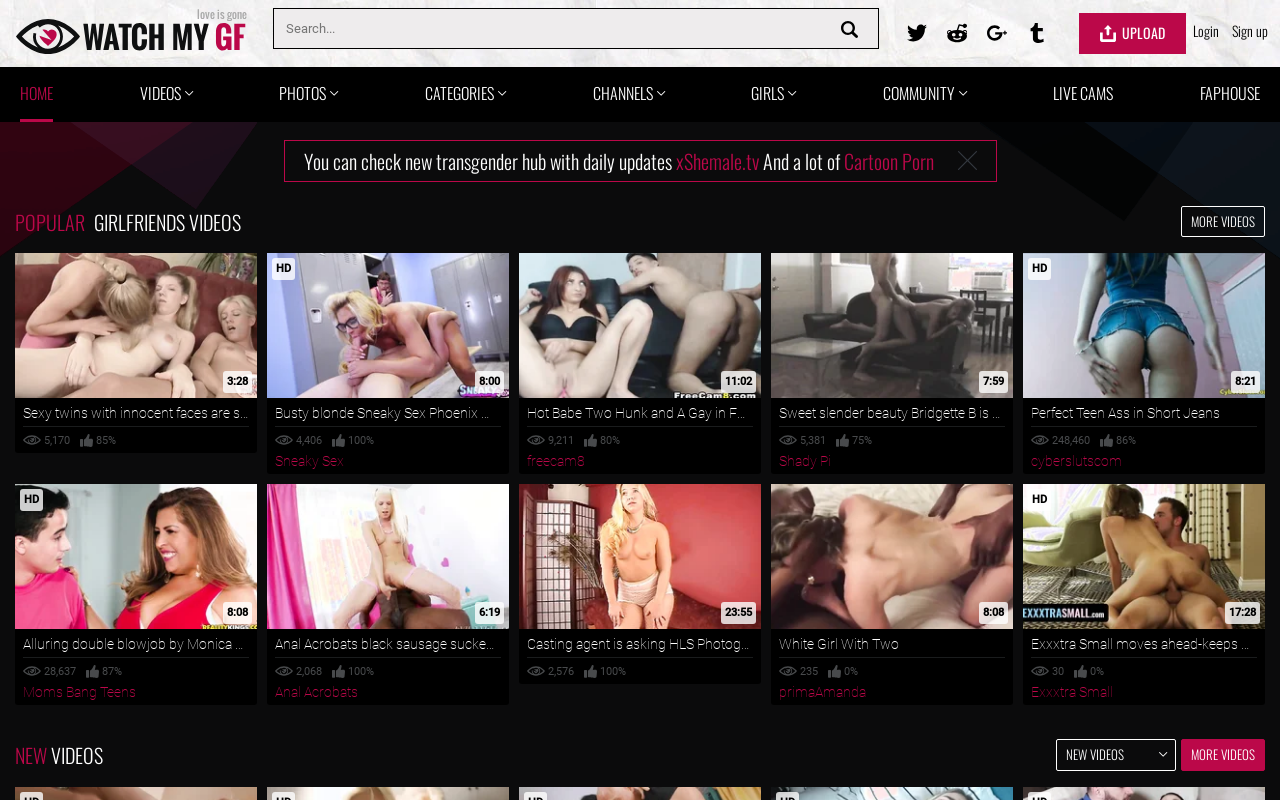 WatchMyGF: analysis from Fetish Dude
When you visit the tour of WatchMyGF for the first time, you're promised over 8 terabytes of exclusive homemade material from some of the youngest, sexiest women around who ought to know better than getting involved in barely legal XXX productions. Whether it was a dumb decision for cash or an addiction to sex that got them into their predicament, Fetish Dude doesn't care. All Fetish Dude wants to know is whether or not WatchMyGF has the best collection of teen sex videos around, so without further ado, let's sign up and sign in to put this place to the test!
First thoughts on WatchMyGF
The first thing that I want to mention here is that after logging into WatchMyGF, you're presented with a relatively standard member's area that doesn't do anything new or unique, but sticks to the concept of giving you access to what it is you want – fantastic amateur pornography. I'm pleased to state for the record that new content is uploaded here 5 times a week: 3 new photo sets and 2 new videos. Note that since the content isn't exclusive, it's a real mixed bag with regard to what you get, but more on that later. For now, I want to talk about the genres here at WatchMyGF!
Genres from WatchMyGF
As you probably know, I'm a big fan of content being assigned to niches and since the database here is so large, it's good that it's broken down into smaller chunks for us horny dudes to navigate around. Some of the more popular categories you'll see available here include solo masturbation, anal, threesomes and tattoos – there are around 40 or so categories and total and they nail of the major players when it comes to mature smut online. You can also further results from the categories based on whether or not they're videos/pictures, by average rating, size/length and a few other cool features. All in all, Fetish Dude was very pleased with the ability to search and grab the amateur girlfriend porn that's on offer here: certainly one of the better sites out there if you want specific teen content.
A look at WatchMyGF's objective content
Since all of the material here is sourced from people who created it, you really have no consistency when it comes to video length, picture resolution, file size or any of that type of thing. The good news is that Watch My Girlfriend has ported all uploads to JPG for images and MP4 for videos. They've also got a filter button, so if you only want to see 720p+ HD clips, you can adjust for that. Out of the 2,491 currently in the archive, just over 700 are available in high definition. This number might seem low, but since WatchMyGF has been in business since early 2013, I think that's pretty reasonable. It's only quite recently that 1080p was actually a standard feature on entry-level mobile devices. Now since we don't have just one studio and source for the porn, it's quite hard for me to say whether or not the teen sex videos here are actually top quality offerings. I watched 10 scenes (the most recent ones) and really did enjoy them though, so whoever's in charge of licensing the smut clearly has a good eye for this type of thing.
The downsides of WatchMyGF
I always think that it's a good idea to balance generally positive reviews with negatives – it's not all peaches and cream at WatchMyGF. Firstly, they have adverts inside the subscriber zone which I'm not a fan of and in addition to that, you are limited to 50 GB of downloads per day. That number is quite large, but still – restrictions are restrictions. I'd also like to see them have a forum or comment section: the community element here is nonexistent. You come, you jerk, you leave – that's it.
Is WatchMyGF a teen porn heaven?
There are lots of websites out there that have good teen sex videos, but I think it's safe to say that the amateur focus of this platform puts it leaps and bounds ahead of the professional studios if you're looking for that authentic barely legal aesthetic. WatchMyGF ticked all of the right boxes and as a consequence of that, I'm going to give it my official endorsement. Fetish Dude likes what he sees and yeah – it's probably a good idea for you to go and check it out yourself. Cheers for reading: enjoy your next jerk and may it be the best one you've ever had!
Fantastic amateur porn
Large content database
Can download videos
50 GB daily limit
No bonus websites