AnyPorn Review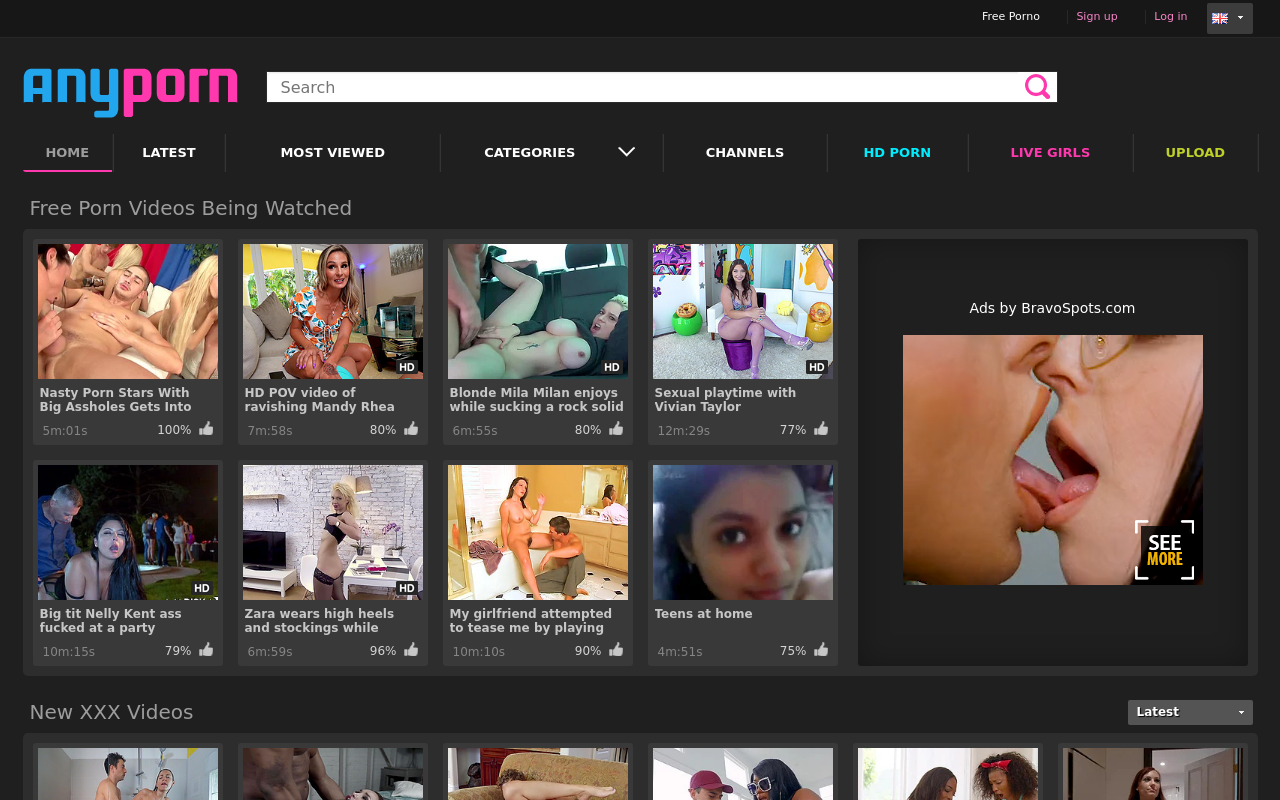 Fetish Dude visits AnyPorn
Whenever I come across a place that suggests it has free sex videos, you can naturally guess that I'm interested from the get go. Today, I'm planning to spend a few hours looking around a spot called AnyPorn for the purposes of determining whether or not it's actually a good hub for horny dudes that want to jerk off. As you may know, I'm always interested in finding new places and ensuring that the whole Internet is aware of where to go for top quality content. Will this be a crazy spot for jerking, or will it fall short of expectations? Read on – I'll let you know soon enough.
First thoughts on AnyPorn
So to begin with here, I want to look at the homepage of AnyPorn. This seems like a reasonable step, since 99% of people who come to the site are going to want to go there at least once. I'm pleased to see that they stick to the standard method of showing you video panes – some places go for categories first, but I think a shot at the smut is the way forward. Anyhow, in the first content block you'll come across clips that are sorted by what I believe to be a 'hot' factor. In essence, they look at the most watched and highest rated material that has recently been uploaded – not a bad system and it certainly keeps you in the loop when it comes to the freshest, best porn videos.
Further down, AnyPorn shows you the newest scenes that have been added to the archive, with no further sorting or organizing. My only issue here is that they don't actually have any dates attached, so I can't see if the last 20 clips have been added today or over the course of the last month. That said, you can click on the scenes and then it'll show you when it was added – AnyPorn seems to add clips on an hourly basis, which I don't think anyone can complain about. Below these two content blocks, you've got a section for categories, but there's also a main page for that too, so let's head on over and see what's going on when it comes to the niches.
The AnyPorn categories in focus
At the top of the category page, you've got 18 different niches that you can take a look at, which are described as being 'most favorite'. These include the likes of cumshot, HD teen, lesbian, shemale, MILF and anal – not a bad assortment. You can scroll down a little further and see a number of other niches here too, but perhaps the issue I have here is the fact that they're also mixed in with pornstar names, which makes it slightly complicated to manually go through them and look for something you want. Sure, you can see stuff like lesbian interracial, skinny teen, fat pussy and MILF anal, but when you see a bunch of girls too, that's just messy!
To make matters worse, there is no separate location on the website which you can visit for the pornstars here, so you're forced to look through them using the text information only. It's a bit of a pain in the ass and I really hope that going forward, AnyPorn decides to make them two completely independent types of categories. Niches should be niches and pornstars should be pornstars – you muddy the waters when you combine them and no one benefits from the experience. I'd argue that the only saving grace is your ability to search for the name of a girl that you're interested on. The results were pretty good, plus you've got the ability to sort based on relevancy, rating, view count and upload date. So when all is said and done, it could be a lot worse, although that doesn't excuse Any Porn from making this difficult and for no good reason.
General thoughts on content at AnyPorn
So yeah – I think that it's safe to say that AnyPorn has a wide range of content here, after checking out their archive for around 45 minutes. I watched around 15 scenes in total and scrubbed through them – not so bad. What I will stress is that since so many different sources provide the porn videos here, you never really know what you're going to get. Studios range from Vixen and Tiny 4K through to MILF Hunter and Bang Bus. They've also got some BDSM material here too, so if you're someone that likes the kinky stuff, have no fear – AnyPorn is going to provide you with the stuff that'll make your cock cum time and time again.
Some negative elements of AnyPorn
Now I think it's sensible to balance out my analysis with a coverage of the negatives – remember I mentioned earlier about categories, so I won't be going over that again. Elsewhere, I found that thumbnails had an issue with loading if you use any advert blocking extension – even the one that's native to Opera. Okay, I understand that you need to make money, but that still doesn't take away from the fact that there are plenty of alternative spaces which will provide you with free sex videos and they don't make you turn off any extensions you might have. The average scene length here is also on the shorter side: most of what I saw was less than 10 minutes in length.
My final thoughts on Any Porn
I think I've approached the end of this review, so it's probably a good idea for me to reduce my chattering and just tell you what the final score is. For me, I think a visit here is pure profit if you love good quality porn, but be prepared to nut quickly – the scenes are pretty short! They do have a good range of niches, plus quality is quite decent too: so I guess they've got that going for them, which is nice. In short, this isn't the best tube on the Internet, but it's hardly the worst either. Take a little visit, try out the 'most viewed' section and see how you get on. Thanks for reading – may your next squeeze be the best one yet!
Multiple hourly updates
Lots of categories
Lots of HD material
Minimal adverts
No pornstar section
Short clips