AnySex Review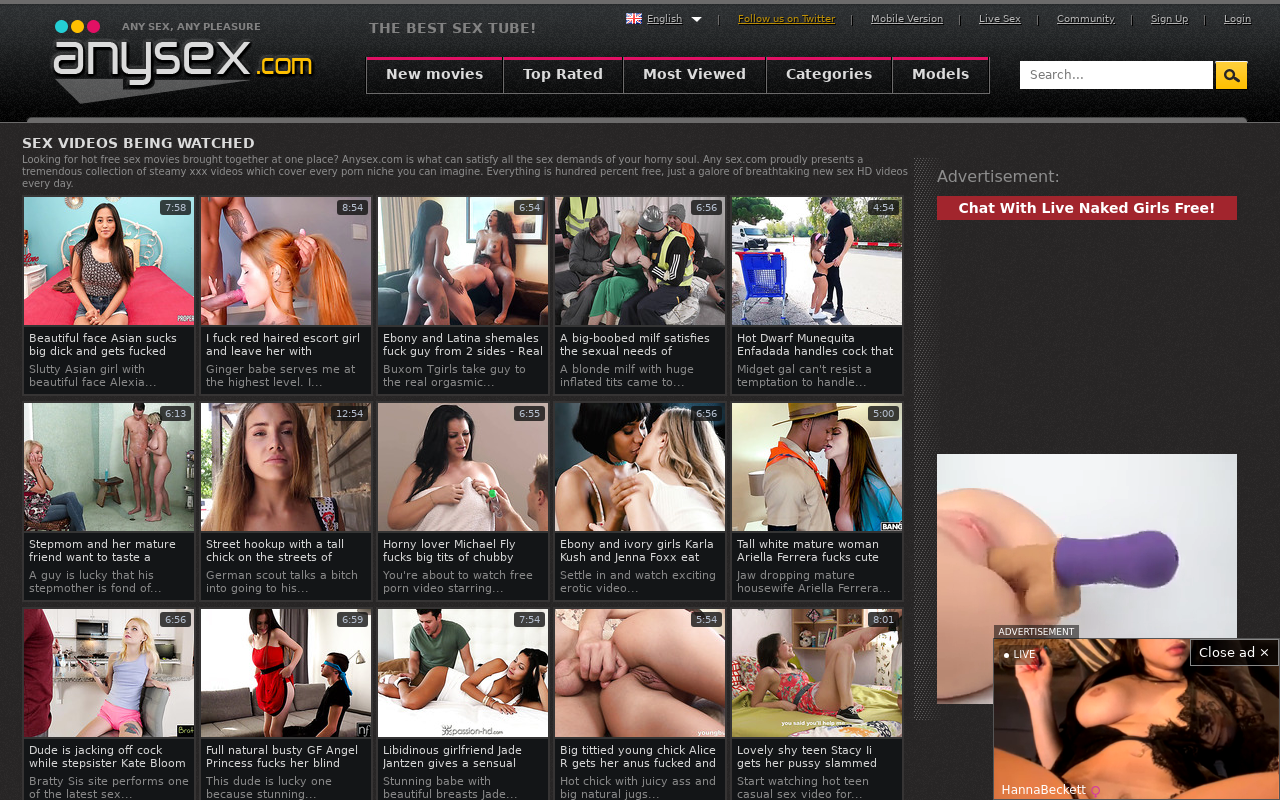 Fetish Dude visits Any Sex
I don't think anyone could complain for a second that Fetish Dude doesn't devote a decent amount of time and effort into telling you about all of the best tube websites out there. Part of my mission since beginning this little project of mine is to hunt down the best dens for folks that want to masturbate their cocks. Your balls have a lot of cum in them and well: let's just say that places such as Any Sex will be more than willing to help you extract them. Now then – let's head on over to this saucy spot and see what they're working with.
First thoughts on AnySex
I'd really love to kick off proceedings here by talking about the homepage. It's pretty well designed on the whole and the best part is that they stick to the standard display of the scenes they've got instead of going down the categories route. By default, these previews are sorted based on what's currently being watched – it's not perfect, but I think it's better than nothing. If you really want to, you've got a number of options right at the top of the site to organize the goodies here based on other key metrics. Let's talk about exactly what those metrics are here at AnySex in the next paragraph.
The sorting options of Any Sex
Perhaps the most obvious sorting choice here would be based on upload date. AnySex does allow you to go ahead and see what the latest scenes are, plus they update multiple times per day here, so this is obviously quite a handy way to find what's new and enjoyable. If instead you'd prefer to just look at the cream of the crop, might I pressure you into hitting the 'top rated' button. I don't think you get a prize for guessing what the concept here is: only the finest goods as decided by the community are shared. This will really help you beat your meat if you don't want to waste your time hunting down something that is tailor-made to your requirements. Think of it like going to the movies and asking the guy selling the tickets 'what's good?'. Chances are what you'll be supplied with is decent, only instead of your hand being in a carton of popcorn, you'll be whacking your bishop all night long. I'll let you decide what's superior.
The display rendering of Any Sex
AnySex has what I'd describe as a pretty simple preview pane construction. You'll find a preview thumbnail, length, title and sub-title for all of the clips that you can click on. What I would like to see is some forward indication of the scene's rating, or at the very least, the ability to see if a HD resolution is provided. I'm not a big fan of the sub-title feature at all, plus I feel like the thumbnails are just a little bit too small. Pumping those up a little and making the two changes above would really cement the legacy of the designer folks behind AnySex: trust me on this one boys, I know what I'm talking about.
AnySex categories: what's on offer?
Before you start yawning at my criticisms, let me go ahead and point out that AnySex has a bucket of great niches that you might want to check out. As we all know, Fetish Dude is very much someone who appreciates strict genres, so I was pleased to see in the categories section of AnySex, you can look at all of their uploads in a bunch of interests, including: lesbian, MILF, Asian, BDSM, anal, massage, uniform and more. They've even got some more kinky interests here, so if you like fisting, cuckold, BBW or feet-themed smut, AnySex is able to provide. I guess that's why they called themselves Any Sex: no matter what it is that gets your cock hard in the morning, they're on hand to give you the goodies. Note that after clicking on a category, you can then go and look at content based on all of the previous metrics, such as rating, views, length and upload date. It's pretty comprehensive: good on you guys!
Models at AnySex
Plenty of horny punters out there prefer to toss themselves off by exploring the available pornstars instead of niches: that's totally fine and to be perfectly honest with you, I know why you're doing that! Anyhow, you've got a decent assortment of adult workers here, including all of the names that Fetish Dude considers to be world-class in the adult industry. We're talking Elsa Jean, Veronica Avluv, Riley Reid, Valentina Nappi and even Lexi Belle. No matter who you want to see taking a dick in the name of pleasure, AnySex probably has a profile for them!
Some improvements for AnySex
Not everything here is perfection, so I do want to point out a few rough areas that could be improved. Firstly, I think the design is just a little too dated – it feels like it was created around 5 years ago and sure, it would look good then, but everything just feels a little too small. Additionally, it wouldn't appear as if you're able to download any content here, even if you do go ahead and sign up. That's not the end of the world, but most tube sites these days do allow local content access – it's just part of the filthy free video streaming industry.
Wrapping up on AnySex
So: is it worth heading on over to Any Sex if you want some epic porn viewer moments? Sure man! I don't think that anyone would consider this service to be the best one out there, but they'll certainly find a lot of repeat customers from Fetish Dude. I know my audience well and I think for most punters, this is a fine spot to get your hands on top-tier content across a diverse range of deliciousness. So, to put things real simple here: go ahead and visit Any Sex now. Just make sure that you've got some coconut oil and a clean-up towel ready to go: I'm willing to bet big that you're going to use them!
Great hardcore porn
Daily content releases
Full model database
Category sorting features
No video downloads
Slightly dated website design