ApeTube Review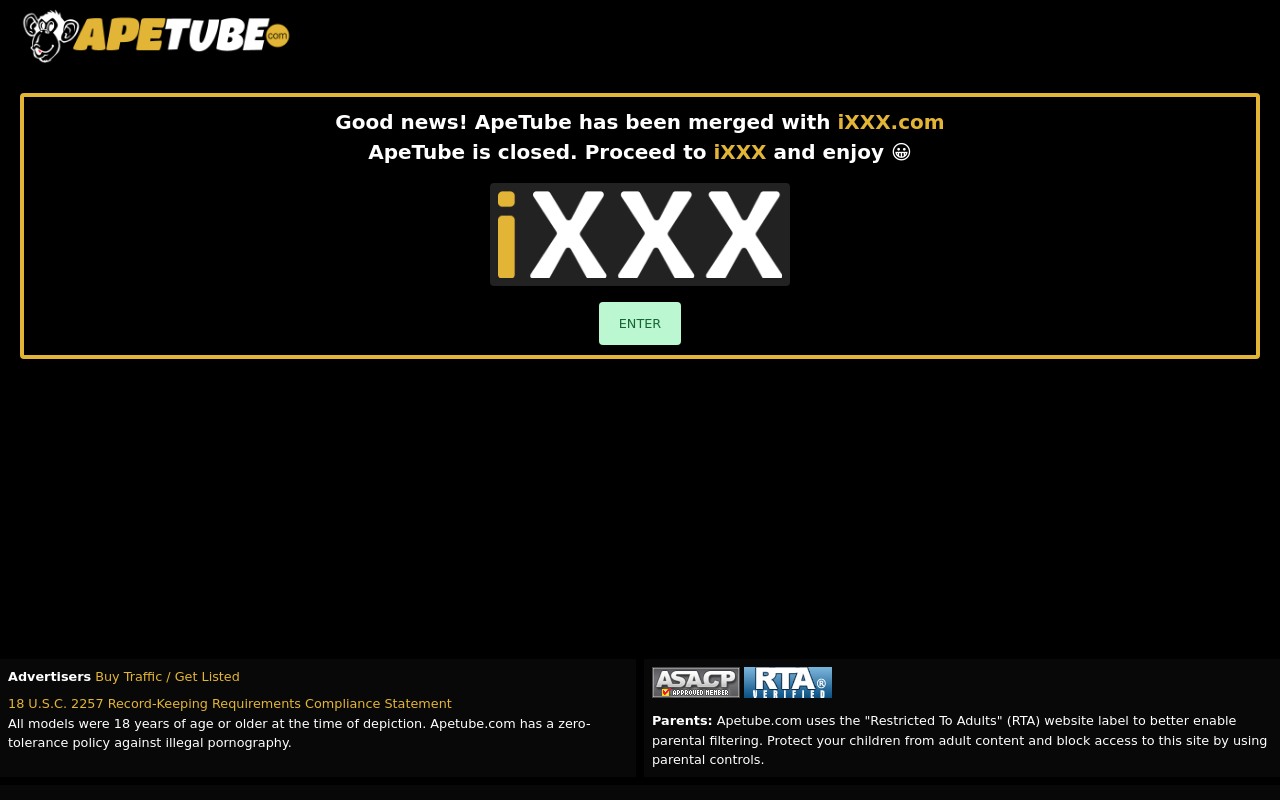 Fetish Dude visits ApeTube
Welcome back to Fetish Dude's review platform! I'm going to be talking about a place called ApeTube today and I'm looking forward to be able to tell you whether or not I think it's a top spot to go for great porn online. As we all know, Fetish Dude is pretty experienced when it comes to accessing the best of the best in adult material, so let's get down to brass tacks and determine if ApeTube fits within that specific definition. I'm quite excited and I have cautious optimism that what I come across will be top-tier stuff – let's find out!
My first thoughts on ApeTube
One quick note on ApeTube before we go any further: while I'm happy to continue referring to it as ApeTube for the time and being, they've recently merged with another website called iXXX, so if you want to look at their content, you're going to have to go over to that place instead. Since a lot of folks are still going to know it as Ape Tube, that's what I'll call it for the remainder of this review – makes sense, right? Well, if you don't like it, you can always go and read the crappy review of someone else. Doesn't make a difference to me – but yeah, your loss, buddy pal.
ApeTube homeage: my analysis
There are typically two types of porn tubes out there these days: those that focus on the niches and those that focus on the videos. Ape Tube is squarely in the former category, which is why when you come here, you're going to see that the homepage is filled to the brim with niches that you can click on. While I'm not opposed to this method of structure, one thing I do dislike about the approach taken by ApeTube is their priority for niches that don't really make much sense or have a great deal of demand. As an example, You'll notice that ApeTube has stuff like real, cum inside, casting, watching and Indian in the top 10 niches you can click on. Why are these here? Okay, some are somewhat in demand, but 'real' and 'watching', the hell does that even mean? The top 10 should include stuff like MILF, teen, Asian, anal, gangbang, blowjobs and big tits: that type of thing is far more valuable to your average jerker.
I suppose it's good that ApeTube at least has a 'popular' videos section, which you can access using the header navigation. Here, you'll soon find out that ApeTube focuses extensively on giving you access to premium content that comes from the biggest studios out there. It's top quality stuff and I have little doubt that you're going to enjoy it if you're keen on seeing the best ladies in the business taking cock. You'll see great gals such as Elsa Jean, Piper Perri, Brandi Love, Lucy Doll and other girls who have a great skill in regard to pleasuring shafts. They're all working for outlets such as Exotic 4K, Sis Loves Me, We Live Together and Family Pies too, so a nice variety of smut from fairly generic outlets.
The content structure at ApeTube
Ape Tube doesn't really have a standard setup here, so I think I should probably spend a little bit of time discussing how exactly this place works and the pros and cons it comes with. Firstly, I want to make it abundantly clear that ApeTube doesn't host anything locally: this stuff all comes from third-party outlets. We're talking about the likes of PornHat, YouPorn, PerfectGirls and those types of tubes. In essence, Ape Tube merely acts as a database for preview from those places that you can then go and check out if you really want to. The major benefit here is obviously the fact that you get to enjoy exploring millions of scenes in one spot – not too bad for those who have particular interests and a love for large numbers.
A conclusion on ApeTube
Well then: that's just about everything I've got to say on the topic of Ape Tube. I spent around an hour here and while it's lacking in certain dimensions, I'm not going to pretend for a second that you should avoid checking this place out if you want to get your hands on some top quality smut. They know exactly what they're doing and with such a huge amount of smut to look at from the biggest tubes out there, it's hard to go wrong.
That just about does it for this analysis. Thanks a lot for reading my review and please remember to come back to Fetish Dude's review platform whenever you feel like getting more suggestions on the hottest porn spots out there! Cheers – and happy fapping.
Millions of porn videos
New scenes added daily
Lots of niche categories
Average sorting metrics
Nothing hosted locally