AssOAss Review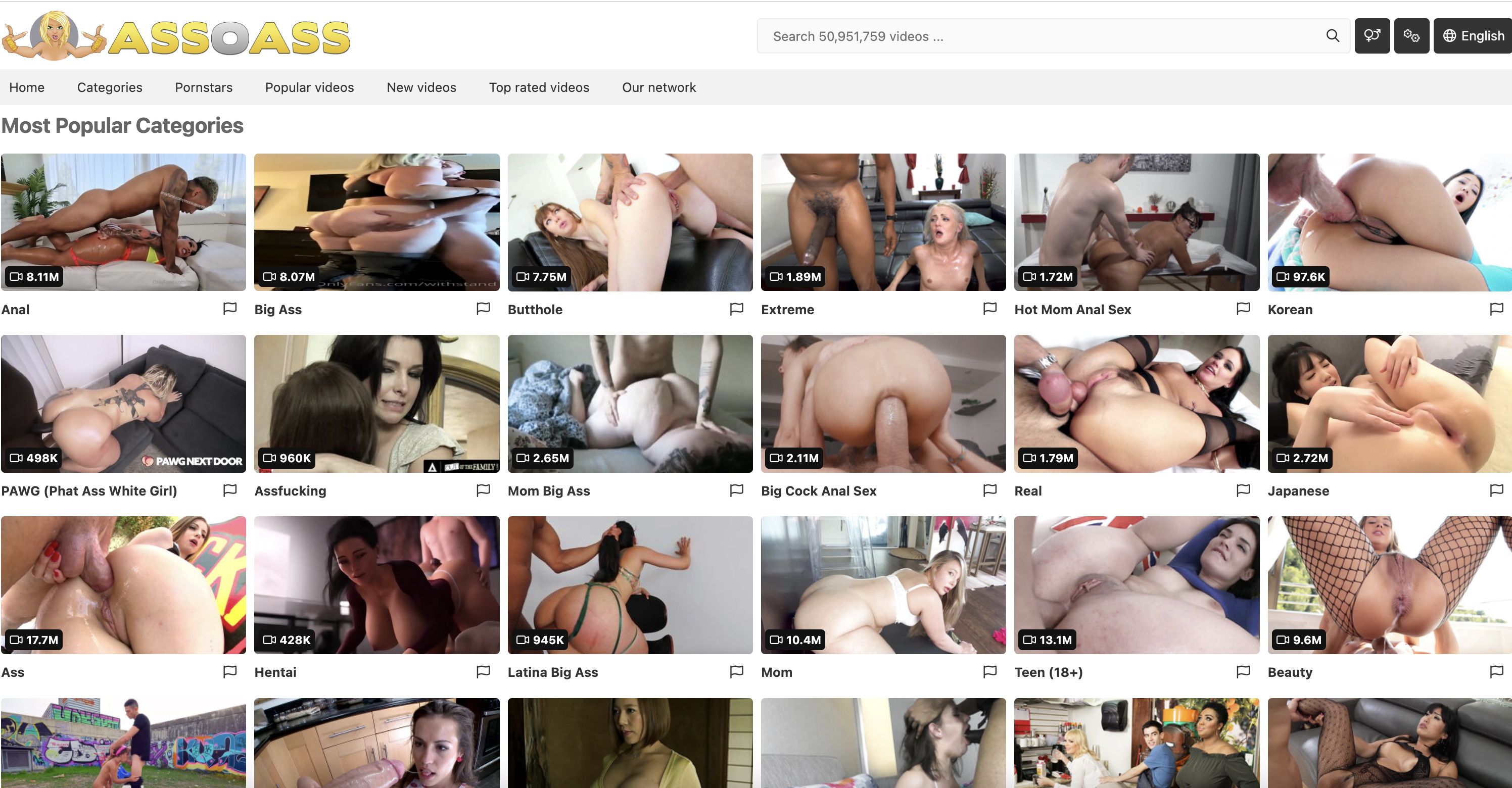 AssOAss: Fetish Dude's analysis
I think we all know that when it comes to looking at porn online, I'm very much a fan of specialization. At the end of the day, everyone has a specific group of niches that excite them. I'm hoping that yours is anal sex and fat ass, because I'm going to be looking at a place called AssOAss in this review. As the name might have suggested, it's entirely devoted to anal action and bubble butt sluts, at least that's what they say anyway! To put this spot to the test, I'll have to give it the complete Fetish Dude review. So, let's get into the mix, shall we? Read on for my full thoughts and feelings.
First thoughts on AssOAss
When you land on the homepage here, you'll notice that AssOAss doesn't really stick to tradition. Most tubes these days show you the latest uploads, whereas AssOAss instead opts to give you a full list of sub-genres that you might want to explore. Naturally, these are all themed around girls getting fucked in the ass, but you'll see stuff like teen, MILF, anal creampie, interracial and POV. There's even a section here for voyeur material if you're the type of person who enjoys girls getting naughty outside and with an audience: that can be pretty hot. Oh and yes: there is a category devoted to anal fisting, so if you like to see girls going knuckle-deep inside one another, that'll be my recommendation of where to go.
You may notice that alongside each category, you've got a number. This represents the number of scenes that are on offer: I do want to stress that this is likely far larger than the actual number of videos that AssOAss offers, and that's because of the structure that they've gone for with regard to their content. To explain this a little better, let me talk to you about what exactly it is that AssOAss does.
The structure of AssOAss
While they claim to have over 45 million videos here at AssOAss, the reality is that they likely have far fewer. The reason for this owes to the fact that they're actually an indexing service, which means they grab a lot of the porn they have here from third-party outlets. We're talking about the likes of xHamster, SpankWire, RedTube and PornHub. Essentially, all of the biggest players in the game here have indexed material, which you'll be sent to when you pick a scene, instead of having it locally hosted for instant playback. Now there are benefits to this setup, namely the increased number of scenes you get to look through, but there are numerous downsides too. I don't want to spend too much time in a meta sense here, so let's just move on and you can decide for yourself whether or not this site structure is something you can get behind.
AssOAss: the category pages
Once you've selected an anal category that gets you hot under the collar, AssOAss will show you a bunch of different scenes that you can watch that focuses on that specific theme. One of the neat things about this selection area is the filtering and sorting tools you have available. For instance, it defaults to showing you the most popular uploads, but you can switch this to a duration based or rating based setup if you prefer. In addition to that, Ass O Ass has filtering for upload date range, scene duration, quality and original source. If you only want to look at content from a few different tubes, make sure you fiddle around with the lost dropdown menu: it's going to help you out and then some.
My thoughts on AssOAss content
Because this website archives such a massive amount of content, it's far from prudent for me to suggest that it's either good or bad. The reality here is that they're getting such a huge database of material that you're going to get the great stuff as well as the shitty uploads. What I will say is that based on the scenes I got from the popular content layout, I'm pretty confident that these guys know what they're doing. They've also got some HD tags offered here for scenes that can be enjoyed in that full resolution goodness. Do note that since these tubes work mainly with studios, you're going to get a lot of professional content. Sure, with millions of videos there are bound to be some homemade delights, but you'll want to come here if you feel like watching chicks being paid cash money in order to take it in the ass. Again: you can select which tubes are shown here too, so if you feel like one isn't up to par, just remove it from the list.
Improvements to be made at Ass O Ass
I think everyone knows that when it comes to improving websites, all places can continue to undertake various measures in order to make the user experience as good as possible. For AssOAss, their number one priority should be adding a section for pornstar navigation. Right now, your own option is to use the search feature, which I think is fine, but if you're in a one-handed situation, it's better just to be able to look at the best broads out there and pick one that tickles your fancy. Other than that, I think my biggest issue is that the thumbnails are just a little too small. Bump them up by around 25% and that's probably enough. I want to see those asses getting fucked!
Finishing up my AssOAss review
In the free marketplace of hardcore porn videos, I do feel like AssOAss does a pretty good job of giving you access to what you want: hot XXX movie action. I don't know just how many of their 40+ million archived scenes feature fat asses or anal, but what I do know is that if you're looking for good anal sex, they've got it here in ample quantities. So, to cut a long story short, anal addicts really can have their cake and eat it thanks to the team behind AssOAss. This is a top-tier butt-focused streaming platform and it gets my full endorsement!
Devoted to anal
Lots of filtering options
Huge content database
Limited advertising
Relatively small thumbnails
Content hosted externally
No pornstar catalogue