YouJizz Review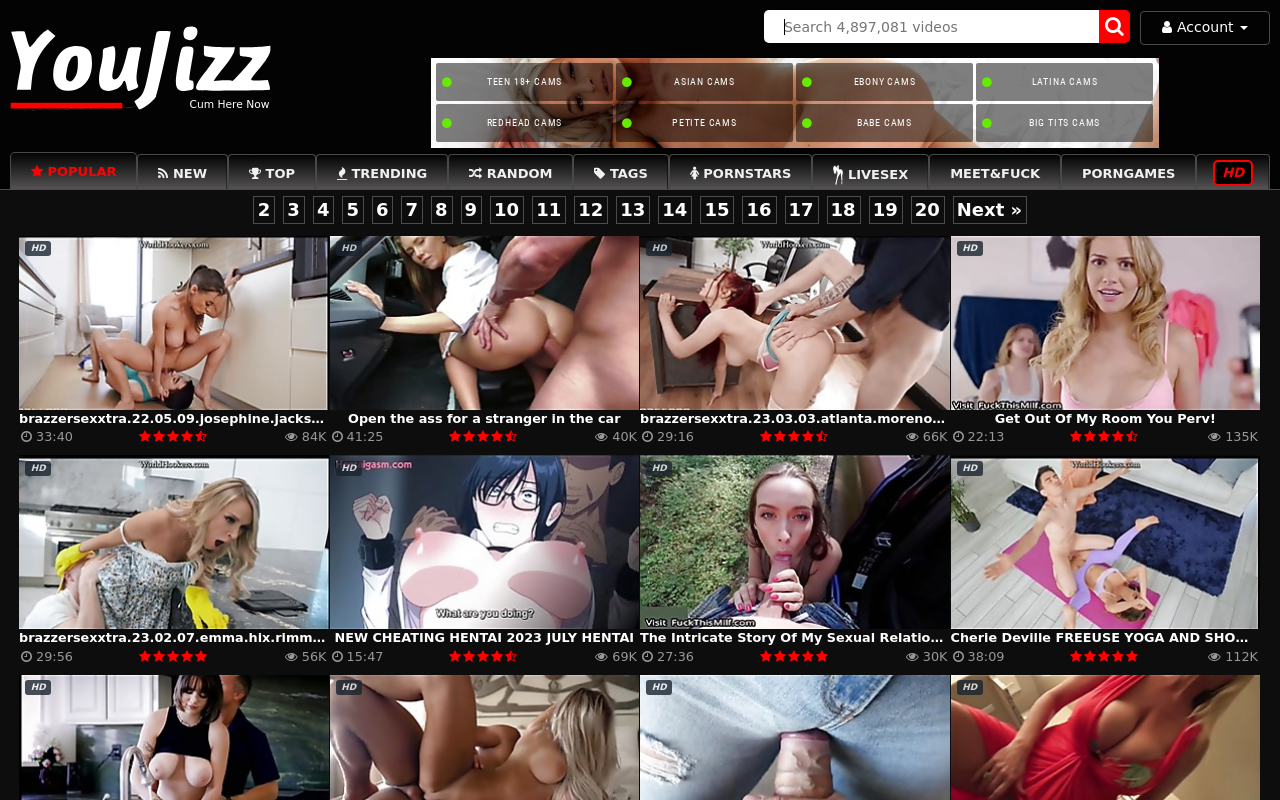 Fetish Dude visits YouJizz
Another day, another tube site to give my opinion on! In this review, I'm going to be heading on over to a place by the name of YouJizz, all for the purposes of discovering whether or not it's a prime piece of Internet real estate for dudes who want to masturbate to free sex videos. I've heard some good things about this project in the past, but I think we all know that I'm not going to recommend a spot without first checking it out. So, without further ado, let's venture forth and see what the deal is at YouJizz! I hope you're ready, because I can't wait to put this hub to the test.
The homepage of YouJizz
From what I can piece together, the homepage of YouJizz seems to be devoted to what they determine as 'popular' uploads. My guess is that this functions similar to the way that Reddit does: it's a mix of the latest releases and the most viewed and/or highest rated material. Whatever the algorithm they're employing is, it seems to be doing the trick! All of the thumbnails looked great and I'm really looking forward to sampling the database of erotic videos on offer here. Note that in the header, you're actually able to go ahead and sort the scenes that are displayed before you based on their upload date, rating and even at random if you feel like trying your luck (I wouldn't recommend this, but you might want to Uncut Gems your next session of masturbation).
While a lot of sites out there have categories, it would appear that YouJizz doesn't. They do have tags, however, which appear to be a much less accessible alternative. The reason why tags suck is simply because there are so many of them. You'll see some really pointless ones here, like 19yr, addicted, chicks, dream and fucker. I'm actually quite mystified as to why YouJizz hasn't decided to go ahead and offer people navigation based on genre interest – are they just trying to keep people as far away from their project as possible? The only saving grace is the search feature – or at least I hope. Let's put this tool to the test in the next paragraph.
Trying out the search feature on YouJizz
So I decided the best way for me to try out the search function was to go ahead and really test its ability to return what I wanted. I opted for 'massage porn' and generally speaking, I was pretty happy with the results. There were a few videos here that didn't quite match up to my expectations, but around 80% of the rendered results were good, so that's all anyone can really expect, right? I also found it cool that YouJizz shows you how many results you were served with: I got just over 1,000 for 'massage porn', which might seems like a small number, but I think that's just because they're being ultra-conservative with what they think is a match.
Perhaps the best aspect of the search feature is the 'filter' dropdown, which allows you to sort based on length, rating, views and relevance. You can also select durations, time periods and filter out anything that's not HD – sweet! Out of interest, I decided to apply the last filter: Around 40% of the scenes I was served with remained, so that's a pretty good amount of high definition porn for everyone to masturbate over, right? So in short, while the lack of categories here is very much an issue, the ability to search and refine what you're looking for makes up for this shortfall just a little bit.
Exploring pornstars on You Jizz
YouJizz was kind enough to give us the ability to look at all material from a specific pornstar, but I must admit – the layout of this page is one of the worst I've seen. Not only does it list all of the girls alphabetically (including ones with just 1 upload), but it doesn't have any preview thumbnails and you have zero ability to sort or organize these chicks based on any metrics. I think you're probably better off typing in what you want in the search bar – the pornstars page was a big nothing burger and I think it's safe to say that literally no one will utilize this feature. It's such a shame, because making a tube site semi-functional isn't all that complicated, and when you do, people remember your name and come back all the damn time to get their fill of hardcore video entertainment!
The porn videos on YouJizz
I went ahead and grabbed 20 different videos across a wide variety of niches to get a feel for the average quality here on YouJizz. Note that with well over 4 million uploads, it's actually quite hard to get a representative sample of what's on offer here, but they do have a decent quantity of full-length, HD uploads that I know a lot of you horny porn addicts are going to absolutely adore. I'd say that the vast majority of scenes are professional in nature and come from studios such as Pure Mature, Passion HD, Tiny 4K, Box Truck Sex and associated channels. Buffering speeds are good, plus you're actually able to download scenes here without signing up. The speed isn't great, but it's better than not having the ability to download sex videos, right?
YouJizz: a conclusion by Fetish Dude
I think I've done a pretty decent job here of covering the key elements of You Jizz. By now, you should likely realize that I have something of a love-hate relationship with this website. I'd say that the feeling is more disappointment than anything – it's great, but it could be even better! Note that regardless of the improvements that could be made, I still think that the huge database of HD videos and advanced search feature more than carries this place to a recommendation by Fetish Dude. When I compare it to a lot of the so-called competition, it beats them in multiple aspects. They're actually real close to being a top 3 tube, but yeah – changes have to be made before I consider bumping them up.
Thank you for taking your time to read through my complete analysis on YouJizz. Remember that you can always come back here for the latest and greatest analysis from Fetish Dude: my job is to connect you with the best places around for world-class XXX video bliss! Take care and happy hog squeezing.
Over 4 million videos
Fantastic advanced search feature
Local downloading available
Multiple daily updates
Pornstar section sucks
A few adverts