XVideosRed Review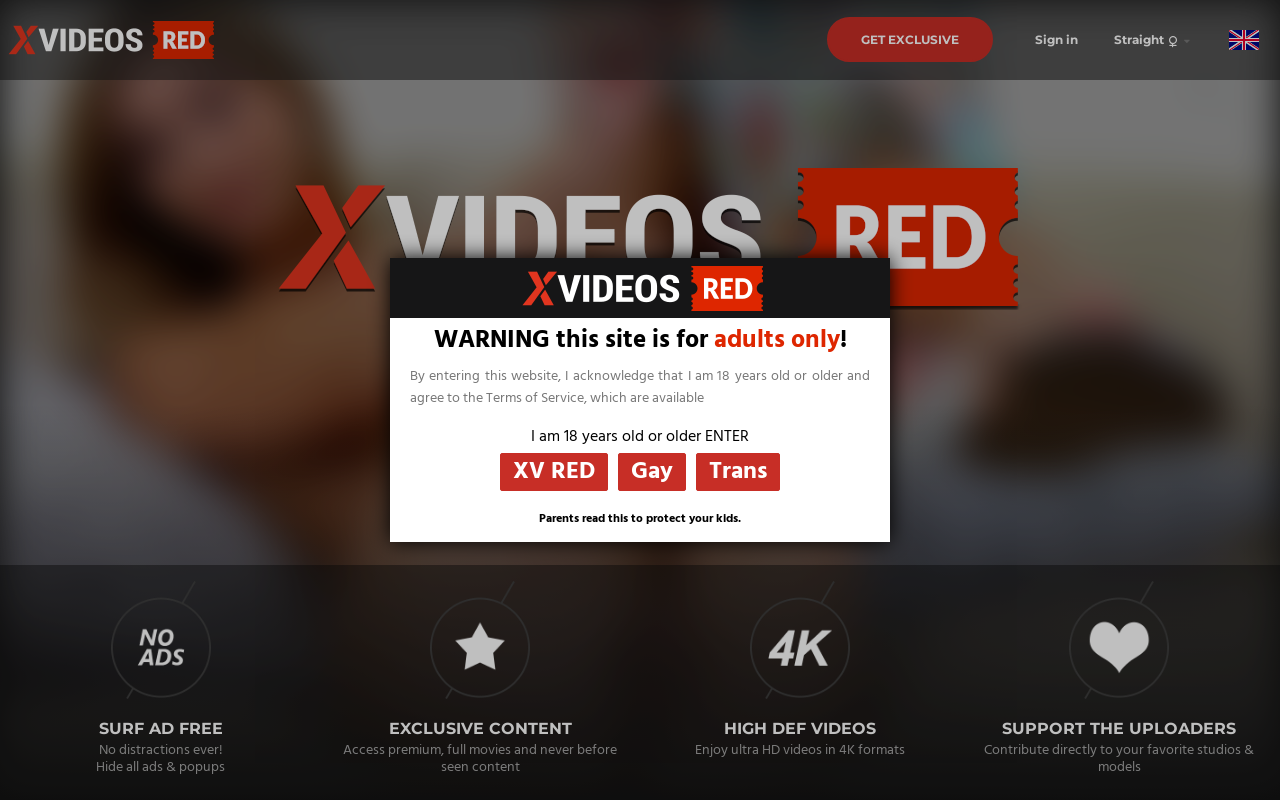 Let's talk about XVideos Red
If you've been on the Internet for any period of time, it's quite likely that you've visited XVideos. These guys have one of the biggest tubes out there, and I'm pretty confident that you're going to love the premium offer they have available. It's quite the deal, and I want to tell you all about it – in classic Fetish Dude style, no less. So please: if you're looking to spend a few bucks and you want a great offer when all is said and done, this is the review for you. Let's crack on and see why so many folks love XVideos Red: one of the best premium tube deals known to man.
Initial details on XVideos Red
So there are a few things that I want to mention about XVideos Red: firstly, you'll have zero adverts from the get go. I think one of the biggest complaints that people have when they use a porn tube is that they've got to put up with adverts – this is just the way of the world, sadly. Unless, of course, you're willing to pay a few dollars and get yourself a premium account that gets rid of all of that! So yeah: it's good to know that when you pay for XVideos Red, all of the ads that you'd usually see on the website will simply disappear.
Second: the quality of the content that you'll enjoy will go through the roof. Now, there are a few scenes at XVideos that are offered in 1080p, but most studios don't have their original quality, full-length releases available for you. The good news is that plenty of studios have partnered with XVideos Red and that's precisely what you get – complete, HD scenes from the best producers around! Oh, and it's not just 1080p that you'll get at XVideos Red either: the quality of the uploads here goes up to 4K, so if you're someone who's seriously invested in top notch smut that allows you to enjoy every last pixel of pleasure, this is the best option around, that's for damn sure.
I do also want to quickly mention that the servers, when streaming in full 4K, are smooth as silk. Some destinations suffer in this regard and you have to pause videos to allow them to load up – not the case at XVideos Red, so long as you've got an Internet connection that's able to handle what they're sending to you.
Let's talk studios at XVideos Red
I think it's probably a good idea for me to tell you about the studios that you'll be receiving content from when you sign up to XVideos Red. Firstly, you've got what I'd consider to be one of the best in the business: BangBros. This is a killer reality porn producer and yeah – they're just awesome when it comes to hardcore porn shoots. Though there's so much more at XVideos Red, including Tushy, Yummy Girl, Amateur GFs and a whole lot more. Practically any genre or desire that you could have is accommodated for here – even those with pretty weird and strange content desires will likely get their nut off.
What's quite cool about XVideos Red is that they also have some original content – that is, there are scenes here that you won't find anywhere else on the Internet. These are specially licensed productions that come from big studios, but they're only made for people who have a membership to XVideos Red. If you want to see your favorite pornstar getting down and dirty in a way that you've never seen them do before – this might be a way for you to do exactly that. I also love the fact that XVideos Red continues to grab originals even to this day – they've been doing it for years, and they've got quite the catalog!
Other notes on XVideos Red
I do just want to give you an idea of the pornstars that have exclusive content on this premium service, just so you've got an idea of what's good. Names that you might be familiar with include Riley Reid, Lena Paul, Elsa Jean, Brandi Love and Alexis Fawx. When I saw the types of stars that featured in the premium productions at XVideos Red – yeah, I knew it was going to be over for me. This is one hell of a deal, and I'm so sure that everyone reading this will find exclusive scenes starring some real quality babes that they've always loved seeing in action.
In terms of pricing, XVideos Red is less expensive than a regular paysite membership – pretty damn reasonable, all things considered. I think that in terms of sheer porn quantity that you get in return for what you're paying, it's hard to beat something like this. The guys here are doing the lord's work, and with tens of thousands of unique releases, I mean – there's no way you could even think about getting through them all. You can try if you want, but take it from Fetish Dude: even an addict won't be able to watch everything that XVideos Red has. It's just that simple.
My final thoughts on XVideos Red
Is XVideos Red a good value for money destination? Absolutely. You're getting one hell of a deal here, and Fetish Dude has even gone ahead and provided you with the best discount possible when joining, so you'll receive an incredible bang for your buck. I appreciate everything that this tube does and if you're willing to pay a few dollars for porn – all to support the cause – this is the best way to do exactly that. I can't think of any downsides, and I'm pretty sure that anyone reading this will feel exactly the same way when they get on over to XVideos Red and create an account.
So, horny jerker – are you ready to get access to the best premium tube around? Do you want to see your favorite stars taking hot cock as you've never seen it before? Then there's a real simple thing to do: go ahead and sign up to XVideos Red right now! Thanks for reading: Fetish Dude will see you in the next review.
Huge content collection
No adverts
Full 4K support
Requires payment
Crypto not accepted